My Cake Decorating Story
Laura Crawford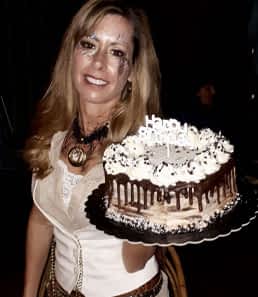 I always had a love for baking. It was fun baking cakes, cookies, muffins, anything sweet but it was not something I thought of as a future endeavor. After earning a degree in Interior Design and working many years in Hospitality design doing hotels, timeshares, and restaurants, a new path was on the horizon. Interior design was a huge passion but it was necessary to leave my career to start a family.
Ok, fast forward to Berlin. Germany has wonderful bakeries that make all sorts of desserts, confections, torts, doughnuts, the famous "Berliner Pfannkuchen", but finding traditionally decorated birthday cakes to purchase was impossible. They simply don't have them. Germany is not like the U.S or other countries where you can order or find birthday styled cakes in bakeries or grocery store cooler sections. They just do things differently.
So, whenever my boys had a birthday, I made all their cakes. My cake baking started in my kitchen, working on my creativity by making themed cakes. No boring cakes in our house! This trend continued as my friends started asking me to make their kid's cakes, cakes for adults, sports cakes, and school event cakes; you name it. I thought this can be a business. Not only did I strive to deliver the most creative cakes possible but the cakes had to be delicious. This is very important. I'm self-taught and continue to learn and grow as do my loyal customers. Every cake is a new opportunity to heighten my expertise and give your loved one a memory of a lifetime. This is my ultimate goal, to make people feel celebrated and ultra-special with their own custom cake. No idea is too small or minimal. I love what I do and believe you will too. Many thanks to everyone who has supported me along the way and those who continue to do so.
Looking forward to creating with you.