This College Birthday Cake from University of Glasgow was a very unique cake design and an honor to do for a high school graduate on his birthday who was accepted to this prestigious University in Scotland. This cake design has a duel celebration theme. Patryk was heading off to college and his Mother wanted a birthday cake fitting for her son who had worked so hard in his academics to get accepted. My ideas for this cake developed from researching this University.

The University of Glasgow was built in 1451 and is one of the oldest universities in the English speaking world. It's also one of four of Scotland's ancient universities along with Edinburgh, Aberdeen, and St Andrews.
Ewa did not have a particular request and trusted my judgment. She said, do what you think is best. It's great when cake designers get to fly solo with the design but it takes careful thought and planning. Naturally, the first question to myself was how was I going to represent this University on a cake? What are the most unique icons, logos, crests, mottos, songs, monuments, statues, or architecture of this University? What stands out at this school? What is most memorable?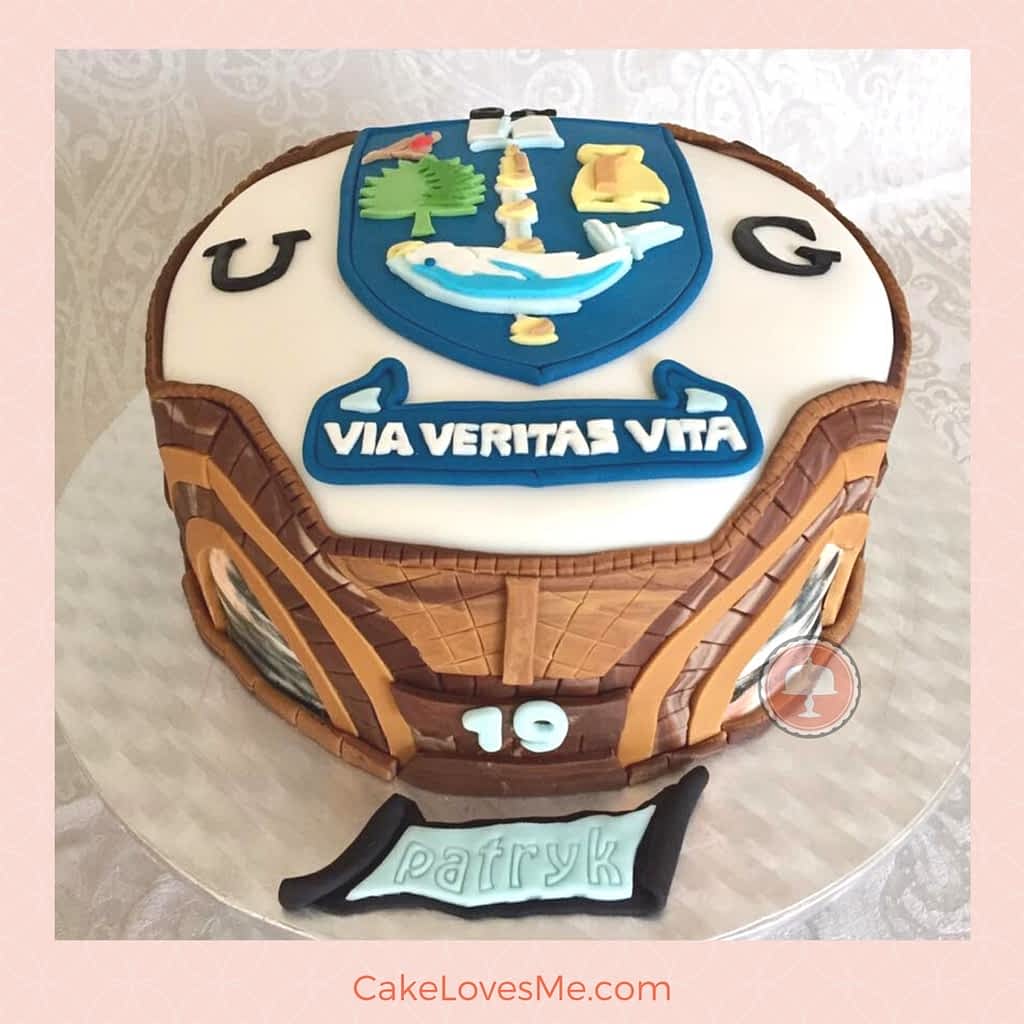 Ewa wanted a nineteenth birthday and celebratory cake for her son Patryk who had been accepted to the University of Glasgow in Scotland. As I mentioned my goal was to choose the most significant element/s that adequately represented the design focus-the University. I took the most iconic symbol-the crest, and the most recognizable and known architectural wonder on campus-the cloisters/arches, and used them as the two main focal points.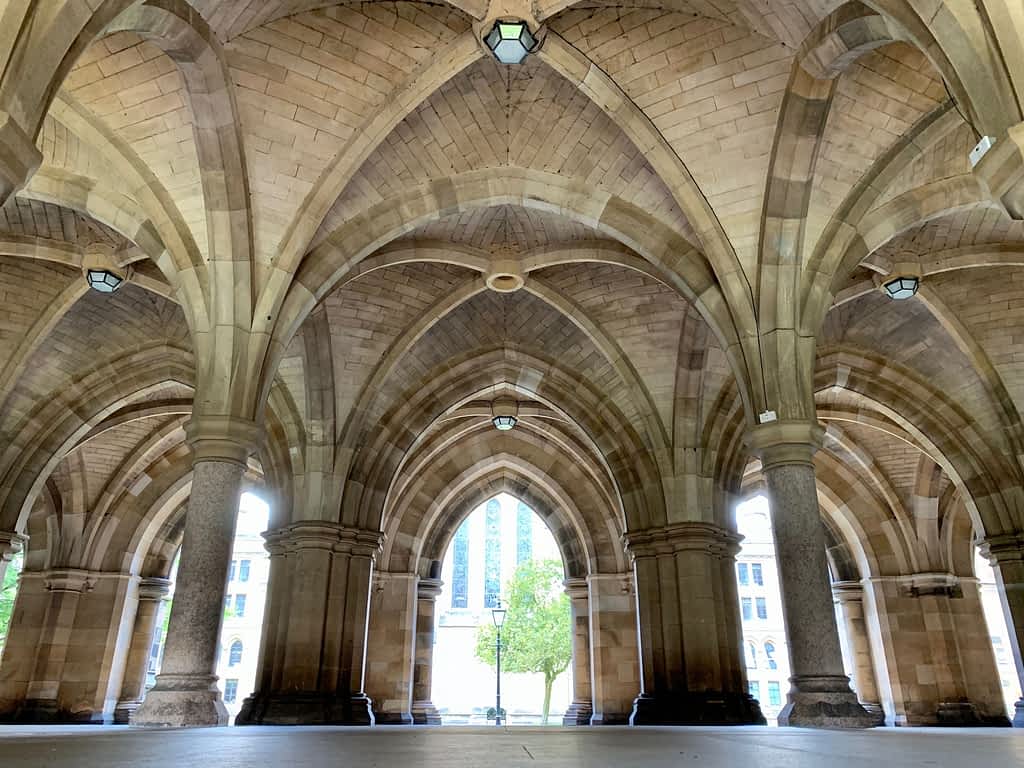 Cake Design Details
This was a 9″ round, high doubled layered vanilla cake, vanilla buttercream, vanilla, caramel, and chocolate fondant covered cake. For this size, it was best to have four arches/columns around the sides of the cake. The crest was measured according to the 9″ round top. Each icon and letter was hand-cut, sized, and properly placed.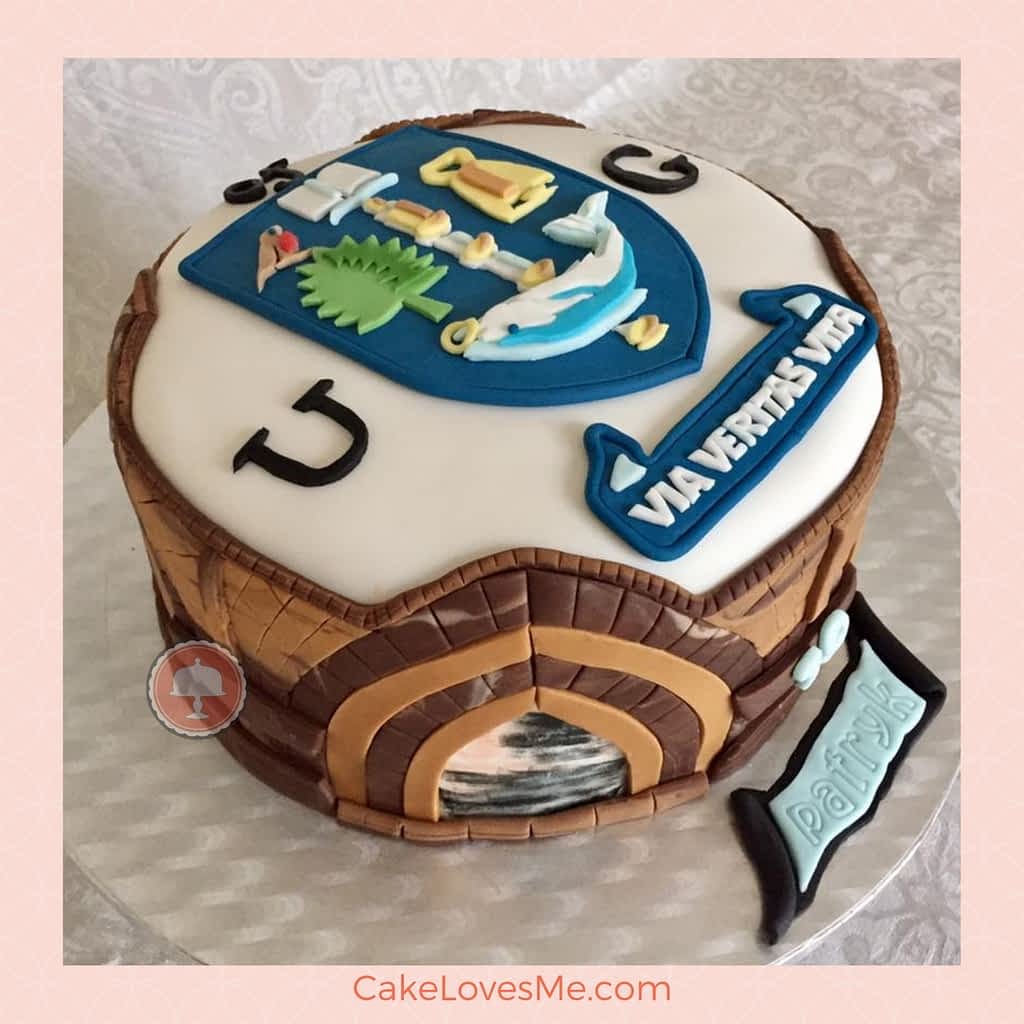 When working with fondant or modeling chocolate choose realistic icons you believe can be duplicated.
Please take a few minutes and check out my other cakes that have fine cut or molded fondant figures and details.
I hope this Detailed College Logo Cake-University of Glasgow Birthday Cake has inspired you.
Thanks for visiting. Happy Baking.