The most comprehensive list of the top 15 cake baking tools to get you started.
There are so many cake baking tools and products out there it will make your head spin. Yes, I know – simma-down-na!….you don't need to run out and spend hundreds or thousands of dollars right out of the gate. I certainly didn't do this when I started baking and decorating cakes. I started slow. Several things were already in my kitchen.
It takes much time to build up your cake and baking supplies. Remember, it's an investment so you'll want to buy smart, not cheap. You have to figure out what you need as you learn and grow into the type of cake baker/designer you want to be. Let me repeat that, as you learn you will figure out what you need and/or want to use. For now, let's get organized and start with the basic tools.
#1 Stand Mixer or Hand Held Mixer
You absolutely can get by with a handheld mixer and not stress yourself right away thinking you need to drop hundreds on a brand name stand mixer. There are pros and cons with both depending on what you are trying to accomplish. A handheld mixer is more laborious, more time consuming (depending on what you're making), and the attachments are limited.
A stand mixer has multiple attachments, is faster but is limited on bowl size. If you decide to invest in a stand mixer do your homework on the brand and size. They are not all created equal. Eventually having both is a bonus because you'll need each mixer for different things.
#2 Baking Pans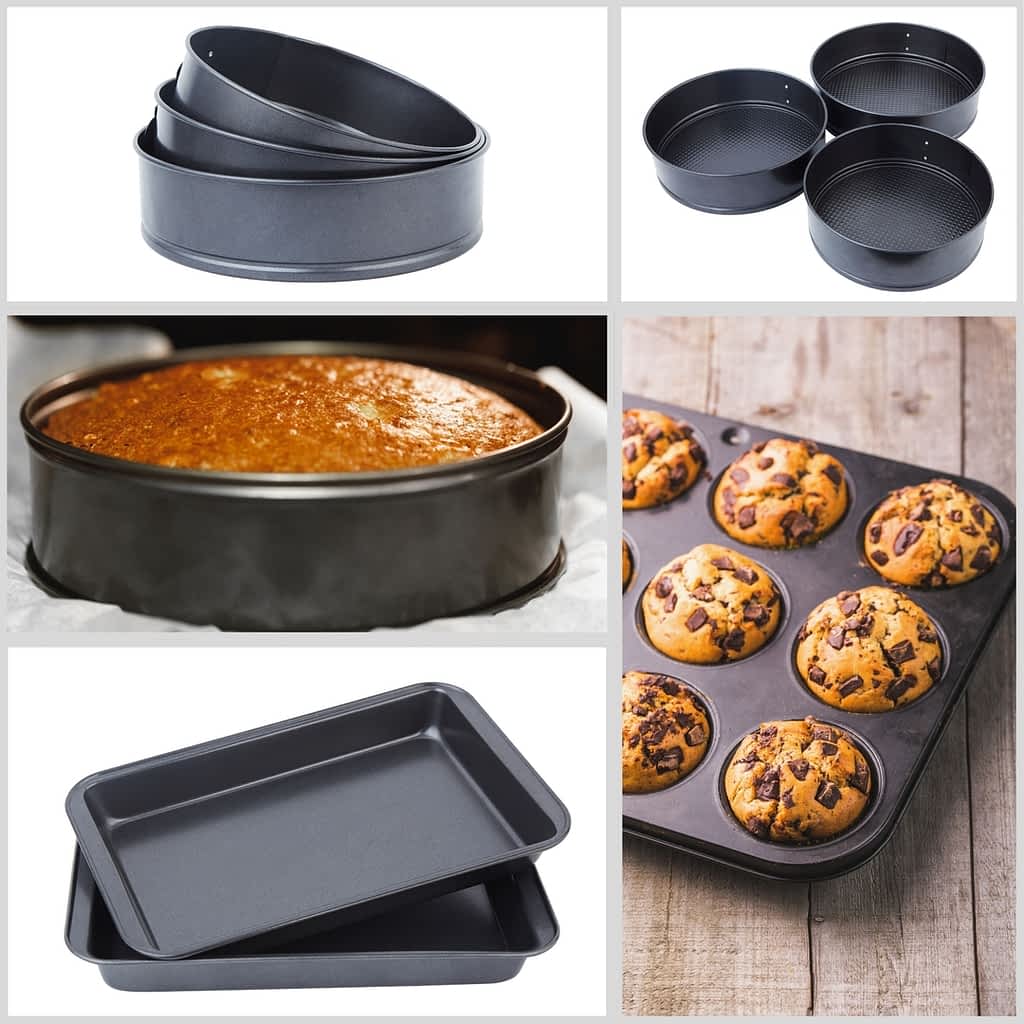 OK, this is a big one if not the most important. Seems like a no-brainer however, not any ole' pan is your friend. What the pan is made of is very important for different styles of baking. There are a variety of sizes, colors, surface textures, and materials. There is glass, silicon, metal/aluminized steel, and lead-free ceramic.
Aluminized steel is a good material to bake with because it distributes heat quickly and evenly. The downside to metal is it's "non-stick" which is an obstacle to manage every time you bake. Carbon steel is pressed heavy gauge steel making it stronger and more durable than aluminum steel. Carbon steel is the best.
#3 Parchment Paper, Aluminum Foil, and Plastic Wrap
Cake Goop
Parchment Paper is sooo important. Since your metal pans are non-stick parchment paper/rounds will be your best friend. I use it on the surface of every baking pan to allow easy cake release. There is another secret baker's use instead of parchment paper or butter spray. It's a homemade pan release – aka "Cake Goop". See recipe below. It's equal parts all-purpose flour, vegetable shortening, and vegetable oil mix that can be coated on pans for easy release without tearing. Many swear by it.
Try whichever cake release method you like best. Aluminum foil and cling wrap are also baking/kitchen staples. I always need both to cover or wrap cooled cakes, frostings – anything I need to cover and set aside for later while I'm doing 10 other things simultaneously.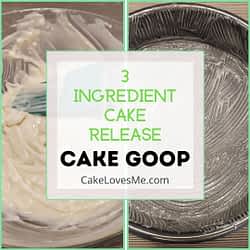 Cake Goop
Ingredients
1/2

cup

Flour

1/2

cup

Shortening

1/2

cup

Vegetable Oil
Instructions
Combine all ingredients in a bowl and mix. A paddle attchment from a stand mixer works best.

Spread evenly in your pan with a pastry or silicon brush. Don't over do it.

Release your cake from the pan within 5-10 minutes from the oven and set the cake on a cooling rack. Do not let the cake sit in the pan or the goop will solidify and chunk off.
Notes
Cake Goop can be at room temperature for 1-2 months.  It can also be stored in an air-tight container in the frig for 6 m. but will need to thaw a bit before using.  
Keep in mind – Not highly perishable but oil can separate and go rancid.  
Don't overdo the goop in your pan or your cake could turn out soggy or the goop will crush on your cake during baking.  However, some say be generous with the goop!!…try what works best for you.  
Parchment paper can still be used but it's not necessary which is the entire reason for Cake Goop.  
If you bake a lot this recipe can be doubled depending on how much you need. 
Nutrition
Serving:
1
g
Calories:
2073
kcal
Carbohydrates:
48
g
Protein:
6
g
Fat:
212
g
Saturated Fat:
115
g
Trans Fat:
13
g
Sodium:
5
mg
Potassium:
67
mg
Fiber:
2
g
Sugar:
1
g
Calcium:
10
mg
Iron:
3
mg
https://cakelovesme.com