#4 Cake Strips/Baking Strips
I really don't know what I would do without these cake strips. These strips help your cakes bake level and even without that domed "Poof" at the top. Simply soak them in water, ring out slightly, wrap them around the outside of your cake pan (pin or thread through like a belt), and witness the miracle happen before your eyes! Yes, you may need to do some minor cake trimming afterward but that big ole' dome will be gone. Can I get an Amen??
#5 Scale and Oven Thermometer
A good kitchen scale is your secret weapon for precision measurements. It rivals any measuring cups or spoons and can clarify weight for all your recipes.
An oven thermometer is a tool to help verify the internal and true temperature of your oven during the cooking process. Knowing that the internal temperature matches the oven setting is crucial to successful cooking or baking.
Put the oven thermometer in your oven, and preheat your oven to 400 degrees Fahrenheit.
Take a reading. When it's fully preheated, check the reading on the thermometer.
Recalibrate, if necessary.
#6 Sifter
A sifter helps break up clumps, aerate flour, powdered sugar, and other sifting ingredients for even consistency and better taste. Made from stainless steel, some with a spring squeeze handle or handheld. Many recipes call for sifted dry ingredients and you will need a sifter.
#7 Mixing Bowls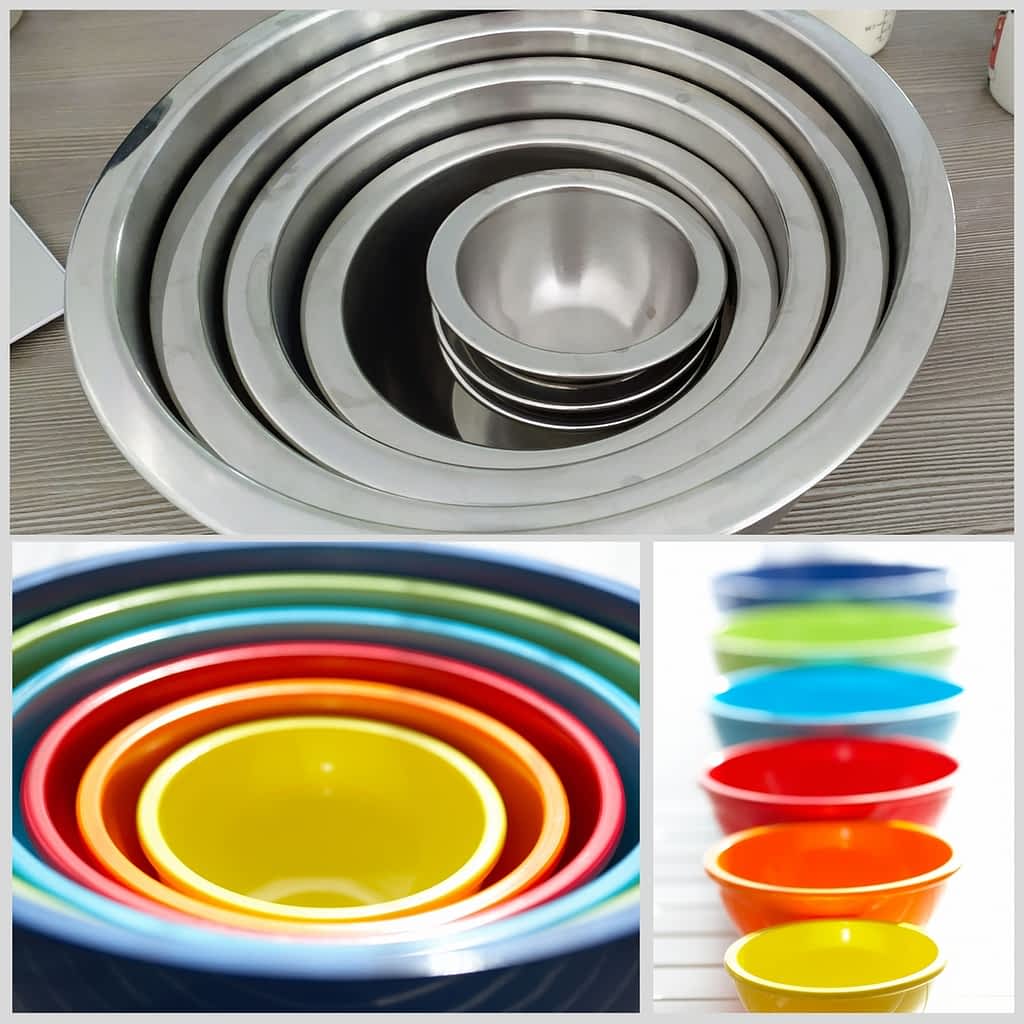 Invest in a good set/s of mixing bowls. I cannot stress this point enough. Many may think, they're bowls – big deal just pick a set. No! They are not all right for hard labor. The silver stainless steel bowls you see in this photo are my favorite for almost anything.
Tried and true they are strong, lightweight, stackable, have an easy top grip, easy to clean, deep with tall sides, stays cool at any room temperature, and comes with plastic covers. Take care of these bowls and they will love you back forever. Other mixing bowl materials are made from copper, plastic, melamine, or glass. Each with pros or cons depending on usage.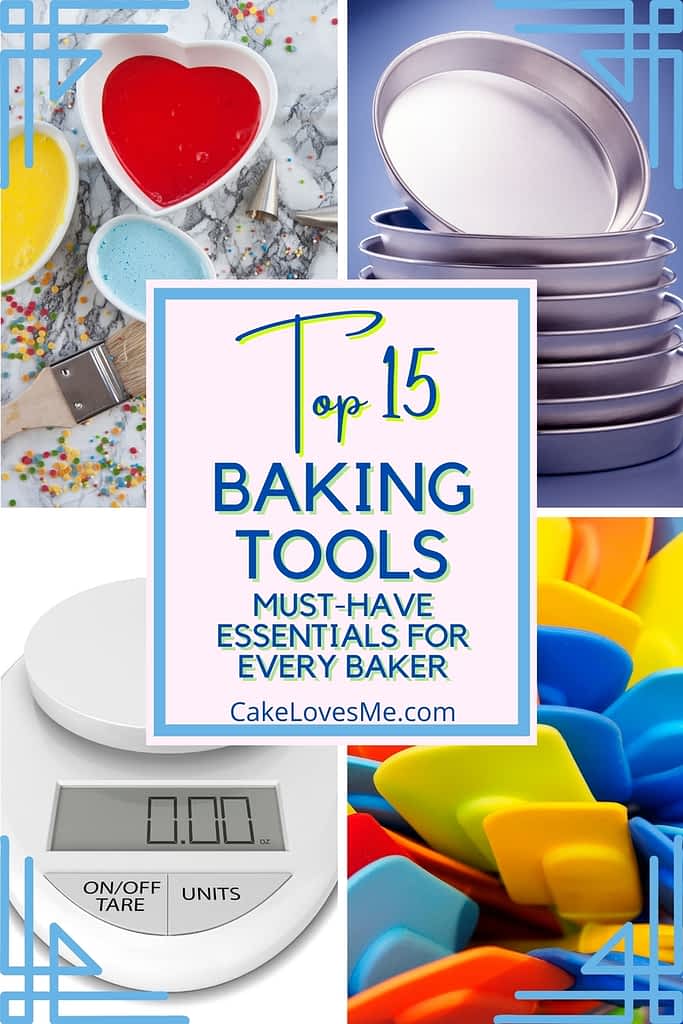 #8 Measuring Cups
Ok, this leads us to measuring cups and spoons (below). The advice is the same for these two very important set/s of tools for baking and cooking measurements. Buy smart, not cheap and they will last years and avoid the dishwasher for plastic and stainless steel – it will ruin, discolor, or crack over time due to the heat.
Pros and Cons
Stainless Steel

Pros: inexpensive, durable, lightweight, stackable, easy to clean, can be used as a double boiler, stays cool at any room temperature, and is ok for the dishwasher however-over time the detergent, and humidity can corrode the metal. Depending on the quality of the product be weary of the dishwasher.
Cons: not microwave safe, not all stainless steel is dishwasher safe-low quality products can oxidize and come out tarnished, can dent or damage depending on rough storage or usage.

Glass

Pros: for prep and serving in the same bowl, inexpensive, durable, microwave safe, stackable, easy to clean, and is ok for the dishwasher however-over much time the detergent, and humidity can corrode the glass. Depending on the quality of the product be weary of the dishwasher.
Cons: glass is heavy, not easy to store, and not always easy to manage when pouring.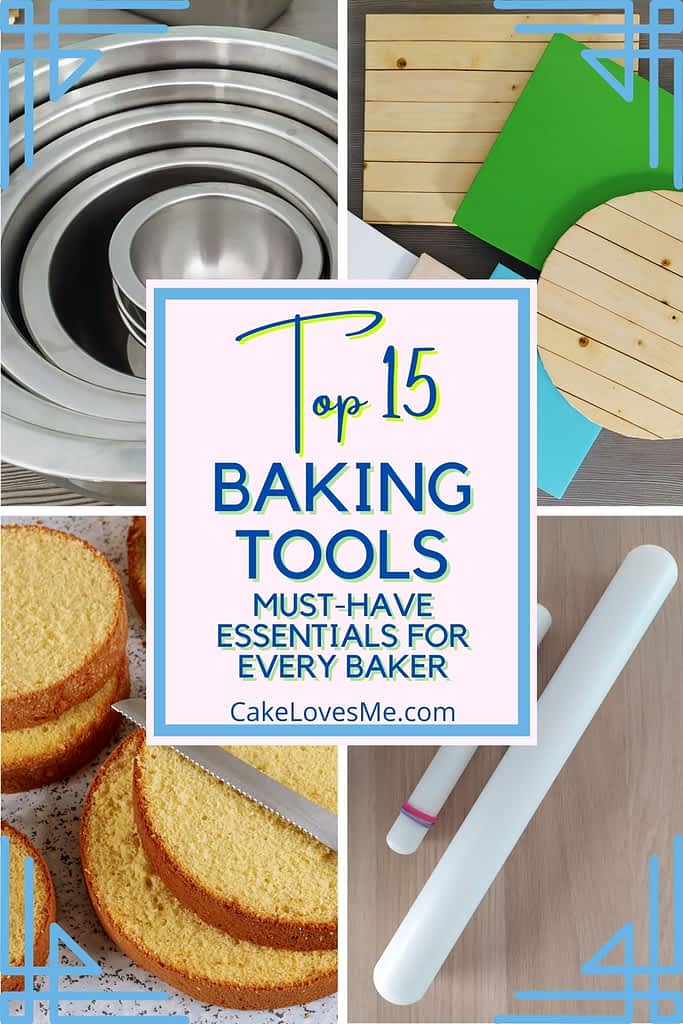 Copper

Pros: great at maintaining temperature, has ions that bond with certain foods like whipping eggs which makes them light and fluffy, looks beautiful, can be used as a double boiler.
Cons: expensive, delicate, not dishwasher safe.

Plastic/Melamine

Pros: inexpensive, durable, stackable, shatterproof
Cons: Scratches which can create crevices for trapping food causing contamination, traps odors, discolors over time, can't be used as a double boiler, not necessarily dishwasher safe.
#9 Measuring Spoons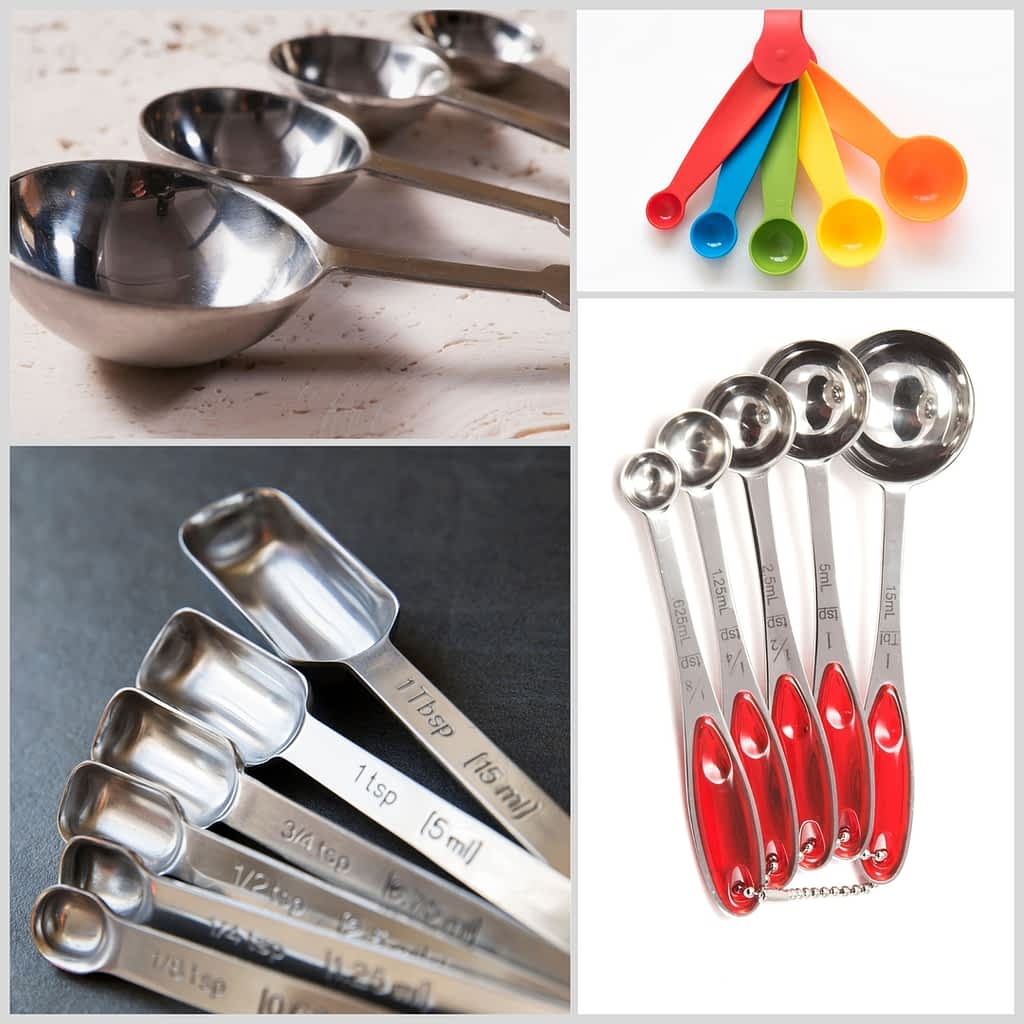 I have multiple measuring cups (different sizes), and spoon sets made from plastic, stainless steel, or glass. You cannot live with just one measuring cup or one set of spoons. Depending on how much baking or cooking you do you have to ask yourself, "Am I going to continue washing these two items between every dry or wet ingredient?" No! Yes, you will have more to clean after all is done but you will not waste valuable time during the process.
#10 Silicone Spatulas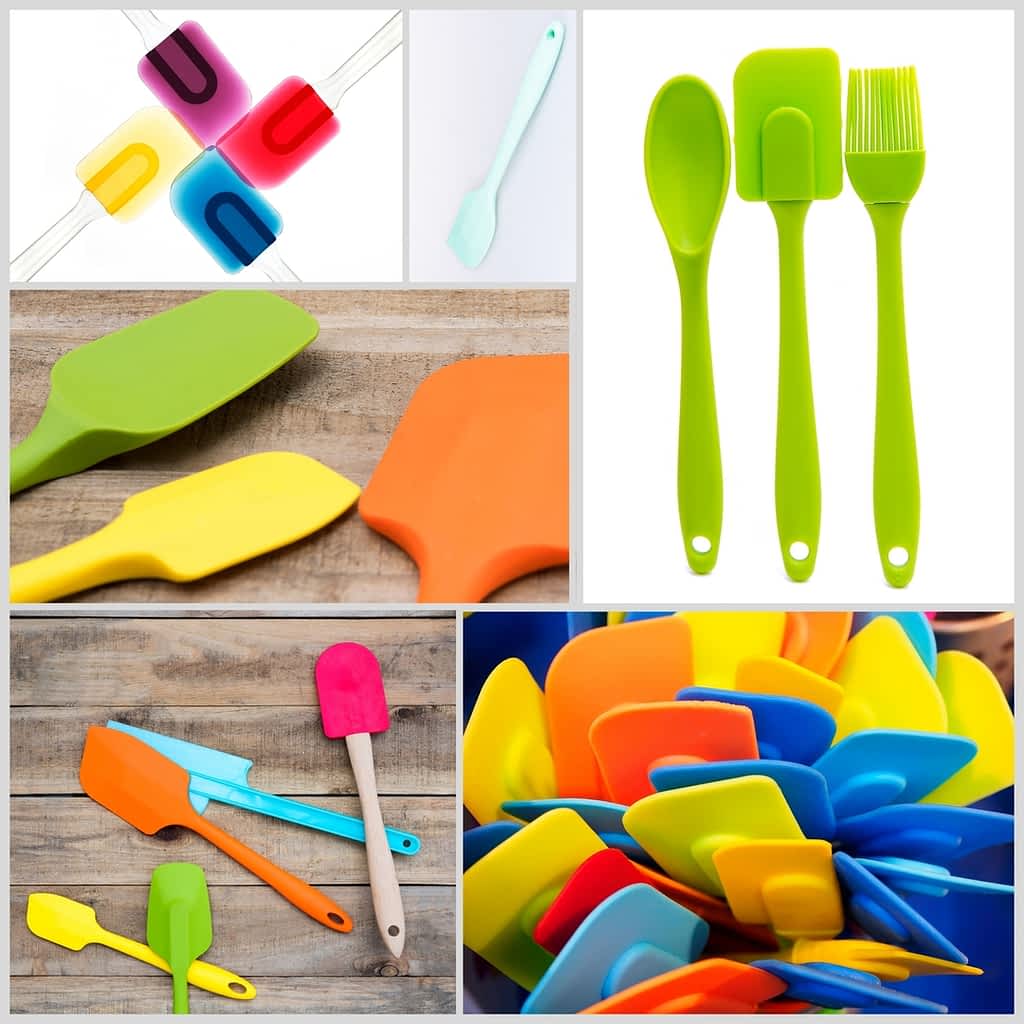 Ahh, spatulas…such an essential tool! Weed out the bad ones, don't buy low quality, and protect your favorites. You will need multiple sizes and lengths. Silicone spatulas are multi versatile, easy to handle, easy to clean, and heat resistant. The high-quality spatulas are typically dishwasher safe.
I prefer spatulas that are one piece. How many have we all gone through where the top detaches from the handle?? Talk about infuriating. Avoid buying these. I also avoid using wood utensils because wood is porous, can trap bacteria, cracks, discolors, is hard to clean, and it's not dishwasher safe.
#11 Offset Spatulas and Cake Tester Sticks
Offset spatulas are used for frosting and decorating cakes. The uses are endless. Regular kitchen knives will not give you the ease or size range for frosting a cake as offset spatulas do. Cake tester sticks are just long thin stainless steel rods used to test cake doneness during the baking process. This tool seems insignificant but it's really essential. It's designed to stick into the cake to test the doneness without poking large holes in it.
#12 Cake Leveler and/or Serrated Knife
A cake leveler has an adjustable blade or wire that helps level off the top of cakes to the desired height. This tool will cut even, smooth layers and help with cracks while stacking when filling the layers. A serrated knife can also be used to level cakes but there is more room for error when cutting the tops. If you prefer the leveler for the tops you may still need a serrated knife to trim the side of the cake.
#13 Cooling Racks and/or Marble Cooling Plate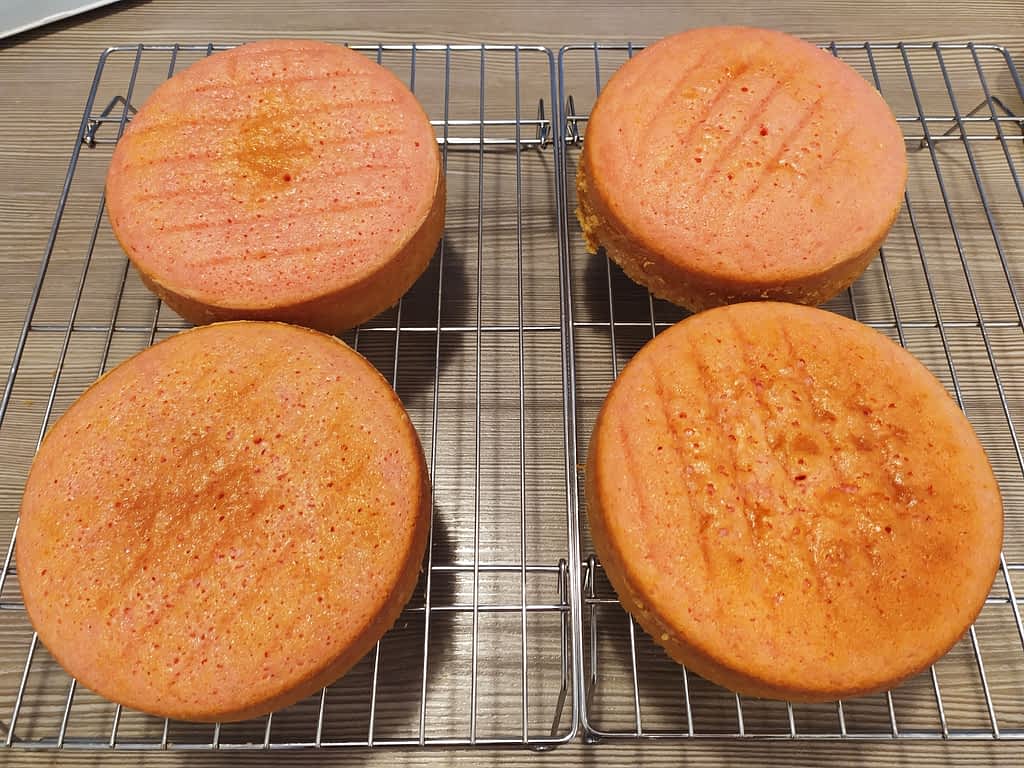 Cooling racks enable food to be cooled on all sides after being baked. The cons are they leave rack lines on baked goods but if you are trimming or staking cake layers it won't be an issue. Cooling racks are especially great for cookies.
A marble cooling plate or surface is resistant to high temperatures and does not leave marks on your baked goods. Marble is porous and can stain so avoid acidic or stainable foods.
#14 Cake Boards
Cake boards are absolutely essential for cakes and for the overall look of the design. If you are baking for the family then flat cake platters or plates are fine just make sure you have a cover. Cake boards support the weight of the cake and compliment the cake design.
You can either decorate your cake on the board or decorate it separately on a cake circle/liner and move it to a sturdier cake board. To learn more about cake boards go to my DIY Cake Board – How To Cover Cake Boards Easily.
#15 Cake Boxes and Containers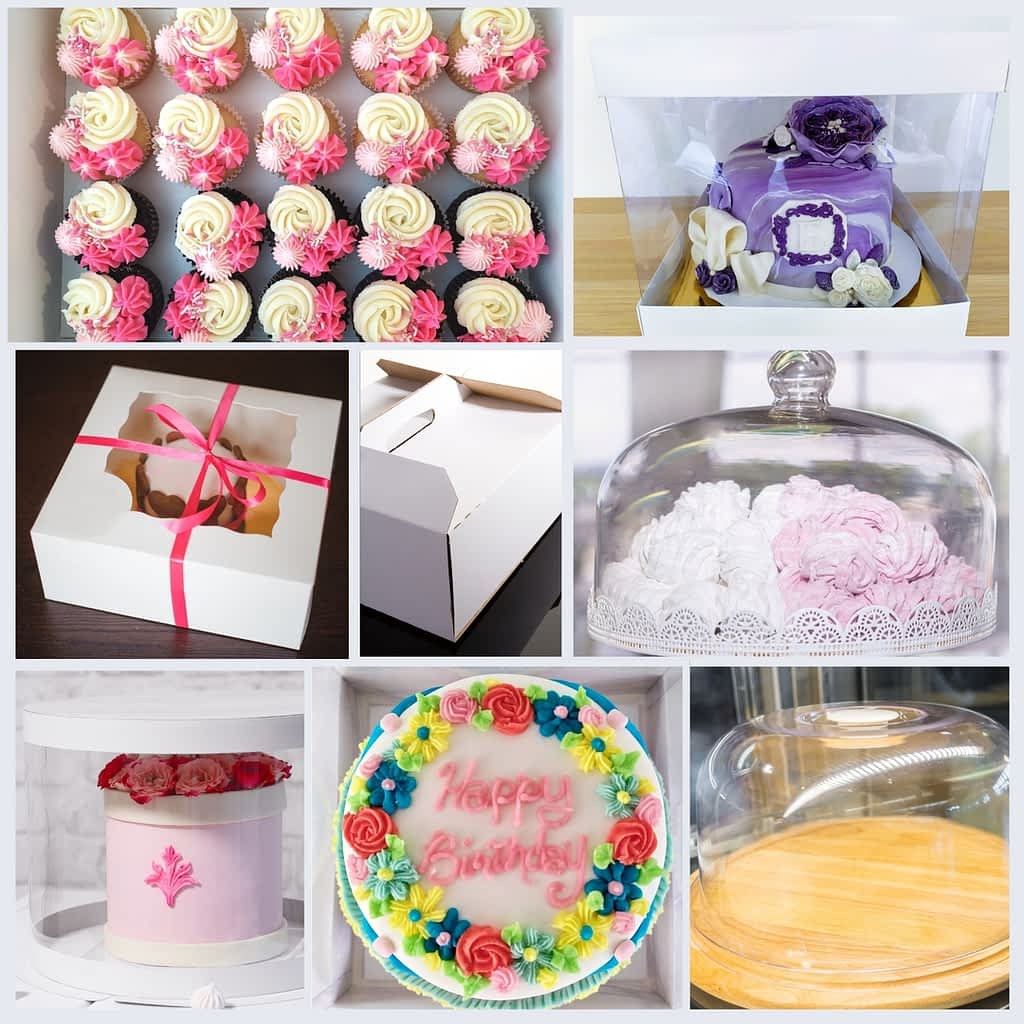 Your cakes and all baked goods must be covered. Whether you are a hobby baker or professional cakes need protection from outside elements, drying out, or simply getting damaged. Cake boxes are also not "just boxes". They finish the complete look of that special occasion which is the cake. Who wants to pick up or display a beautiful cake in an ugly box or container.
What makes a good cake box or container? – supports the weight of the cake – has extra baseliner – covers the cake completely without damaging any part of the cake – easy to carry – seals without fail – reusable – displays the cake beautifully.
To learn more about thoughtful ideas and preparation to help you in the kitchen check out my 15 Top Cake Baking Tips and Tricks.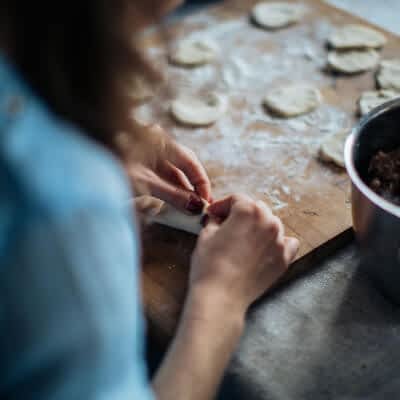 Thanks for visiting my Top 15 Baking Tools – Must-Have Essentials for Every Baker
If you enjoyed this post, be sure to check out some of the other cake creations, tips, tricks and recipes.