Most bakers have a small collection of kitchen supplies to take care of the basic cake, cupcakes, or the occasional holiday pie but if you want to get really creative and up your game, you'll need these Cake Decorating tools to elevate yourself to the next level.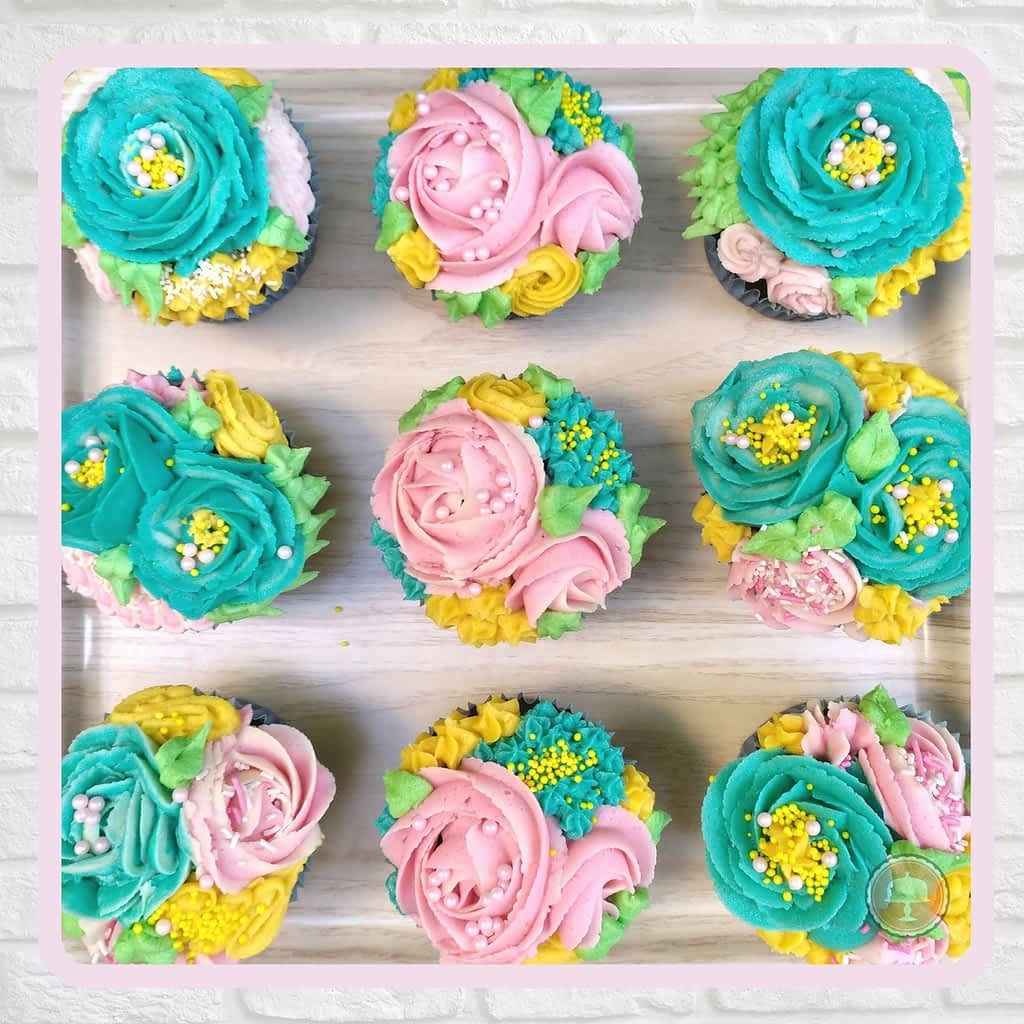 Cake Decorating Tools That Make It easier
Follow this list, research quality products, and read reviews. If you do your homework you'll use most of what you buy. Maybe you are perfectly content staying a hobby baker and only need a few additional essential tools.
Either way, the important thing is to learn which tools are used for what, the tools you need or would like to experiment with, and recognizing which tools will last and make your life easier. I am still learning from bakers and other cake designers. You'll never stop learning.
#1 Rolling Pins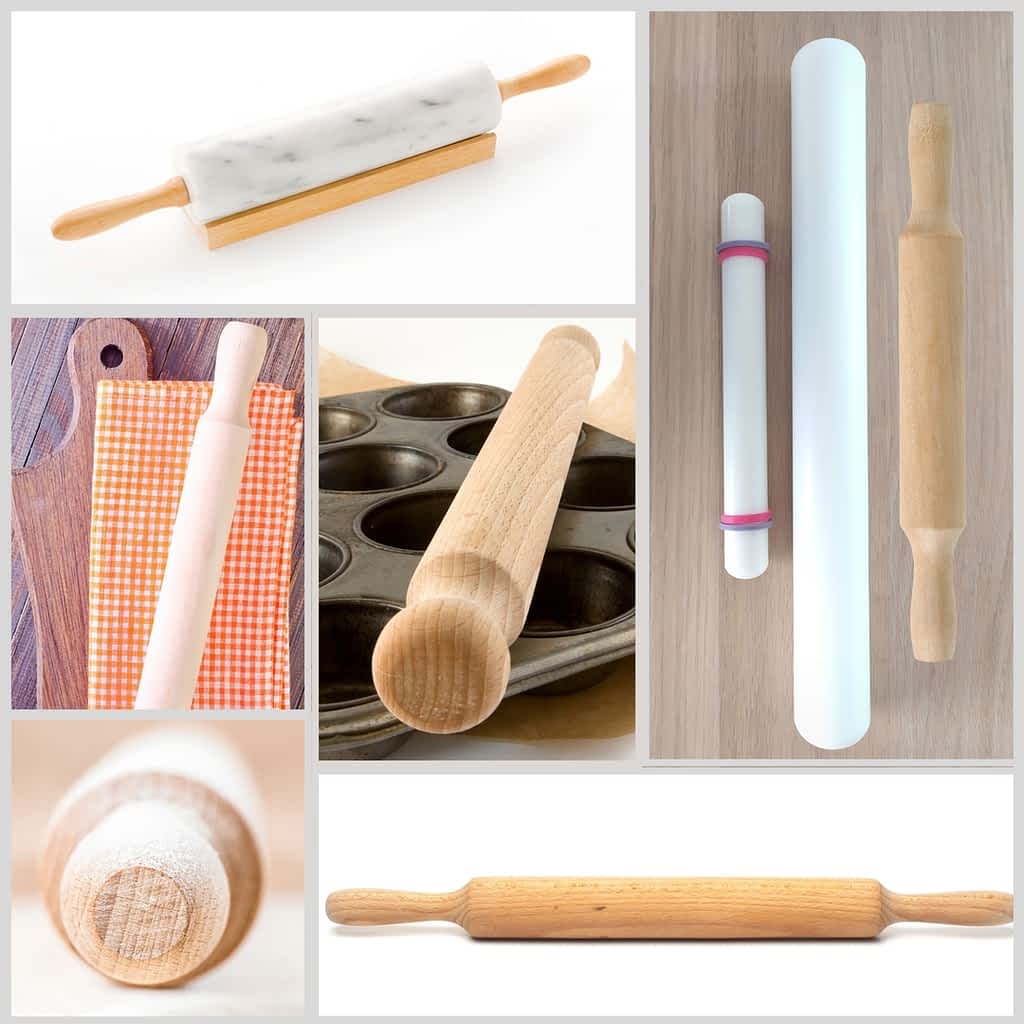 Whether you use the vintage style rolling pin with a rotating center in between the handles or you prefer rolling pins without handles this tool is essential for fondant or modeling chocolate cake decorating. I prefer the solid melamine pins for fondant and modeling chocolate as the normal pin ends leave marks when rolling pieces larger than the rolling pin.
A straight smooth large rolling pin from end to end is also good to avoid uneven rolling or marks made from your hands. The small 9″ fondant/chocolate rolling pin comes with two rubber adjustable sizers at the end to measure height and to control the thickness of what you are rolling out. This small rolling pin comes in real handy for smaller cake decorations.
#2 Cake Leveler and/or Serrated Knife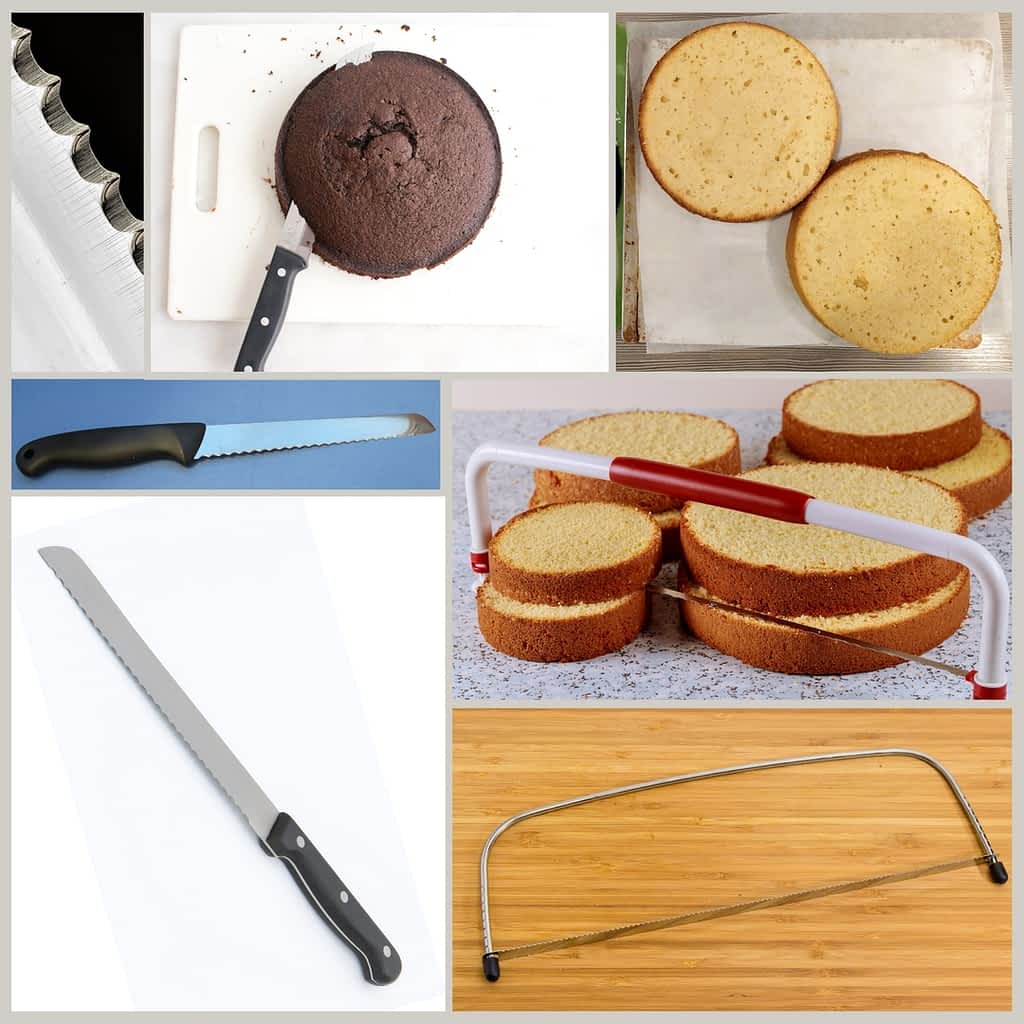 You need both. A cake leveler has an adjustable blade or wire that helps level off the top of cakes to the desired height. This tool will cut even, smooth layers and help with cracks while stacking when filling the layers.
A serrated knife can also be used to level cakes but there is more room for error when cutting the tops. If you prefer the leveler for the tops you may still need a serrated knife to trim the sides of the cake. Leveling cakes is important to achieve that even, level, polished look. Handle each with care, these tools are super sharp!
#3 Silicon or Plastic Pastry/Fondant Mat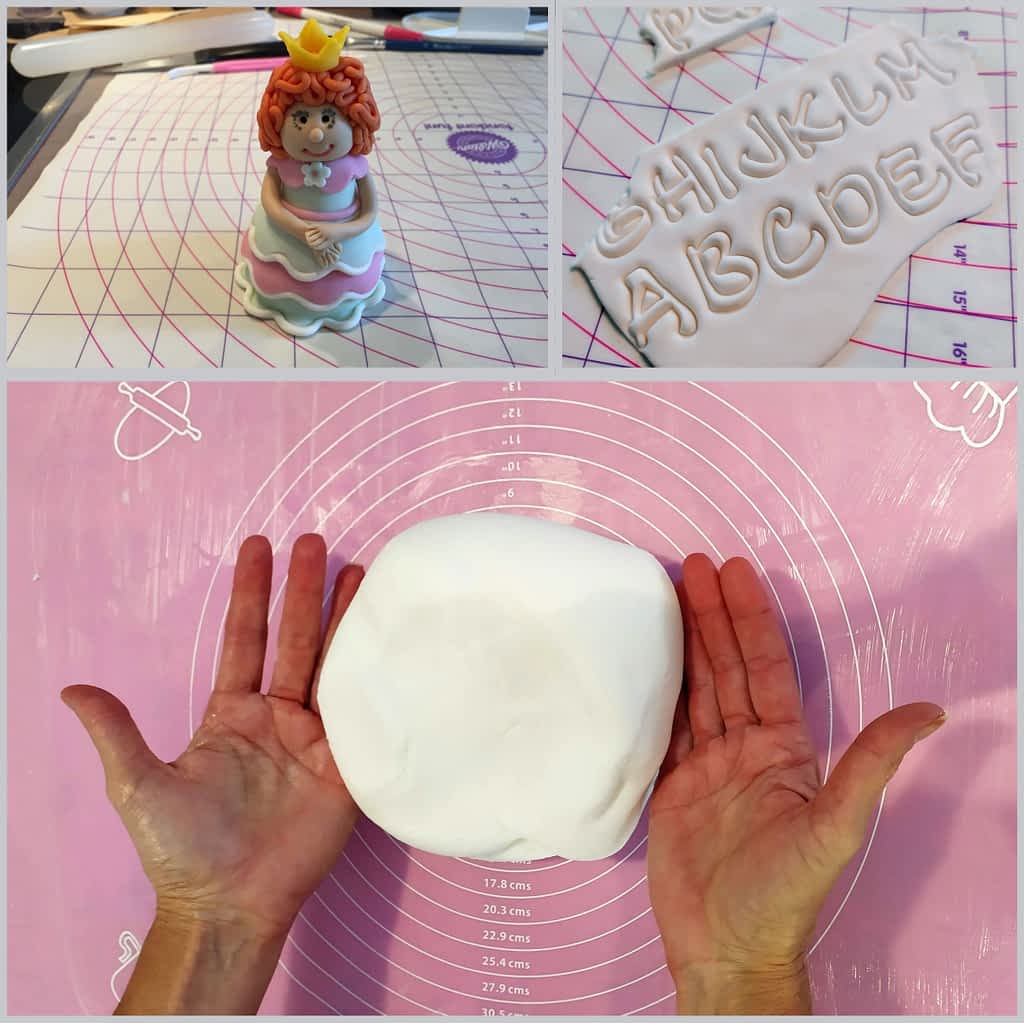 Silicone mats or plastic mats are not just for pastries. They are absolutely necessary when rolling or cutting out fondant or modeling chocolate. You may need corn starch or powdered sugar for both so they won't stick but you must have either mat to cut or to model decorations. I have both in different sizes. There are a variety of mats for pastries, decorating, or for the oven. Research additional mats you may need for different mediums.
#4 Shape Cutters and Punchers
I cannot stress how important shape cutters and shape punchers are! These are not just for sugar cookies. Use your wildest imagination. The options are endless as all these cutters can be used in a variety of ways. Invest in a collection of circles, a set of squares, and a set of super-small geometric shape cutters. You will not believe how much they will come in handy.
#5 Silicone Molds, Stencils, Letter Cutters/Press
So many decorative silicone molds, stencils, and letter cutters your head will spin. Start collecting slow and as you need certain designs. Lettering is really important and cannot always be done by piping alone. I love my letter cutting collection of fonts and sizes. You'll never have all the fonts you want or desire but seek out those that you like and are relative in size and style.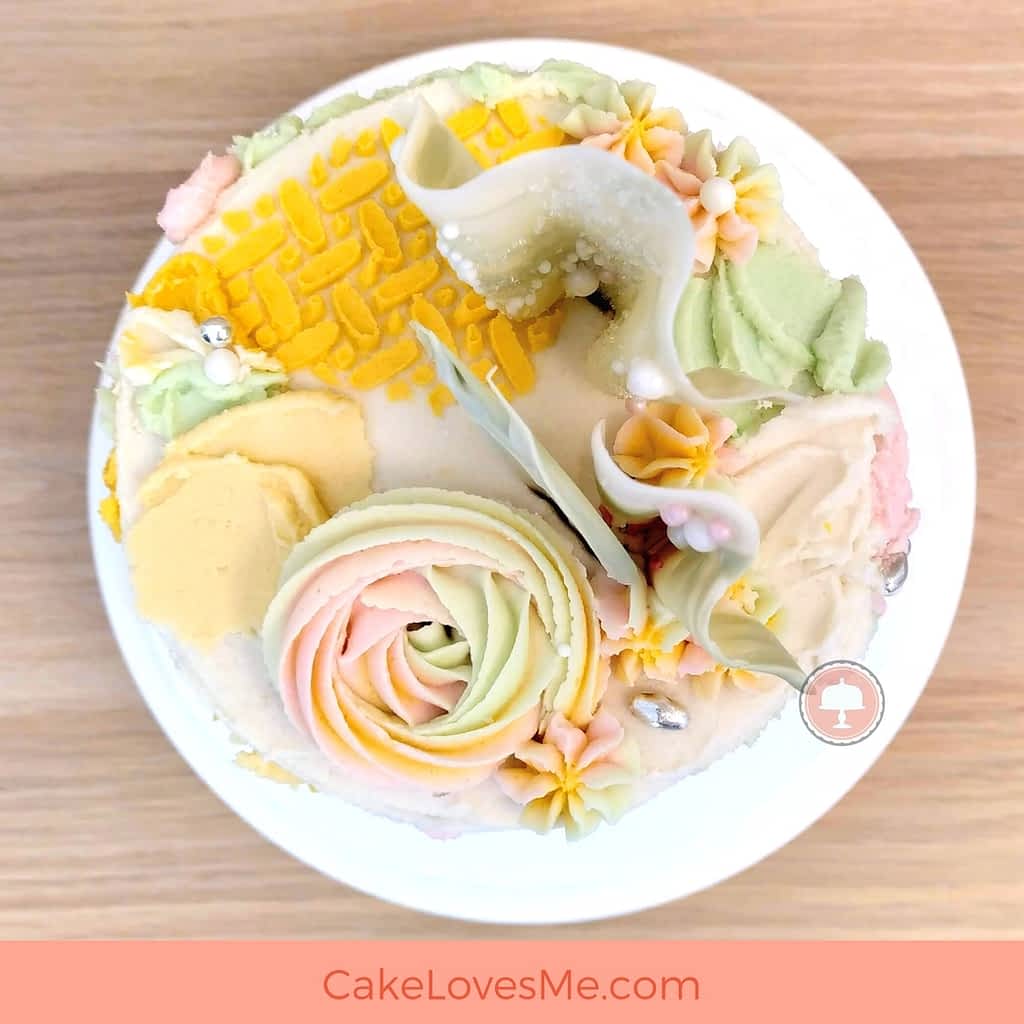 Silicone molds are great for fondant, modeling/melted chocolate molds, or buttercream frosting. Stencils are another fantastic item to help add that something special to all your cake designs. Invest in shapes that are versatile.
#6 Cake Turntable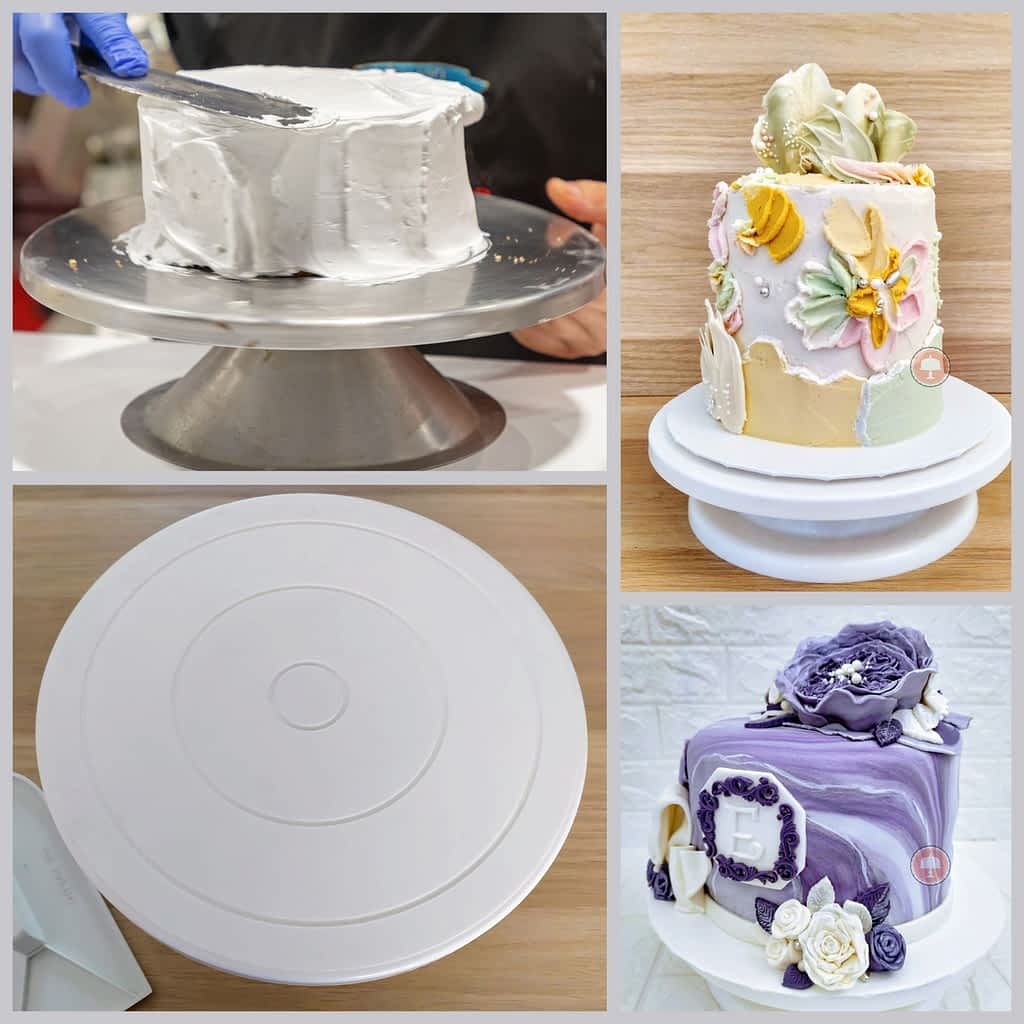 A cake turntable is one of the most incredible tools to help you decorate cakes. It's great for filling and frosting cakes. Swift piping will come easier as well when turning your cakes effortlessly. The plastic turntable will do but it does not compare to nor spin like a stainless steel turntable. I advise investing in the stainless steel model which will not disappoint.
#7 Icing Smoother/Scraper and Combs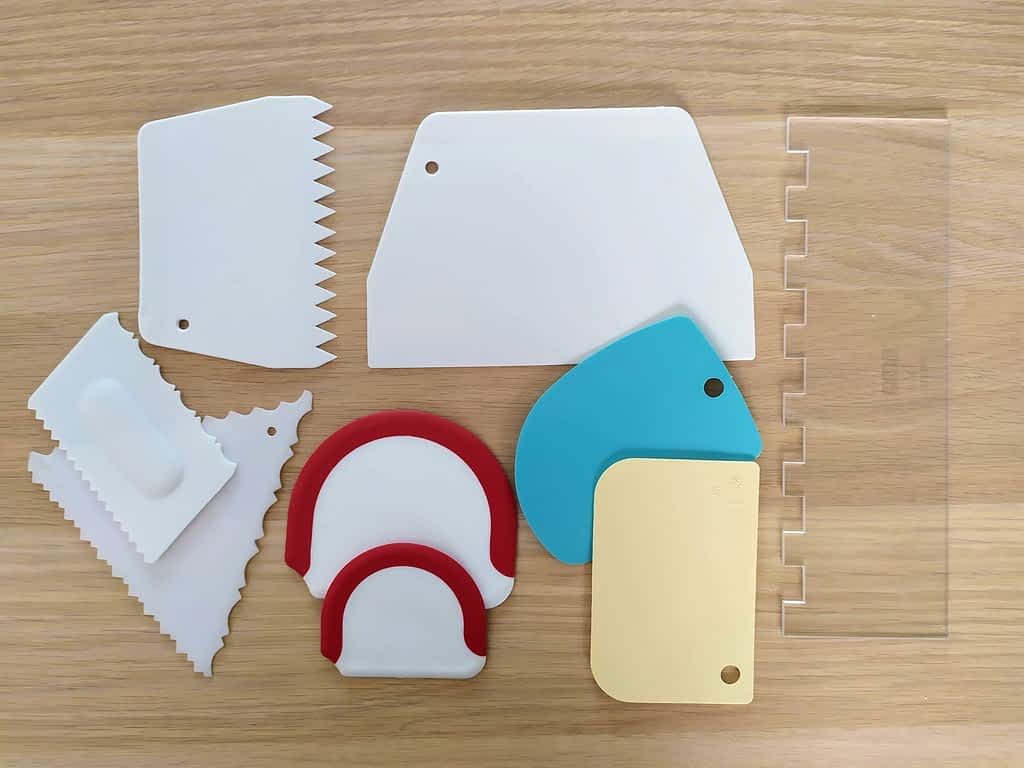 Icing smoothers and scrapers create perfectly smooth iced cakes or interesting icing textures with detailed combs. The smaller smoothers are wonderful to help detach fondant or modeling chocolate from silicone or plastic mats.
#8 Fondant Modeling/Shaping Tools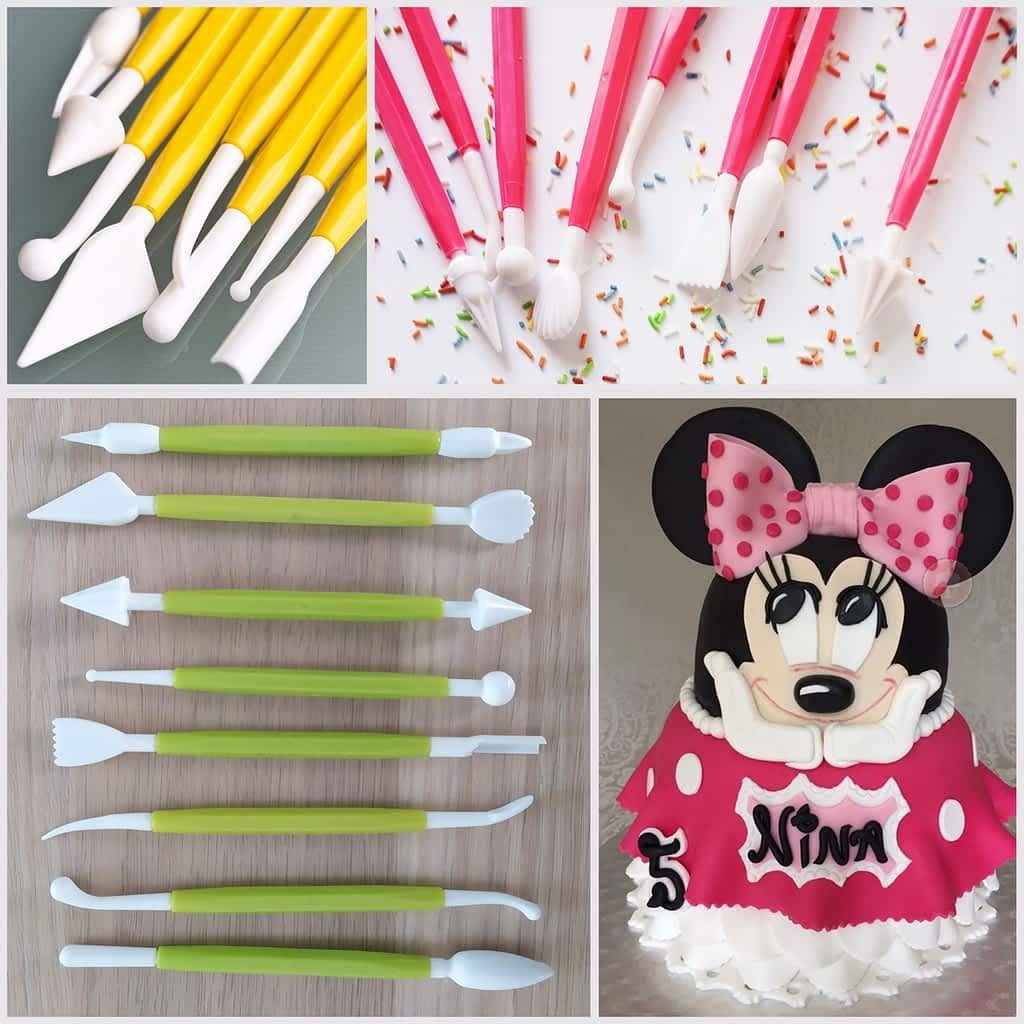 Cake fondant tools are ideal to use for fondant cakes, fondant flowers, gum paste, sugar paste, petal paste, marzipan, modeling chocolate, and decorating cookies. Excellent for form, shape, mark and imprints, figures, and other decorations.
#8 Piping Bags, Piping Tips and Tip Couplers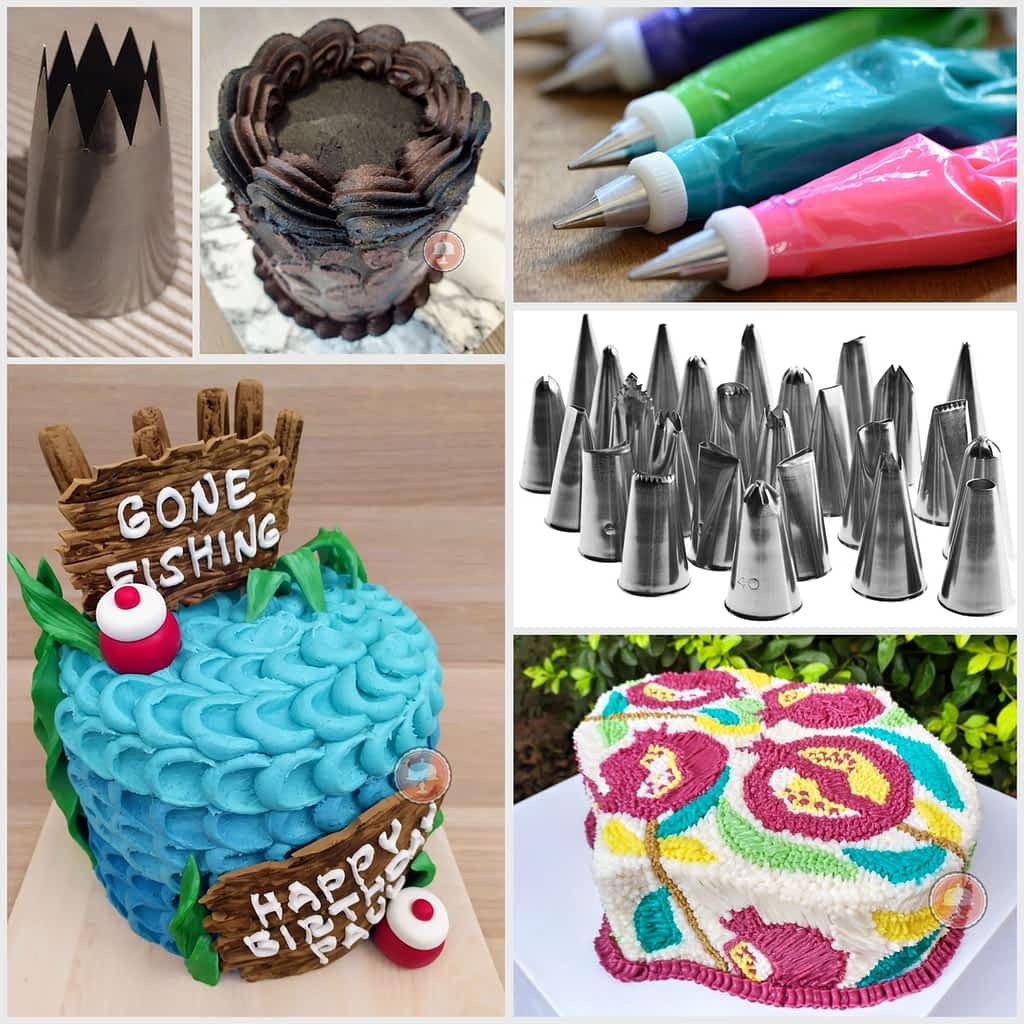 Piping bags (disposable or reusable), piping tips, and couplers will really open a new door to your cake decorating. Oh, the things you can do with piping tips!! There are a variety of piping tips sold separately or in collections.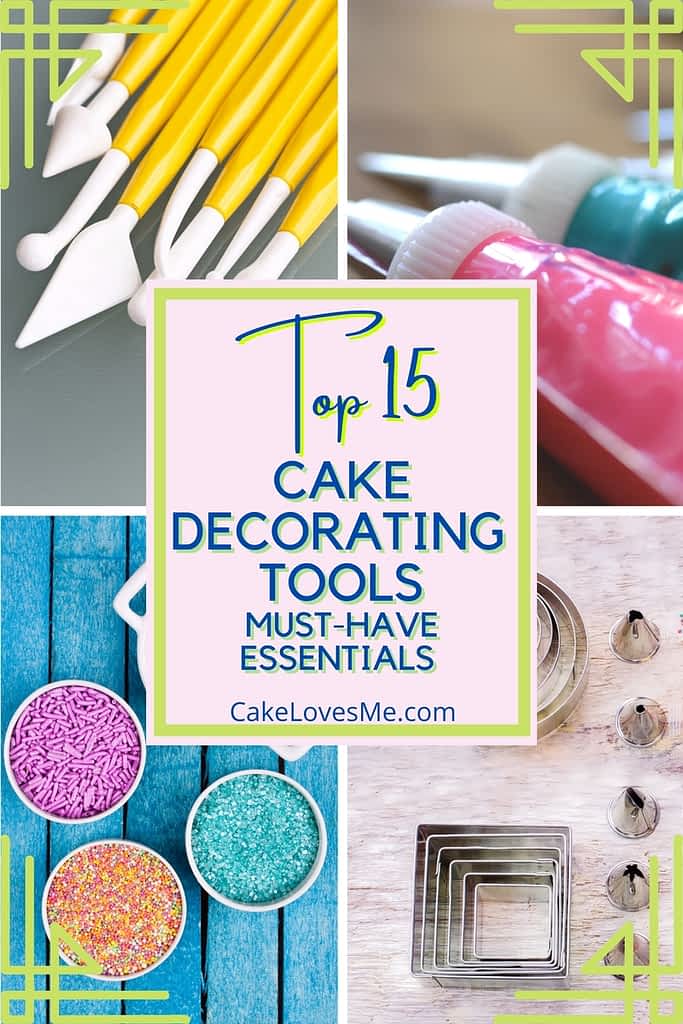 Every cake designer has their favorites. Do a little homework and start with a few or buy a small, medium, or large set and practice. You will love working with these ingenious little inventions.
#9 Misc. Small Tools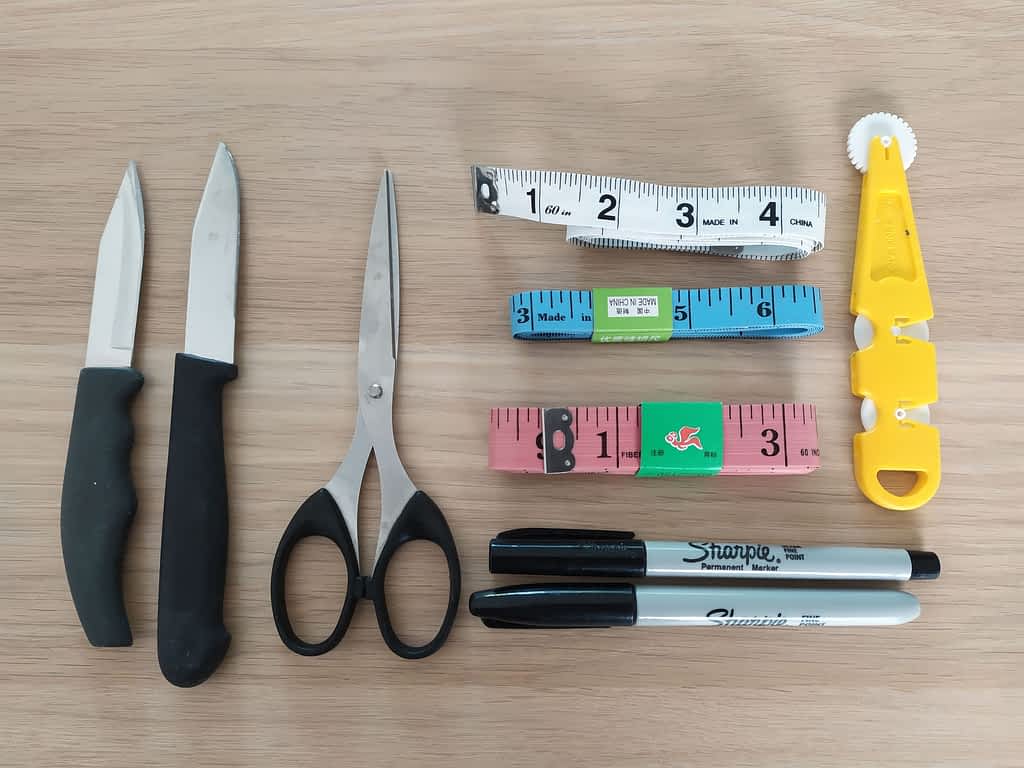 Knives with sharp edges, serrated edges, sharp tips
Xacto knife (not shown) is great for those tiny fondant/gum paste/chocolate details
Fondant, gum paste, modeling chocolate cutter with interchangeable wheels
Small or large Pizza Cutter (not shown)
Small sharp scissors for sugar decoration only
Felt tip markers (thin or fat tip) for sketching your cake design
pencils, pens, paper
Soft measuring tapes
Straight edged rulers
#10 Fondant Smoothers and Off-Set Spatula Set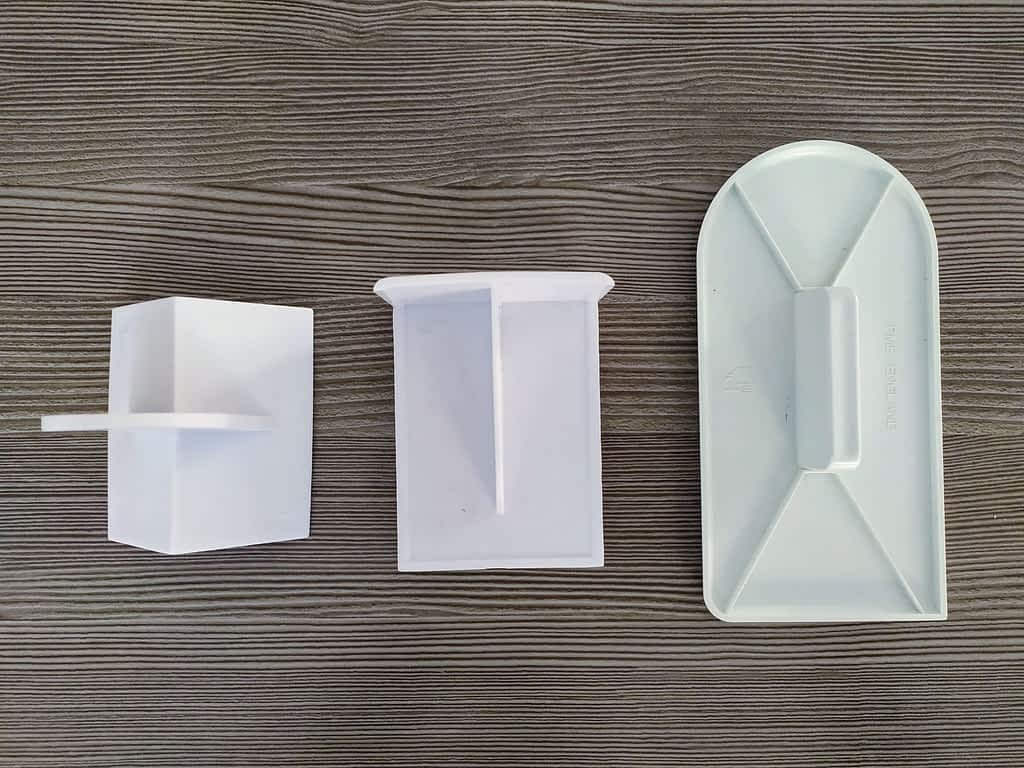 I put the smoothers and the spatulas together because they all work towards achieving that polished look for cake design. Fondant smoothers – corner, top edger, and flat/overall smoother. There is a round smoother but I don't have that one. I use the flat overall smoother the most. Fondant smoothers are amazing.
Who knew these little plastic hand-held tools would be the saving grace for smoothing those wonderful flat surfaces on cakes? If you only buy one get the flat overall smoother. You'll use it for tops, sides, rounded corners, or any other cake areas or figures that need smoothing.
Offset spatulas are used for frosting and decorating cakes. These spatulas are very important. Regular kitchen knives will not give you the ease or size range handling for frosting a cake as offset spatulas do. There are many sizes and lengths to choose from each giving you that smooth result when frosting your cake.
#11 Paintbrushes and Airbrushing Kit
I also put the airbrush machine with paints and paintbrushes together because they both work toward the same goal which is detail, detail, detail! And with both of these tools, you will need edible paint for each medium.
I've done airbrushing but I prefer paintbrushes. It's a preference thing but definitely try both and see what you like to work with most. Both take practice especially airbrushing.
You need to educate yourself on technique and cleaning the machine properly after every use. Also, airbrush machines are pricey. You don't need to buy the Cadillac of machines but don't buy the least expensive one either.
#12 Edible Gel Food Coloring, and Luster Dust
There are a wide variety of edible food coloring gels, liquids, pastes, and Luster Dust to choose from. Different recipes or desired edible decor use many types of coloring for food. I cannot go into all the do's or dont's as this would take another entire post on its own but what I will say is…Gel over liquid, hands down gel is better.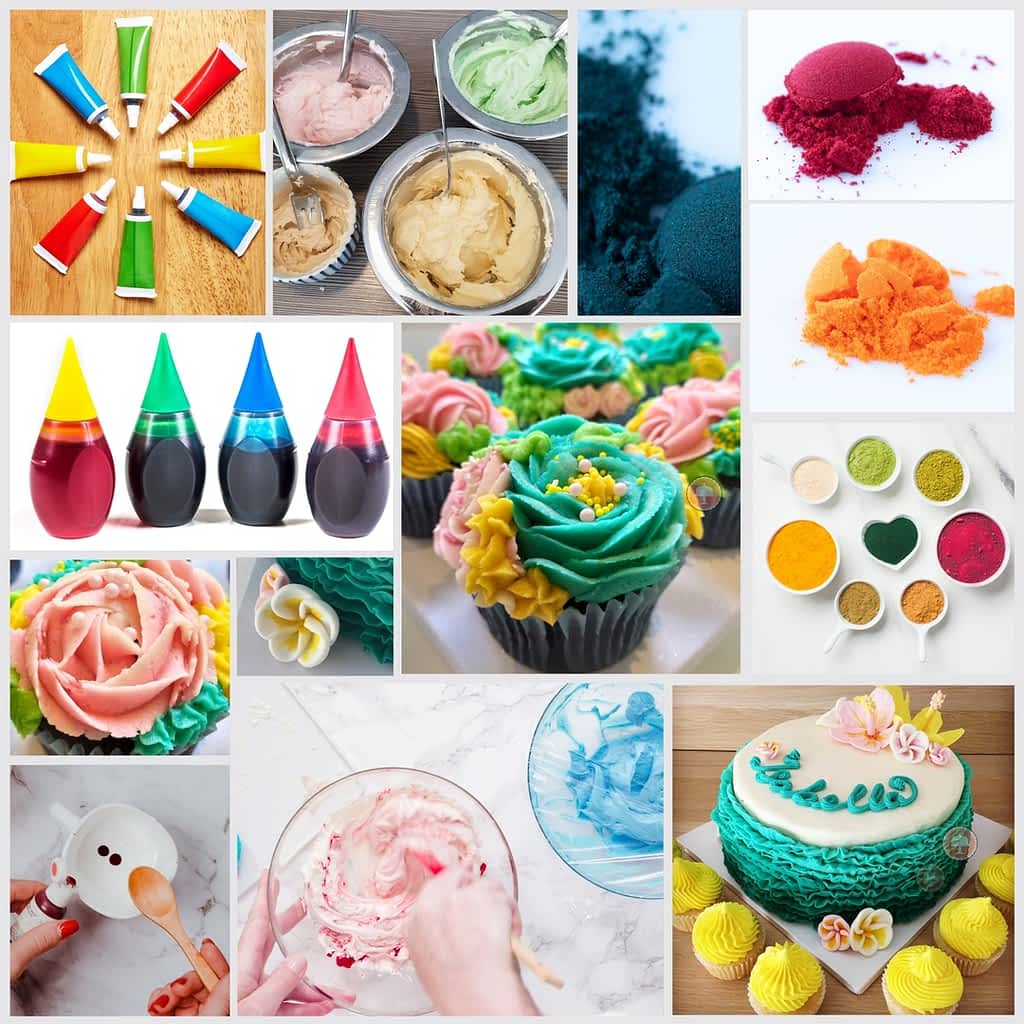 Gel food coloring is synthetic coloring with water and corn syrup or glycerin base. Therefore, Gel is very concentrated giving you vibrant colors, and is not as "liquidy" as liquid food coloring. Liquid food coloring can also alter the taste and consistency of your food because it takes more liquid to achieve color depth.
Luster Dust is an edible powder used to decorate cakes, candy, fondant, or chocolate. There are dozens of colors you can buy (silver and gold are the most popular) to add that extra sparkle to any decoration. Luster Dust can simply be applied on fondant, gum paste, or modeling chocolate with a dry paintbrush. For a more even glossier look add a little vodka or an alcohol-based extract (lemon) to the dust to create a paint for your edible creations.
#13 Sprinkles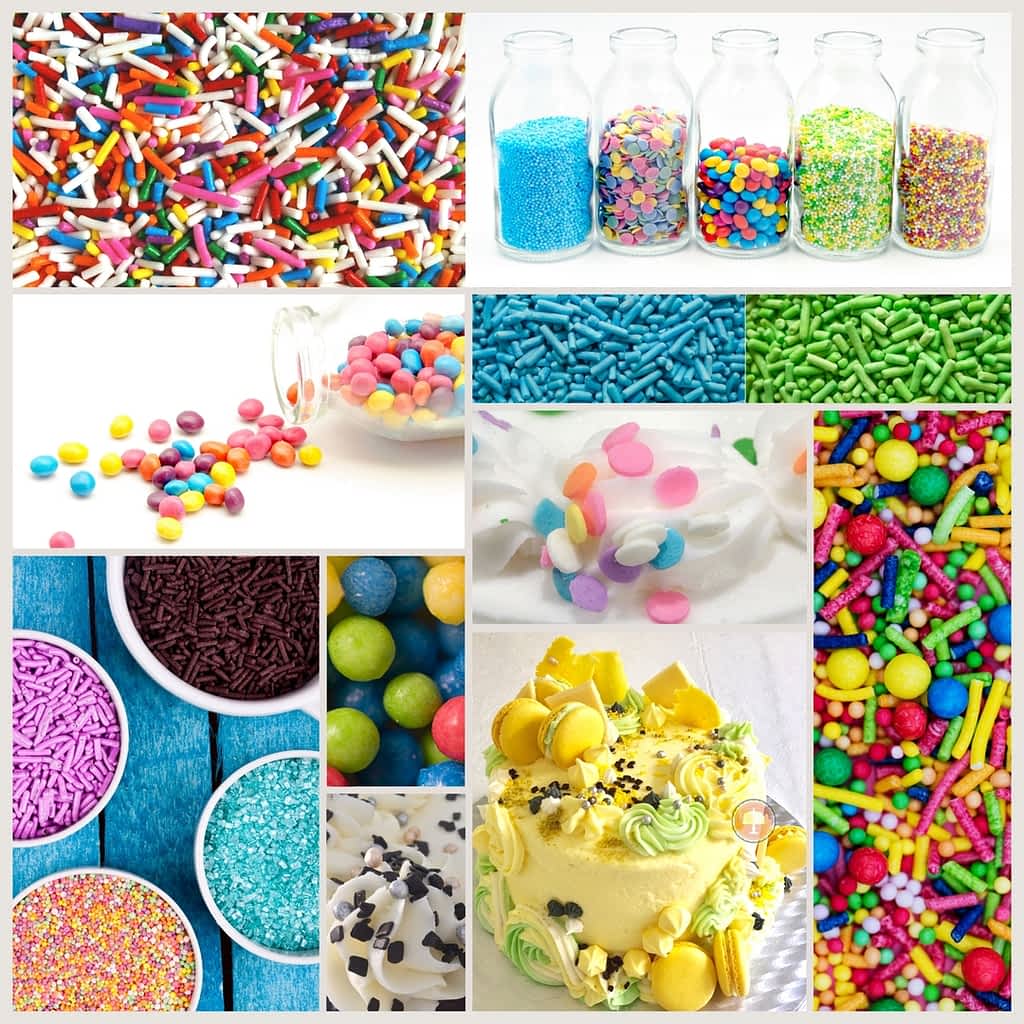 Sprinkles!! Who doesn't love sprinkles?? Ok, they're not actually a "cake tool" per se but they are an essential decorating detail that totally changes the look and feel of a cake design. Sprinkles spell a happy party waiting to happen. They're fun, beautiful and there are countless colors, shapes, sizes, and ways to use them. Just take care not to go overboard. What is overboard? You'll have to judge for yourself.
#14 Cupcake Liners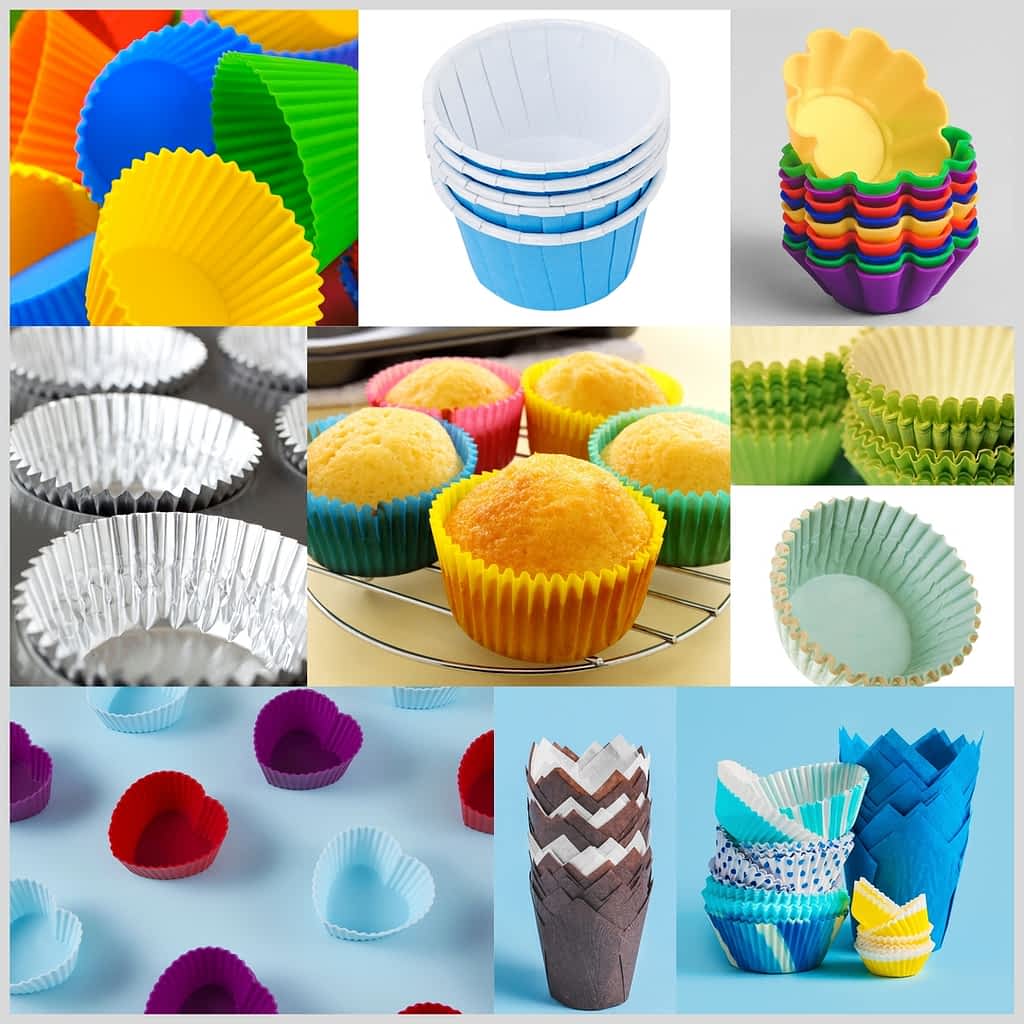 There are not just cake people there are cupcake people as well. We've come a long way with cupcake liners. Long gone are the days of just rippled white boring cup liners and that's all you get. Find an array of solid colors to multiple patterns, foils, papers, and shapes. Like cake boards, the cupcake liner is pushing its way up to be noticed. Have fun with it.
#15 Cake Boards
Cake boards are absolutely essential to finishing your cake design. Think of cake boards or platters as the shoes that complete the outfit. If you are baking for the family then flat cake platters or plates are fine just make sure you have a cover. Cake boards support the weight of the cake and compliment the cake design. To learn more about cake board decoration go to my DIY Cake Board – How To Cover Cake Boards Easily.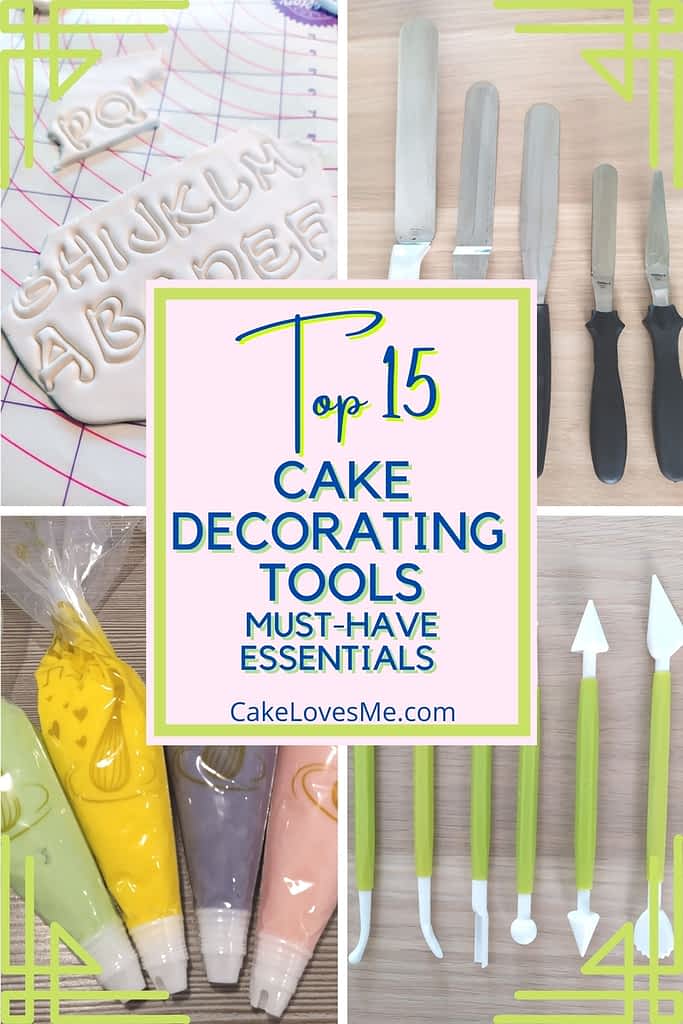 This cake decorating tools list is for budding cake designers and for anyone who would like to check their master collection. Don't leave just yet, check out my Top 50 Baking and Cake Decorating Struggles. If you've ever had a bad day in the kitchen you won't feel so alone when you read this collection of baking struggles. NEW! – also be sure to check out my latest How-To Guide on creating a color palette for you next cake design.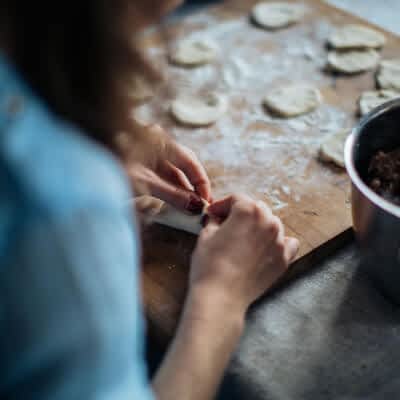 Thanks for visiting my Top 15 Cake Decorating Tools – Must-Have Essentials
If you enjoyed this post, be sure to check out some of the other cake creations, tips, tricks and recipes.