This TikTok cake design will be a hit at any party! It was for a birthday girl and another one of my favorites because the design is clean with great colors. Janet wanted a birthday cake for her daughter with the TikTok Logo on top along with using the colors black, light blue, pink, and white. This is an 8″ round Triple-layered Chocolate cake with Vanilla Buttercream Frosting. YUM!
What can be done ahead of time?
With any cake, it's best to figure out what can be done ahead of schedule. Is it possible to mold or cut any fondant figures, symbols, or lettering before starting the entire cake making process?
Absolutely, the decision you take to mold or cut fondant early is based on whether you prefer the molds to be less tacky or tacky. Example; Is the mold a small dog that will just be placed on top of the cake, or is the mold a flat detailed design that takes extra time to cut? If so, then yes, save time and do it beforehand. It would not be advisable to pre-cut any molds that need to be laid over cake corners or "stretched to fit" on certain areas of your cake.
Organization is key
These decisions are something you have to judge for yourself and comes with experience depending on the design. Again, saving time is a big consideration and helps the final decorating process move so much faster.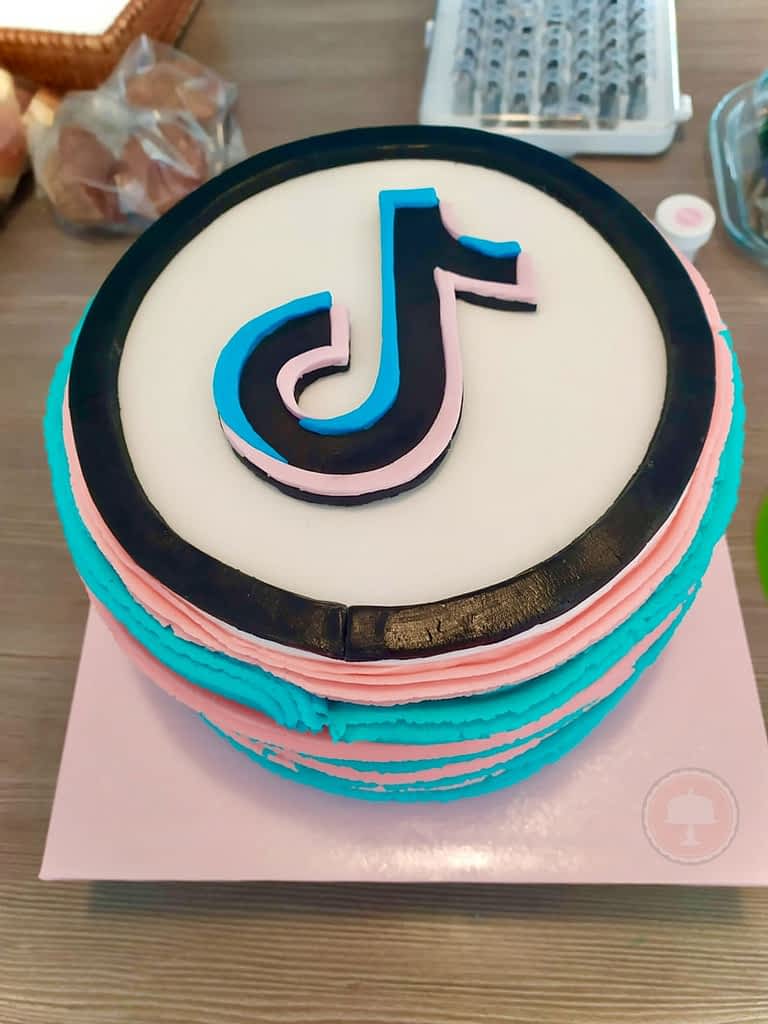 I decided to prepare most of the fondant details ahead of time (1/2-1 day prior to baking) : the TikTok Logo, the 8" white fondant base, the stars and name lettering. (The black border and board lettering was done later.)
Tools needed
*Organization is key so have these following tools ready for use:
Mats to cut and mold fondant
Rolling pins (1 large, 1 small)
Fondant spatulas/scrapers
Small paintbrush
Edible glue or water
Fondant/blk, white, blue and pink
Corn starch for fondant (little sprinkle to control the "stick")
Fondant ribbon cutter
Silicon letter mold or letter stamps (your choice)
Exacto knife
Star cutters/multiple sizes
Silver luster dust
A TikTok print out of the music symbol sized to center an 8" round. **size to your preference depending on how much space you need for the top design. (print out a few sizes and place over your cake pan to see what works for you, then cut it out so you can use as a template over the fondant).
1.5-2" deep dish oven trays/pans/containers to store flat fondant pieces on parchment paper covered by tightly wrapped cling wrap.
Cling wrap
Parchment Paper
Optional: small amount of warmed up vegetable shortening-used to shine up the black fondant with a small paintbrush.
Items needed for the cake:, all cake ingredients, 8" cake pans, pan liners, large piping bags, Wilton light pink and light blue gels to tint buttercream-one drop at a time to determine desired saturation, star tips, cake knives/tools, cake board, cake liner, cake turner.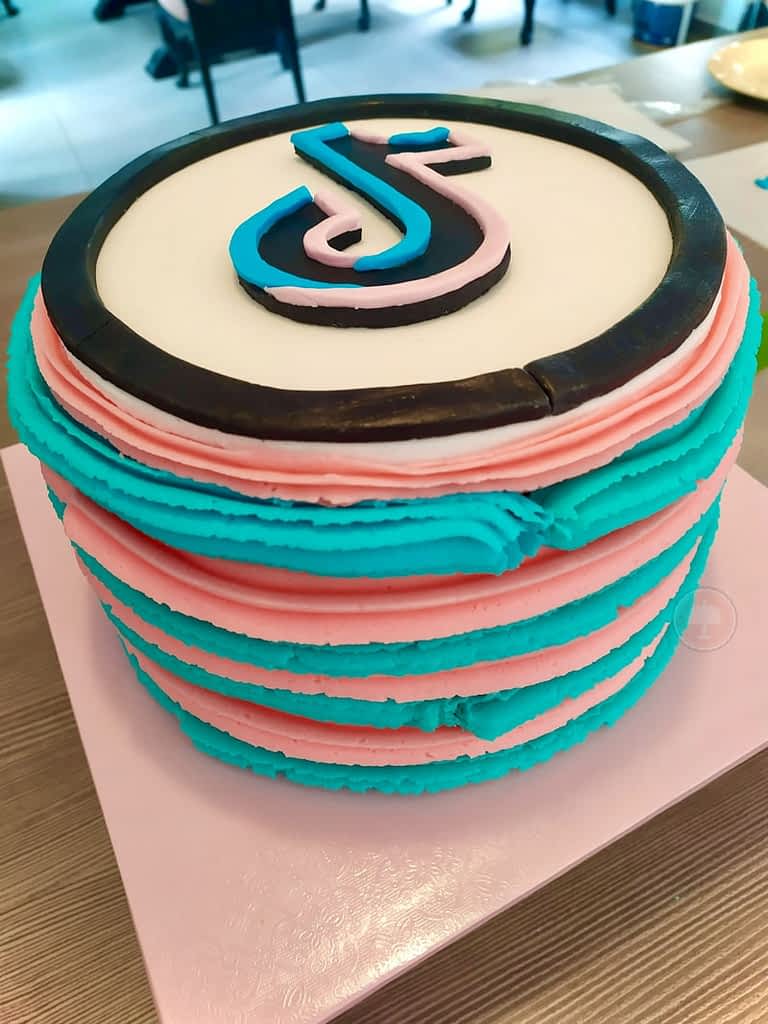 Fondant Prep:
With large rolling pin roll out white fondant (sprinkle c.startch on the mat if needed) measure to fit 8" round 1/4" thick for support (you can use the bottom of your 8" cake pan to measure over the fondant and cut in a perfect circle), smooth out, lift with spatula and place on parchment paper keeping its shape, put in container & cover with cling wrap/plastic top. **Make sure your cling wrap or container top is not touching or laying directly over your fondant pieces-it will stick and leave impressions.
Place paper TikTok music symbol over the black fondant (rolled out 1/8" thick). Use a Exacto knife to cut out the shape. *Clean Exacto knife in-between cutting new colors. Use fondant spatula to move the symbol to parchment paper. Cut paper side edging out, place over blue and pink fondant, cut out edging, dip paintbrush in glue or water (only the tip!!), then adhere the blue and pink edges to the symbol sides with the Exacto knife. Store in an airtight container (to be applied on a white base later). Pre-cut stars (do extra and multiple sizes in each color) and use letter mold to make the name lettering, handle and store as recommended.
Letter mold:
*Silicon letter mold tip :with small paintbrush, brush shortening inside the letters, press fondant into the letters and knife off the excess to be flat, place in freezer for 10-15 minutes. Take the mold out of the freezer and pop the letters out gently, store on parchment paper in an airtight container. Make sure to hand wash & dry completely the silicon mold in-between using other colors.
Ready to Decorate:
After making the vanilla buttercream (1/2 tinted in blue and 1/2 in pink), the 3 cake layers-cooled and trimmed, frosted in-between each, stacked, crumb coated and chilled, it is time to pipe the siding. Use 2 lg. star tips. One for the blue and one for the pink. You must pipe rows quickly. Where you stopped and started the rows is one specific area you can strategically place single stars or clusters of stars.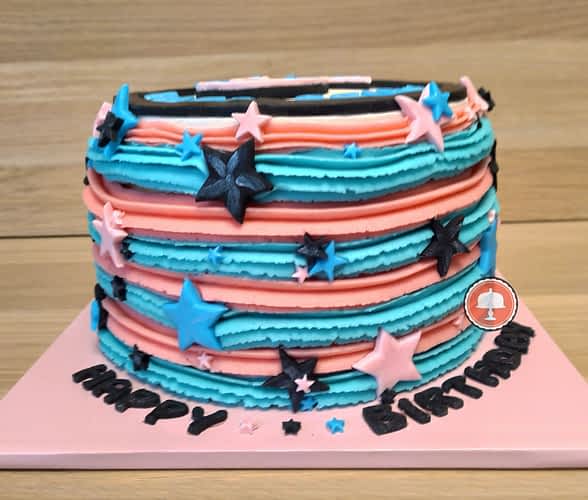 Pipe the top row a little over the top edge of the cake. After removing from the parchment paper, gently lay/apply the white base to the top of the cake, next roll out black fondant, cut a thin border line 3/8"-1/2" wide with the ribbon cutter and wrap the border around the edge of the white base. If needed – brush a little glue or water under the border. Then carefully center the TikTok music symbol. You can use your little paintbrush tip with glue/water to dab under a few edges to keep in place.
Next, properly space name lettering under the symbol. Space then glue under edges. Place all the stars where you like (use extra frosting as glue). Accent stars with silver luster dust. **Luster Dust Tip: Tap a little luster dust into a tiny bowl with a few drops of generic vodka, with a small paintbrush accent your stars. Practice on unused fondant and dap tip on a paper towel before painting on fondant.
To make any board lettering follow the same instructions mentioned above and center the message to the cake front.
Enjoy!
Now step back and admire! Take pictures, you'll be the envy of all your friends. Enjoy.
Check out my picks for – Top TikTok Cake Design Trends of 2020
Check out my other Custom Cake Designs