Many cakes are delicious on their own but when you add additional fruit fillings they can be really amazing! Strawberries in particular are such a versatile fruit and they complement so many desserts. Fruit filling also divides the cake and frosting helping to even out taste and texture. My favorite cake filling is the Stawberrry Cake Filling recipie below, which is perfect complement to your next cake. Try it and see for yourself!
Strawberries are a favorite fruit filling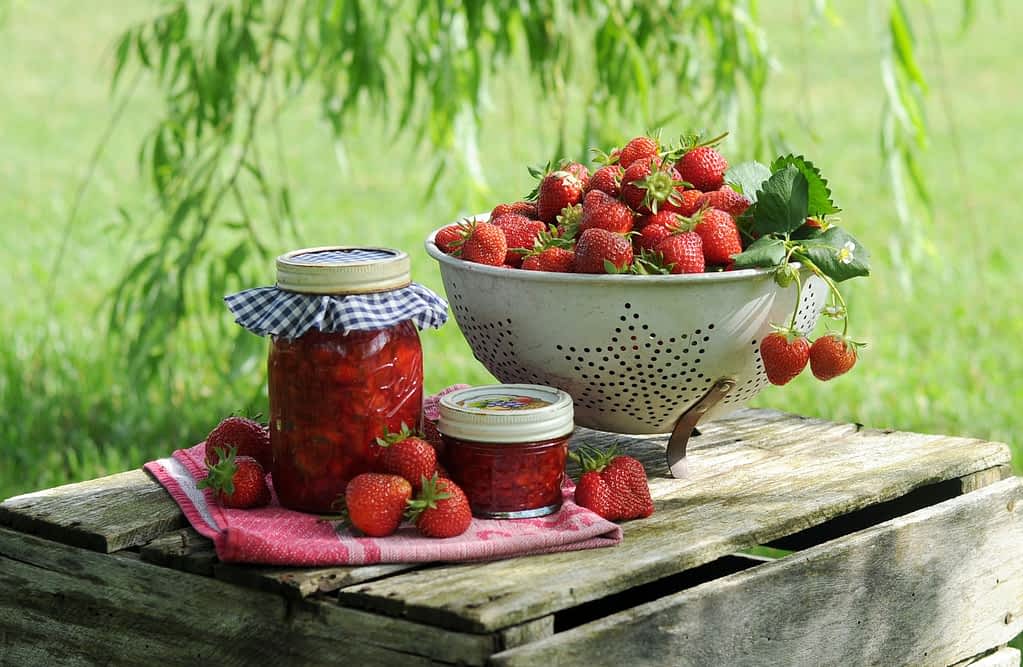 Strawberries are the most favorite fruit in the bunch in my opinion. They are healthy, taste delicious, and are sure to be a crowd-pleaser. Strawberries make people happy and they liven up even the most casual events or gatherings. From cake fillings to toppers to strawberries dipped in chocolate, you can get so creative and use strawberries in many baking or decorating mediums.
Strawberries make a good pairing with others
Adding strawberry cake filling to your next cake is easy and you can pair it with other icings and frostings. Strawberry cake filling can be paired with strawberry cake of course but also with chocolate cake, vanilla cake, lemon cake, white cake, cheese cake and even watermelon cake…there are many options. What is your favorite?
Adding strawberry cake filling to your next cake is easy and you can pair it with other icings and frostings. Keep in mind the following key tips listed in the recipe below. Always read the recipe in its entirety so you are prepared and you don't miss anything important. For more thoughtful ideas and baking/kitchen preparation these 15 Top Cake Baking Tips and Tricks are essential for me and I know they will help you too.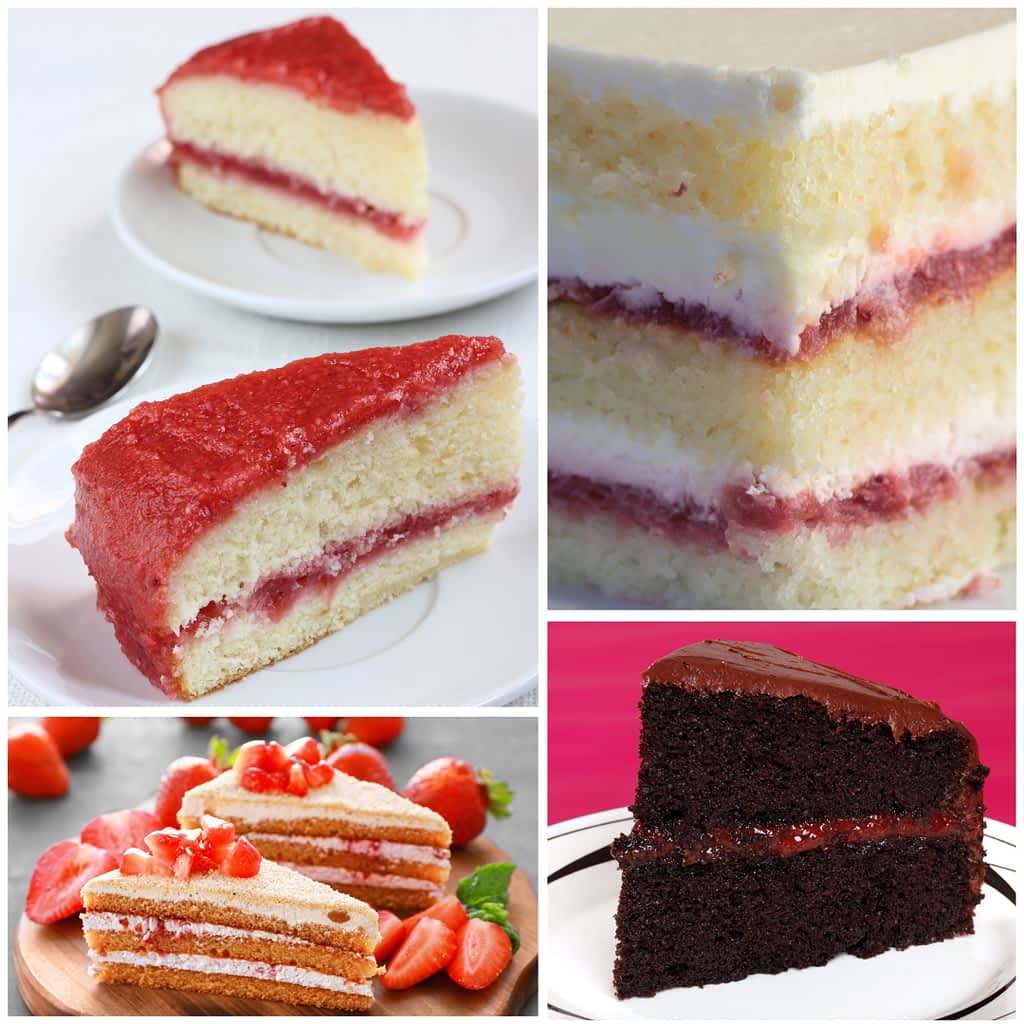 If you're a stickler for perfection and don't want to waste any part of the strawberry when coring or cutting I recommend using a berry huller/stem remover and slicer. It seems like so much of the strawberry is wasted trying to get the stems off, cores cleaned out, and/or sliced for decoration.
Delicious Strawberry Cake Filling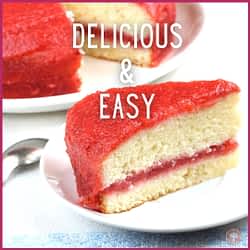 Strawberry Cake Filling Recipe
Easy how-to recipe for making a strawberry cake filling
Ingredients
3 1/2

cups

Fresh strawberries or Frozen whole berries no juice

1/4

cup

Granulated Sugar

1

tbsp

fresh squeezed lemon juice

3

tbsp

Corn starch

3/4

cup

water
Instructions
If using fresh strawberries wash, cut stems, hull cores, cube, or mash down with a potato hand masher tool or something similar before/during cooking. This makes it easy to reduce down.

If using frozen whole berries (no juice, no stems) just defrost to room temperature, drain excess water, and cut/mash before the reduction process.

In a large saucepan combine fruit, sugar, and lemon juice. Cook over medium heat until almost boiling. Continue mashing and stirring for a few minutes.

Separately mix cornstarch with water until the cornstarch is completely dissolved. Add to the pot of strawberries, stirring constantly until light boiling, water is burned off, and thickened like a loose jam. Takes a few minutes. (if needed turn the heat low, stirring a few extra minutes to cook off loose liquid)

Turn off the heat and let it sit while it continues to thicken more. Completely cool before using-cannot be warm at all-room temperature or chilled.

Shelf Life

Store in an air tight container after completely cooled.

Stays fresh in the frig for 5-7 days and 3 months in the freezer.

Once thawed do not re-freeze.
Notes
Depending on how you're filling your cake you must decide how much filling you want in between the cake layers.  Do you prefer it to flow over the sides or covered by outer frosting and not overflowing?  Cake size and the number of layers you're using will give you an idea of how much filling you need.  This recipe will fill in between 2-3 cake layers.  If you want just a thin layer of filling this recipe could fill in between 3-4 cake layers-but again it will be thin.  
*If you are covering a cake with outer frosting be careful not to overload the fruit filling in between the layers.  You do not want it oozing or bulging out from the cake sides through the frosting once the cake layers settle.  Always make a frosting dam edge around your cake layer.  Pipe a single layer around the outer edge to prevent filling leakage.  Repeat this step for each cake layer. 
*Remember – when you're doing a fruit reduction it takes your amount down by 1/4-1/2 so if you need more filling double the recipe.  
Nutrition
Calories:
75
kcal
Carbohydrates:
19
g
Protein:
1
g
Fat:
1
g
Saturated Fat:
1
g
Sodium:
3
mg
Potassium:
131
mg
Fiber:
2
g
Sugar:
12
g
Vitamin A:
10
IU
Vitamin C:
50
mg
Calcium:
15
mg
Iron:
1
mg
https://cakelovesme.com
If you love strawberries please take a look at my Watermelon Cake with fresh strawberry puree and fresh strawberry buttercream frosting! Yes you can use strawberries to make watermelon cake.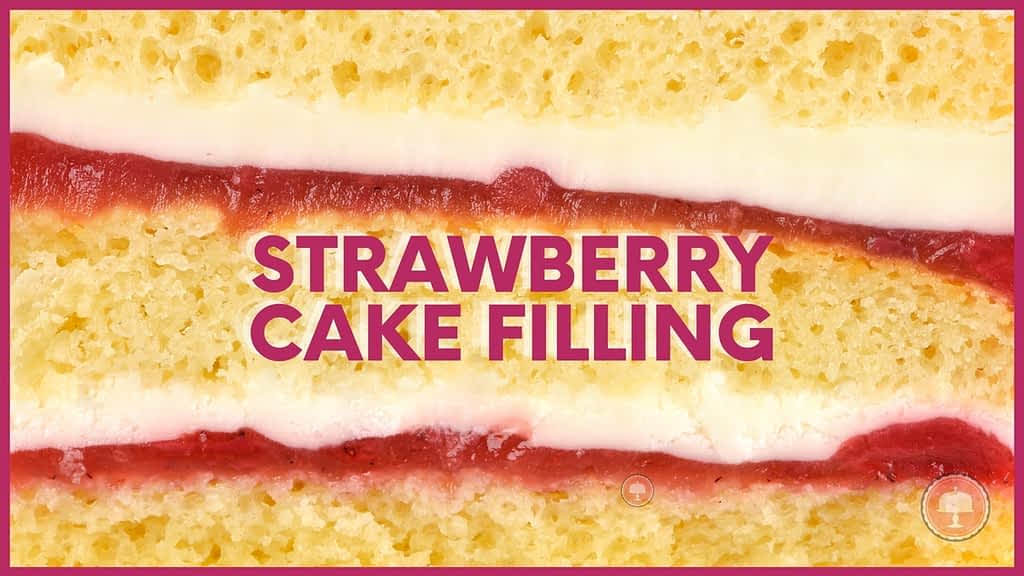 Thanks for visiting my Strawberry Cake Filling Recipe. Happy Baking!
If you enjoyed this cake design, be sure to check out some of the other cake creations, tips, tricks and recipes.