Table of Contents
Birthday Cake for Men is classy and stylish
We need more Birthday Cakes for Guys who don't want flowers & frills. This trendy birthday cake for men is a lifestyle, a mood, a classy place you want to be seen at. Men like cake, men have birthday's, men like celebrations and men like being celebrated – Guys, you are not forgotten!
There are so many cake designs catered to women and girls. Most are frilly, sparkly, covered in sprinkles, layered with flowers, cutesy teddy bears, rainbows, fruit with eyeballs winking, designer handbags/shoes, ice cream cones, candy, pink, pink, and pinker!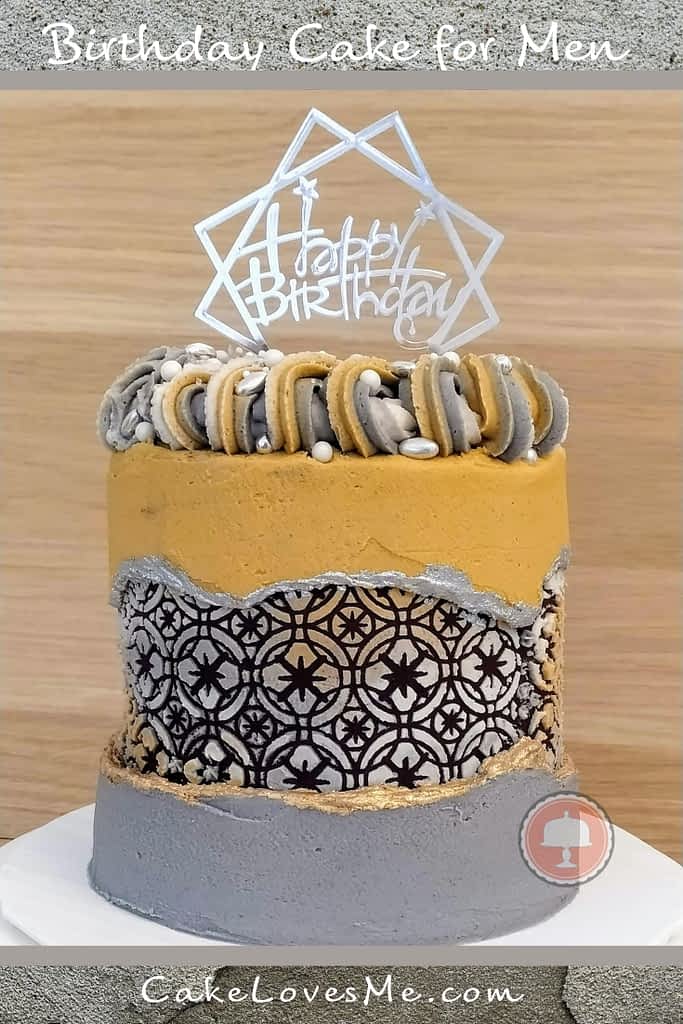 Baby boy, toddler, or kid cakes are pastel blue, yellow, green, blocks, stuffed animals, cartoon characters, superheroes, trucks, suspenders, little shoes – cute, that's just it – they're cute and they're for a younger age.
Don't get me wrong, I love all this stuff, we all do but…some men (or women for that matter) don't want cute (unless otherwise specified of course!) The same goes for women who don't want flowers, frills, or sprinkles either. Naturally, any cake design can be for anyone, it's all about personal preference.
A trendy birthday cake for men – is not frilly
You can always find adult male themed sports cakes, motorbike cakes, music/band-related cakes, gym themed cakes, it's all out there and these themes are awesome. What we don't see often are sharply decorated cakes that are simple, elegant, sophisticated, or mod with a more neutral color scheme. Why is that? Well, for starters, it's hard to do this. Second, maybe it's because there are more women customers ordering cakes for women over men customers ordering cakes.
Female customers and cake designers choose cake styles, colors, and themes for mostly women and girls, not for adult men. This in no way implies that female cake designers can't design cakes for men, on the contrary, we can and we do. The same goes for male cake designers. This look is just a challenge outside of a direct theme and it's not often we bakers get these types of requests separate from groom's cakes.
What would Ralph Lauren or Tom Ford want as a Birthday Cake?
Cake bakers have a huge challenge in designing cakes for men who are looking for a particular style. What can we do that isn't traditionally feminine? There are so many colors and traditional decorating styles that are perceived too girlie, too feminine, or for children and babies.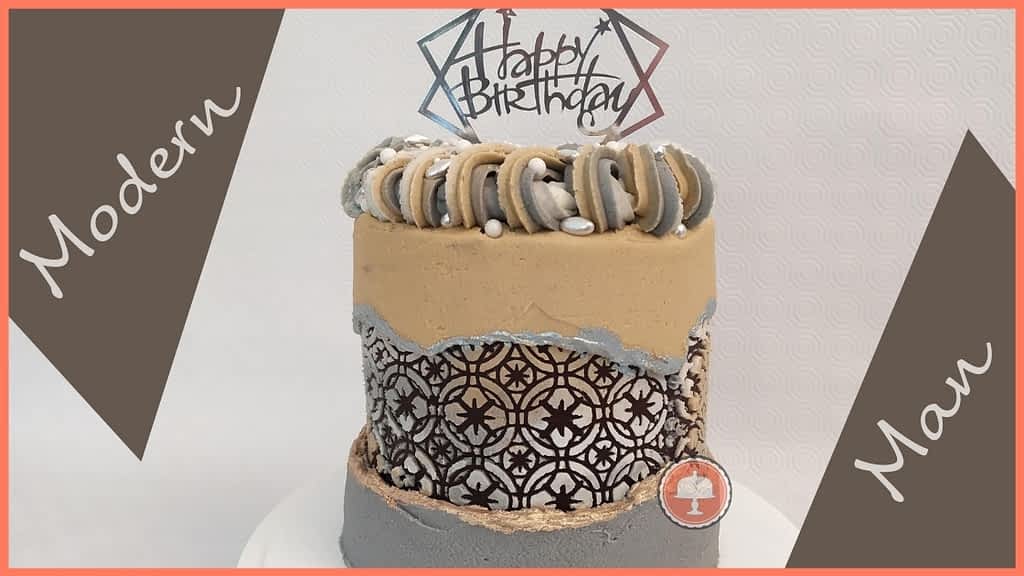 There only seems to be a small number of colors that are boyish or perceived masculine. Yes, all colors & styles are subjective however, most people can guess the obvious dark colors as masculine – black, grey, brown, navy, red….but there are so many unexpected color schemes that can look masculine one that I'm willing to try in the future.
It's all about how you pull the color scheme together with a classy design without overdoing the look. Think about patterns and shapes. You may laugh but I tried to channel thoughts like, "What would Ralph Lauren or Tom Ford want as a cake featuring just color and pattern?
No, I don't know either one of these legends (again, everything is subjective) but maybe both of them would appreciate this look. I thought tailored suits, a glass of Armagnac in hand sitting in a leather chair next to a fireplace. Can you see it?
Buttercream Mixing for Bday Cake for Man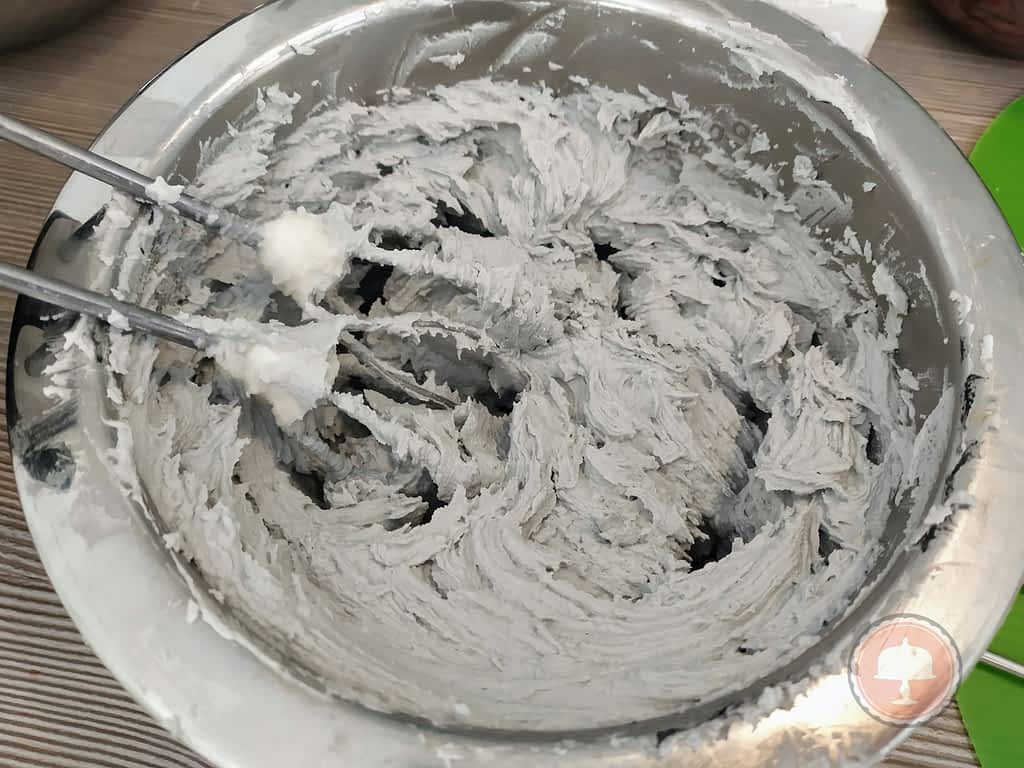 Here you see the grey vanilla buttercream in the mixing process. I darkened it a bit more to get the grey you see on the cake. I was doing two 6″ triple-layered cakes at the same time which is why you see 2 cakes here. The Birthday cake for "Rolfie" was the dark chocolate cake with dark chocolate ganache frosting. My original thought was to cover the ganache with a tinted buttercream as the base. Then I thought, no way, that dark chocolate brown color needs to work in my favor.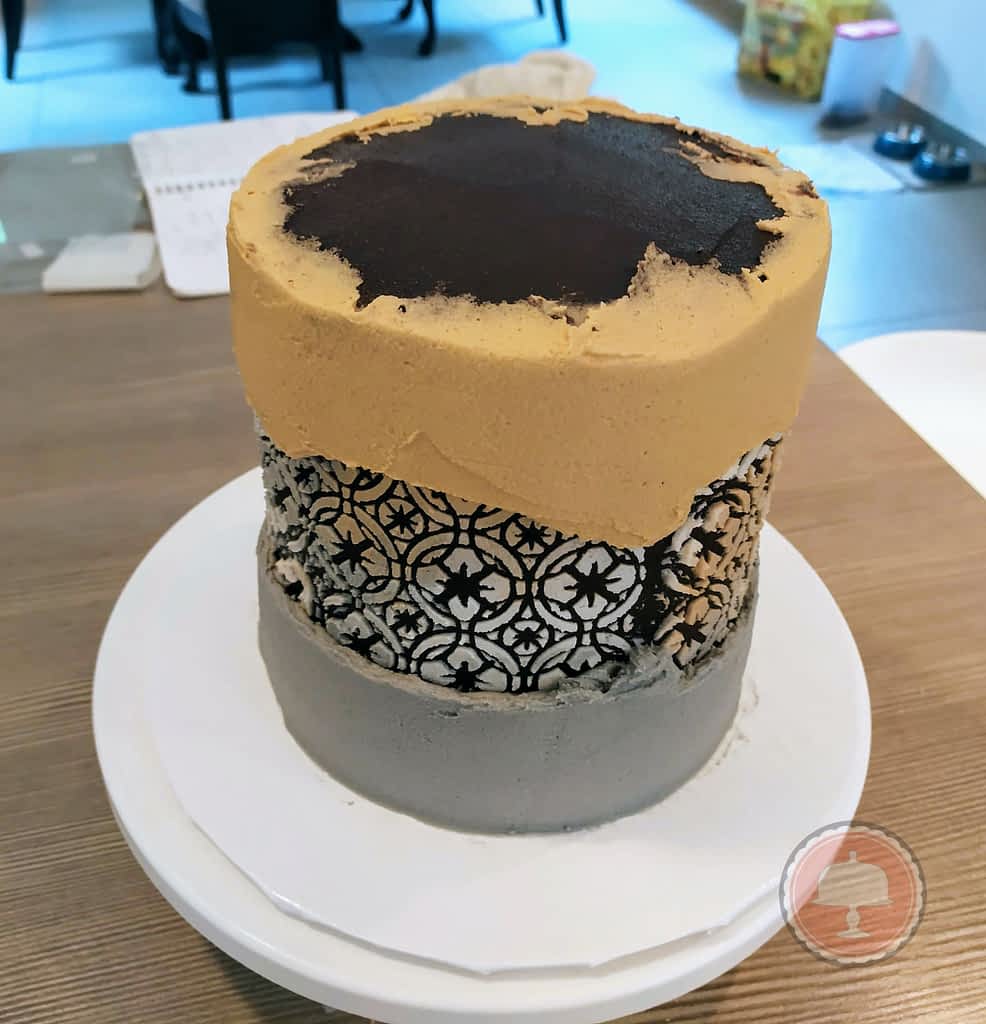 I considered the color scheme along with the cake style. I used the dark brown chocolate ganache (as a base) with grey, white, honey-yellow, gold, and silver accents. Fault line cakes are so hot right now and there are many versions. This was a 6″ tall triple-layered dark chocolate cake with dark chocolate ganache frosting. I wanted to use that dark chocolate color to my advantage, meaning I didn't want to cover it up completely. It was the filing, crumb coat, and base.
The vanilla buttercream frosting was used for the outer decor. Buttercream holds it's shape better to pipe and you can color it apposed to chocolate buttercream or ganache. With chocolate frosting, icing, or ganache, the chocolate is softer and the color of the chocolate is what you get.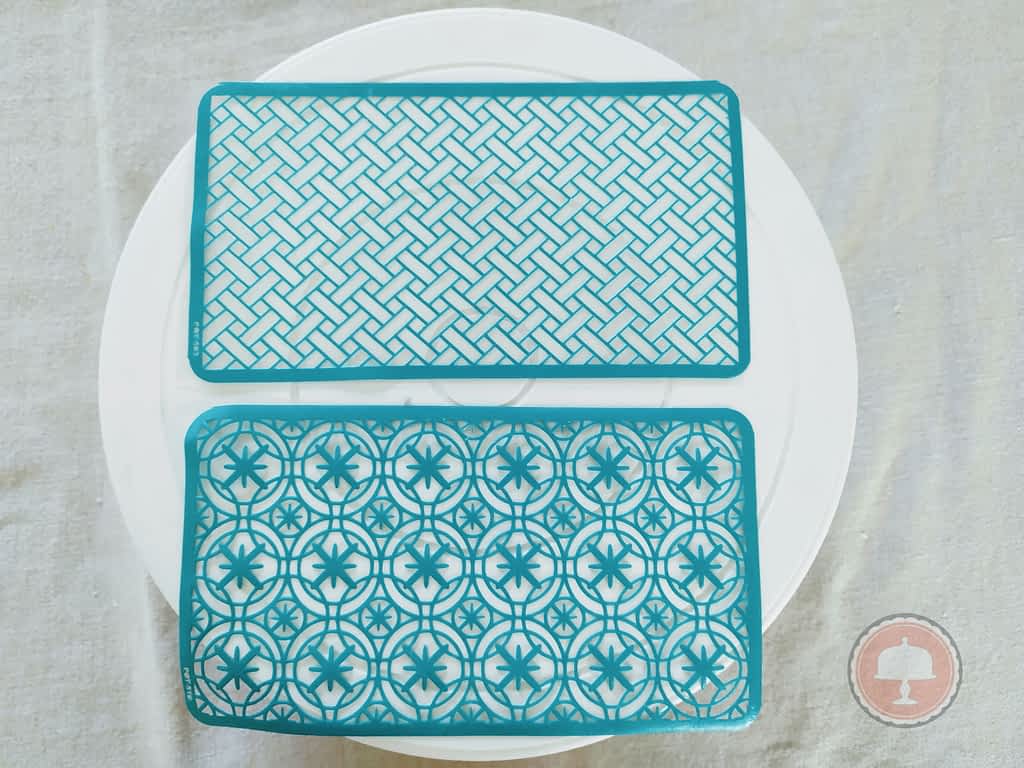 The middle pattern is a stencil covered with all my buttercream colors, grey, white, and honey-yellow. Find stencils you like that can give you a masculine look. Edible bronze and silver paint was used on top of the buttercream fault line edges. Look for edible Wilton bronze and gold metallic paint. These are the exact paints I used. Complimentary cake topper signage also comes in many colors, sizes, font, and designs. You could use a gold or silver cake topper for this cake.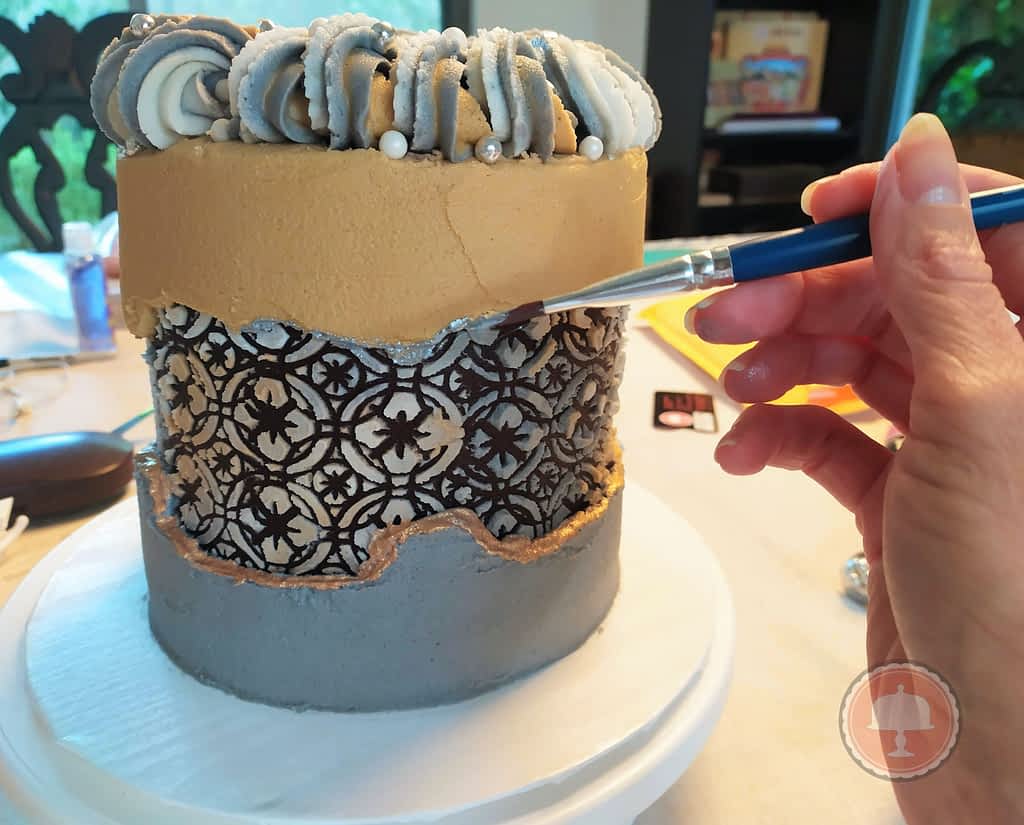 Please share your cake design for men ideas. I'd love to see what you've done and hear your thoughts. I hope you enjoyed seeing how I did this Masculine Fault Line cake. Stay awhile and check out my other favorite cakes and decorating tips.
Thanks for Visiting. Happy Baking.