It's Spring time and what better way to celebrate the season than to have a cake with complementary Spring flowers and colors? My Vibrant Spring Cake Ideas – Chocolate Tulip Cakes is the perfect look for all your Spring celebrations.
Spring Cake Ideas can also be the theme for any occasion. It's a beautiful design for birthdays, weddings, anniversaries, children, appreciation, or for whoever loves light soothing colors, florals, and elegance.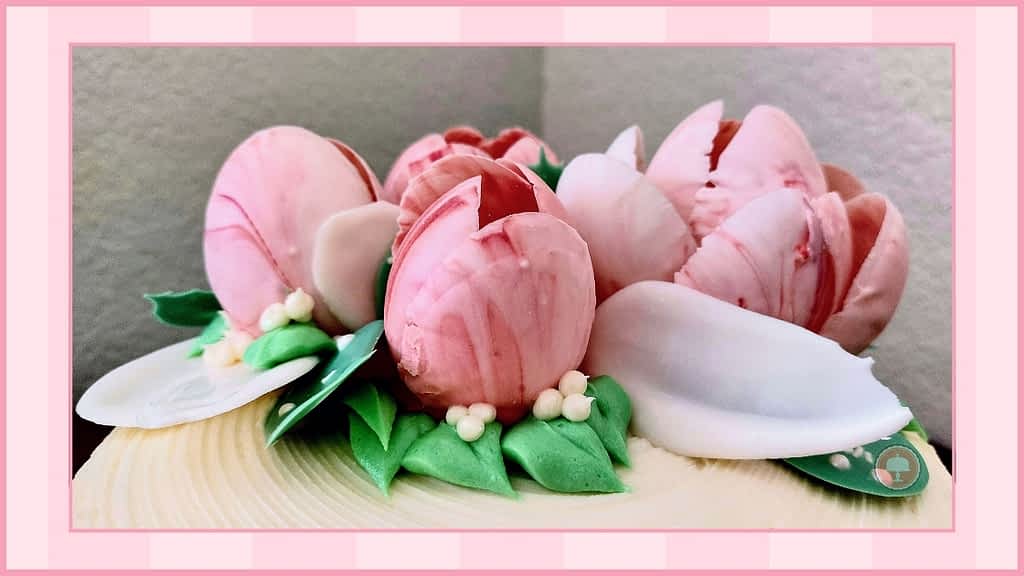 This Spring Cake Ideas – Chocolate Tulip Cakes was for my Mother-In-Law's 80th Birthday. I knew she would love something beautiful, and feminine with a soft Spring color palette. The chocolate tulip cake toppers surrounded by chocolate and piped leaves tie the whole design together.
What's Inside – Raspberry Cake Filling
Fruit fillings for cakes are sooo delicious but you must have fail-safe recipes. There are many fruits you can use inside cakes but my two favorite fruit cake fillings are Raspberry cake filling and Strawberry Cake Filling.
Fruit cake fillings sure do make cakes more delicious. That doesn't mean every cake needs it but it sure is a lovely surprise complimenting the cake flavor/s, frostings, icings, or chocolate coverings and toppings.
Fruit Cake Filling is all about the reduction, cooling, and chilling/thickening process. A fruit reduction is made by reducing the fruit volume to a sauce over heat. As the fruit breaks down to a puree the fruit liquid evaporates, the sauce becomes thicker, and the flavors condense and intensify. Sifting seeds are necessary depending.
Cake Color Palette
A Cake Color Palette is something I talk about in almost all my posts. It is as important to a successful cake design as a brilliant theme, look, style, or genre. If your color palette is not thought out, mismatched, careless, or just plain boring your theme will fall flat thus affecting the overall cake design. The goal is always to create unity, cohesion, and balance with the design, and its elements with the color scheme.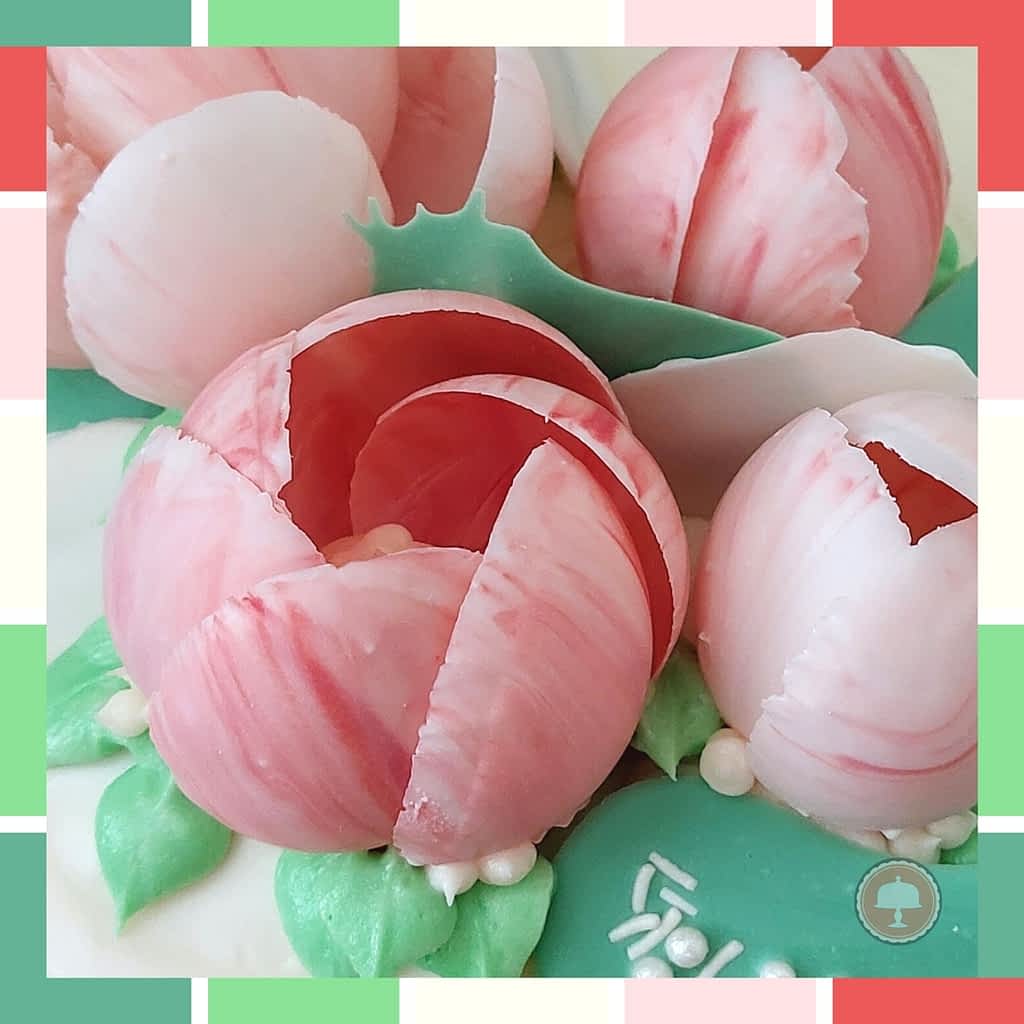 My Vibrant Spring Cake Ideas – Chocolate Tulip Cakes has several of the natural colors of Spring we all expect to see during the season. Light creams and whites, soft rose pinks to deep rose, lime greens, and sage greens, all colors that make us feel light, happy, refreshed, calm, serene, optimistic, hopeful, and beautiful with feelings of love.
This Cake Color Palette is crisp and clean and pairs well with its Spring cake theme. Be sure to check out How-To Guide on creating a color palette for your next cake design.
For more of my fabulous Cake Color Palettes please enjoy some of these beautiful creations on CakeLovesMe.
Cake Toppers – Chocolate Tulips
Once you have your cake layers stacked, crumb coated, frosted, texturized, and chill set you are ready for your Cake Toppers.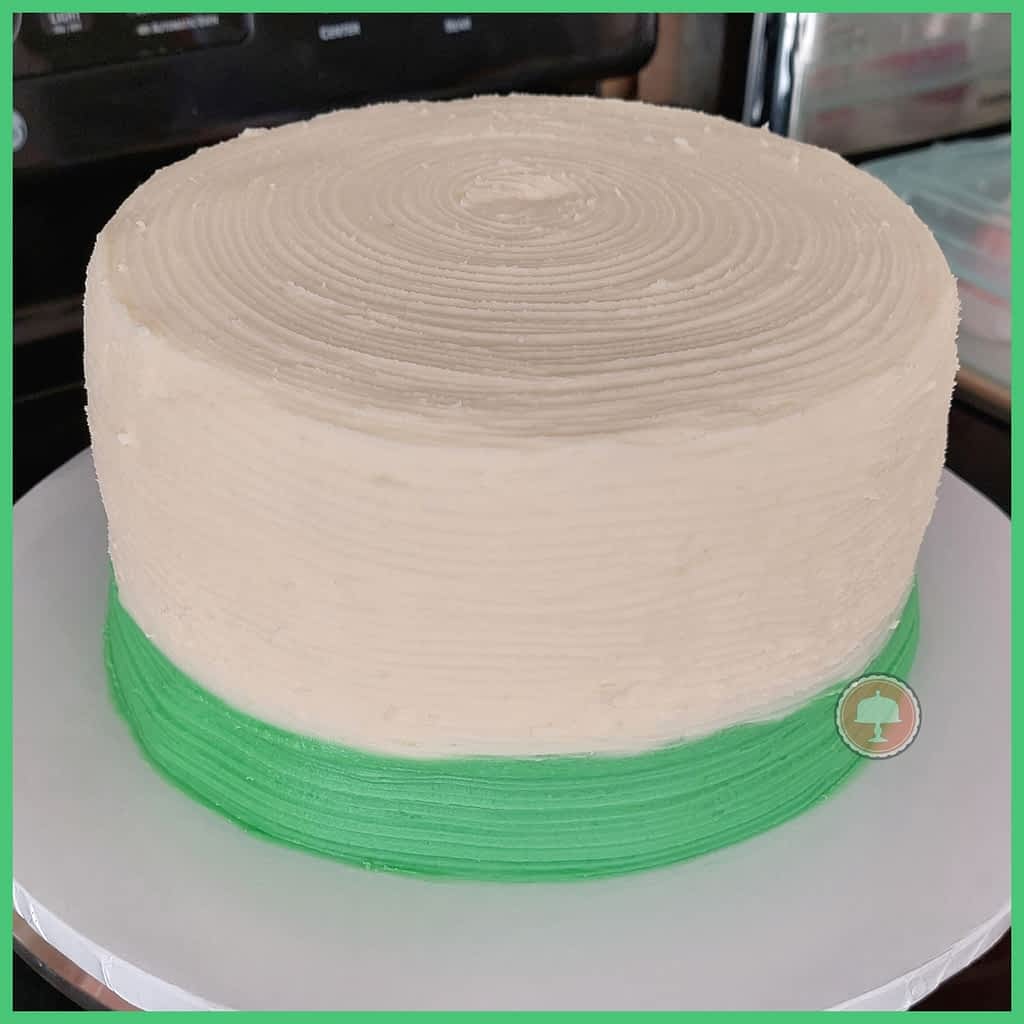 I prefer to make as many cake toppers (depending on the cake design) in advance 1-2 days before cake-making day stored in airtight containers. This saves a lot of time and allows your cake toppers (to set when made of fondant or gum paste) to dry for sturdy application.
Another reason to get a jump on your cake decorations is to have extra time for mistakes and "re-makes". These Chocolate Tulip floral petals took much time and patience. Most of my petals turned out but some cracked and had to be remade. Whenever you are melting or molding chocolate always use a reputable candy melt brand or high-quality chocolate for melting.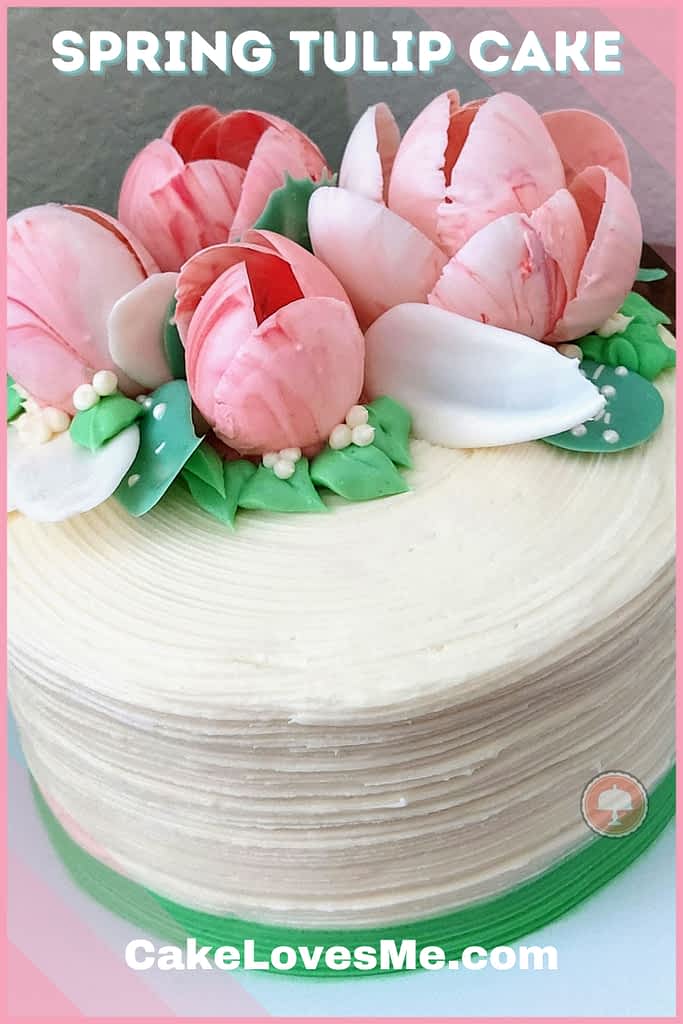 How do you make these flowers and petals? Think "eggs". To learn how to make these Chocolate Tulip petals see Yeners Cake Tips – Chocolate Flowers Tutorial.
Spring Cake Ideas – For any occasion
Spring-themed cakes can be used for almost any occasion. There are many Spring birthdays and celebrations going on so why not go with floral and beautiful?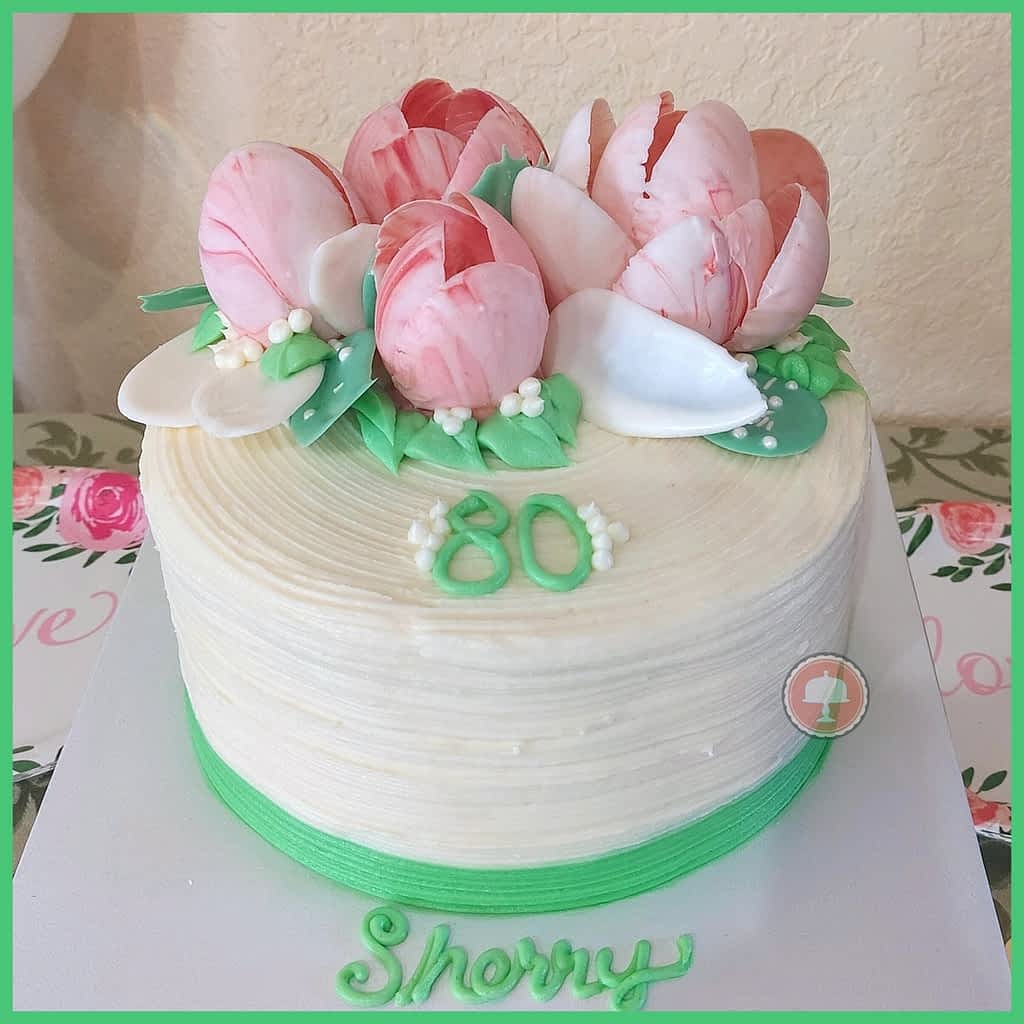 As you can see I did two versions of my Vibrant Spring Cake Ideas – Chocolate Tulip Cakes was a three-layer white almond birthday cake with a raspberry cake filling, cream cheese frosting, white chocolate tulips, and leaves. YUM! Happy 80th Birthday, Sherry!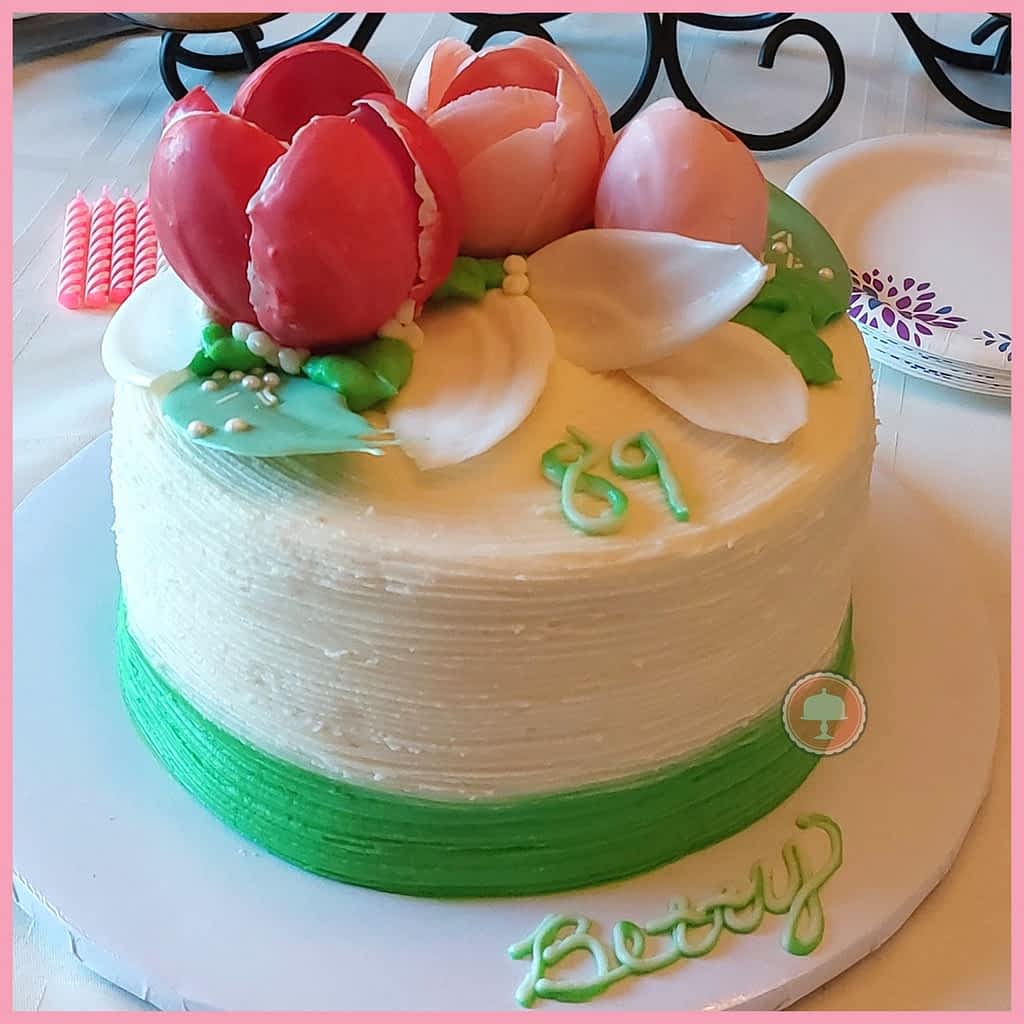 This version of my Vibrant Spring Cake Ideas – Chocolate Tulip Cakes was a light vanilla bean birthday cake with strawberry cake filling, vanilla buttercream frosting with white chocolate tulips, and leaves. YUM! Happy 89th Birthday, Betty!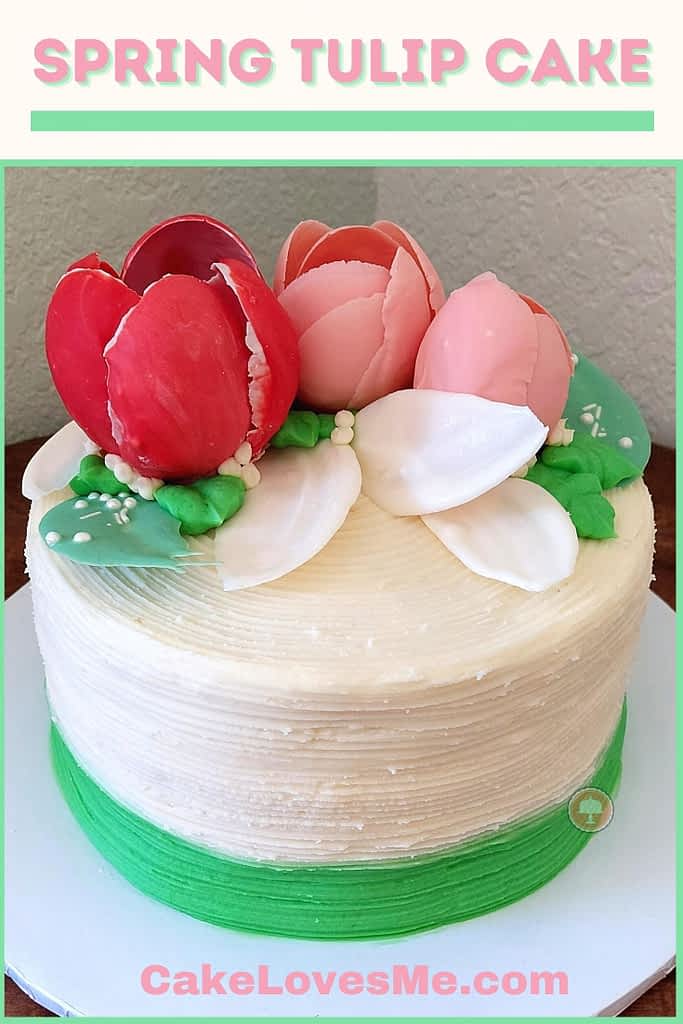 Thanks so much for visiting my Vibrant Spring Cake Ideas – Chocolate Tulip Cake. I hope you were inspired. Happy Baking!