It's summertime and the perfect cake theme is in full swing! Watermelon cake ideas all around. Victoria wanted a fresh, fun, playful birthday cake without the cake theme being "too young". What better way to do this but to pick a popular summer fruit-themed cake.
Cake filling, stacking, and crumb coat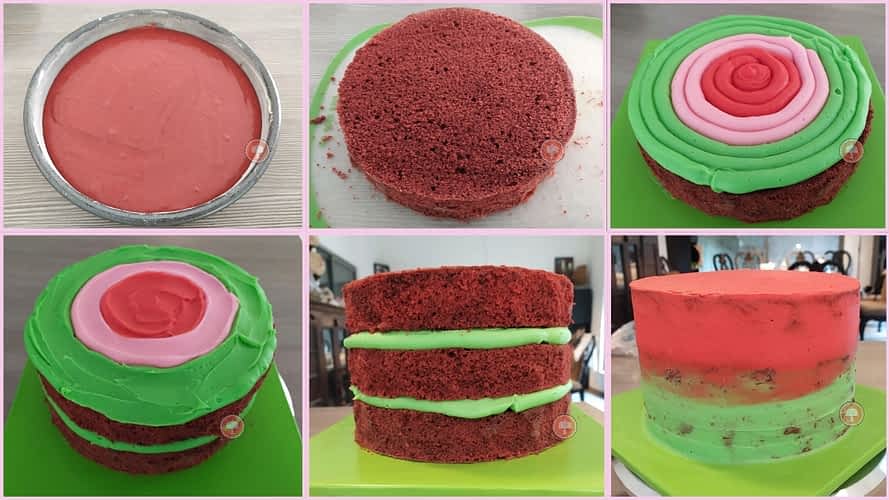 After baking, trimming, and cutting your cake layers it is time to fill, stack, and crumb coat. Use piping bags to properly fill in between cake layers including doing multiple colored buttercreams. No piping tips are needed. Just snip the piping bag end to the desired thickness and start with one color in the cake center.
After doing your final buttercream coat and before doing any decorations it's good to mark your cake "front". Pick the best and smoothest side of your cake to be the center view. One sticky tab on the cake board is all you need. Here I was trying to determine where Victoria's name would be, the side or top.
With a cake turner pipe the buttercreams in between the cake layers in a circular coil style. Then take a non-serrated pallet knife and smooth down the piped coils. After stacking the three cake layers gently press down the top layer to push out trapped air.
Crumb coat, chill for 10-15 minutes in the frig, and apply your final buttercream coating. Once the sides and top are smoothed chill the cake again to set the buttercream. Mark your cake front with a sticky tab just so you don't forget which side looks best before decoration.
Watermelon Cake Ideas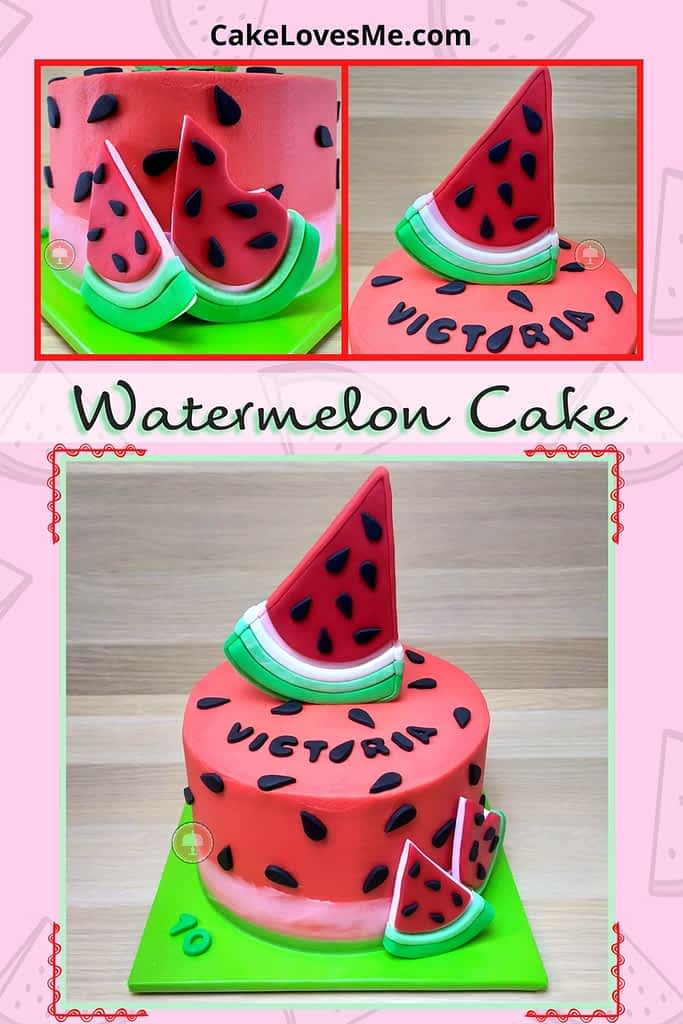 I love this watermelon cake idea because it's a sharp clean design. There are cake designs that can go overboard with too many toppers or decorations. I was tempted to make more fondant cake toppers but it would have been too much taking away from that clean design I was going for.
It's important to have that editing "eye". All design has to have air, it has to breathe, it requires precise spacing and balance.
Fondant Cake Toppers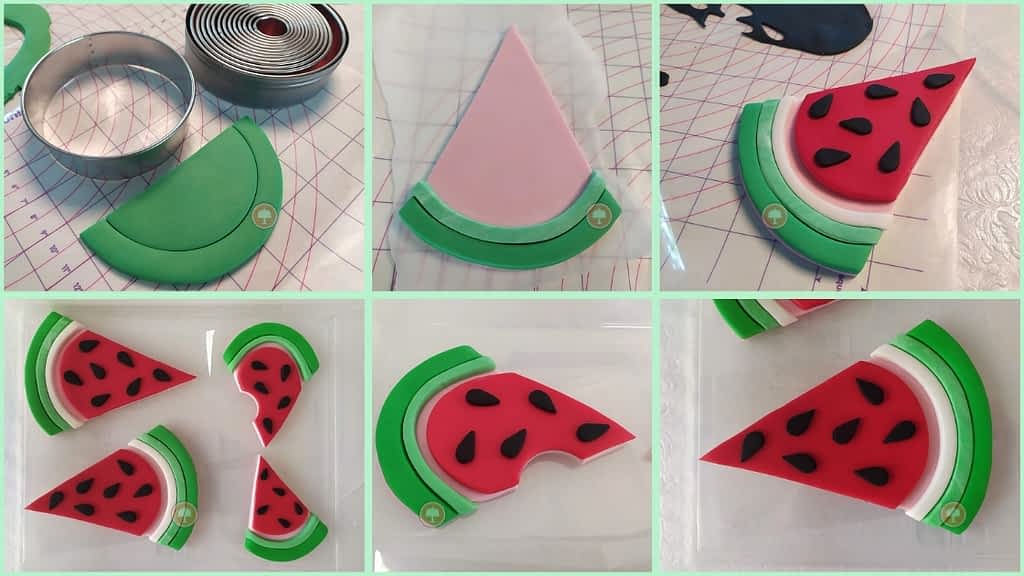 These watermelon fondant cake toppers are the perfect accent for this cake. The top of the cake needed two watermelon triangles that would have the skewers in between them. I didn't want the skewers to show through the fondant and I wanted the design on both sides.
One of my favorite cookie cutter set is the circular collection. These are not just for cookies! You can do so much with these stainless steel cutters and fondant. See my Top 15 Cake Decorating Tools – Must Have Essentials.
Cake boards and why they are important
Just like all the various cake baking and decorating essentials, the base of the cake is essential to a baker's tool kit. In many cases, the cake board style can detract from your cake design, prove unstable or weak when trying to pick up the cake, and won't support the weight.
You wouldn't place a filet mignon on a paper towel for obvious reasons just like you shouldn't place a beautiful heavy cake on an unstable, low-quality, non-complimentary base. To learn more about cake boards see my DIY Cake Boards – How-to Cover Cake Boards Easily.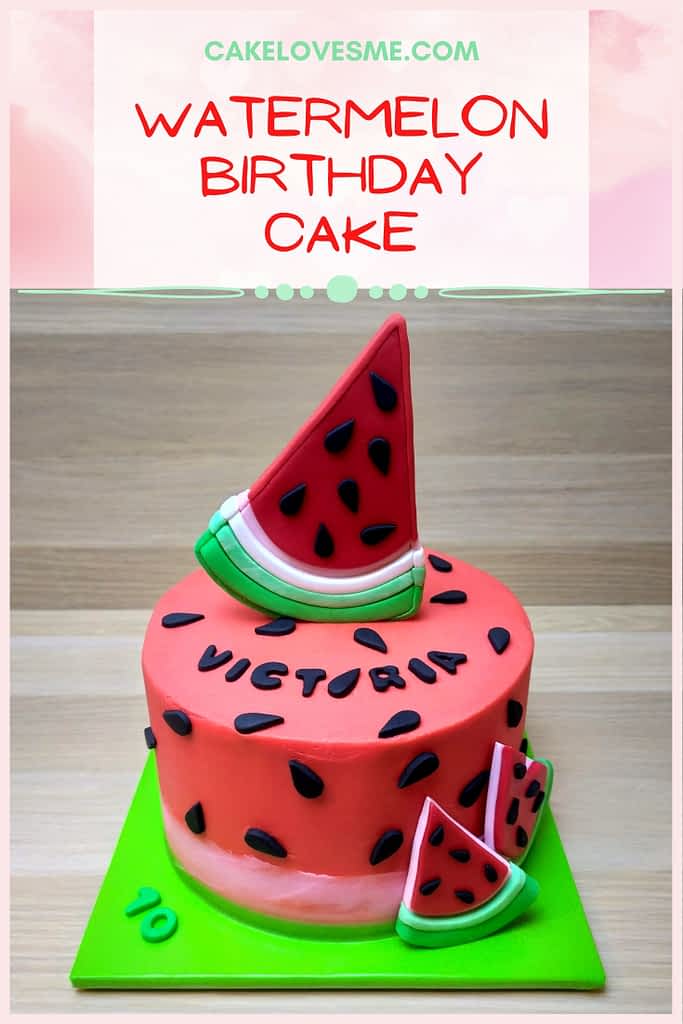 Your cake boards should complement your cake design not compete with it. Choosing a busy patterned contact paper or board with a busy cake design will not look good. If in doubt keep it simple. Solid colors or small patterns are a safer design option.
Thanks for visiting my Delicious Watermelon Cake Ideas.
Happy baking!