When someone retires from their profession it is a very special thing. A new chapter in one's life, a new beginning. This Memorable Nursing Retirement Cake was made for my mother who gave 60 years towards caring for others. What an amazing accomplishment!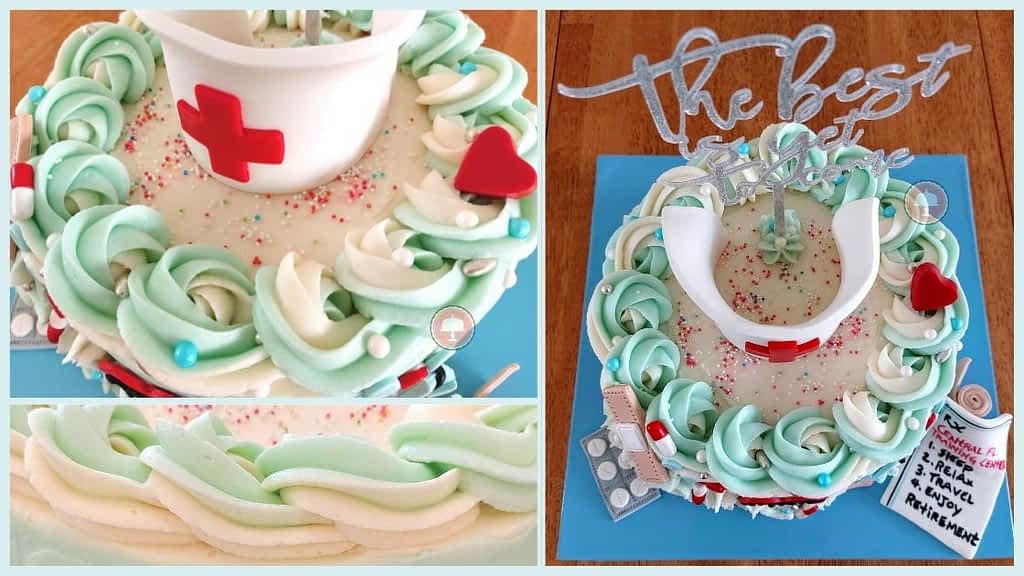 This cake is a perfect send-off and celebration centerpiece to honor many years of service. Congratulations Mama!
Table of Contents
Cake filling, stacking, and crumb coat
After baking, trimming, and cutting your cake layers it is time to fill, stack, and crumb coat. Use piping bags to properly fill in-between cake layers including doing multiple colored buttercreams or fillings.
No piping tips are needed. Just snip the piping bag end to the desired thickness and start with one color in the cake center or just fill with your desired fruit filling, etc.
For more details on Cake Filling, Stacking, and Crumb Coat have a quick look at my Delicious Watermelon Cake Ideas page with step-by-step photos.
Cake Color Palette

The general color palette I created as a guide for this Nursing Retirement Cake design was inspired by nurses' attire and other medical accents.
A vintage nurse's cap, scrubs, medicine, bandages, and heart beating hearts were the key design elements. All of these elements have a recognizable or standard color scheme. The color designation is key. What would be my base? Do I want it dark or light?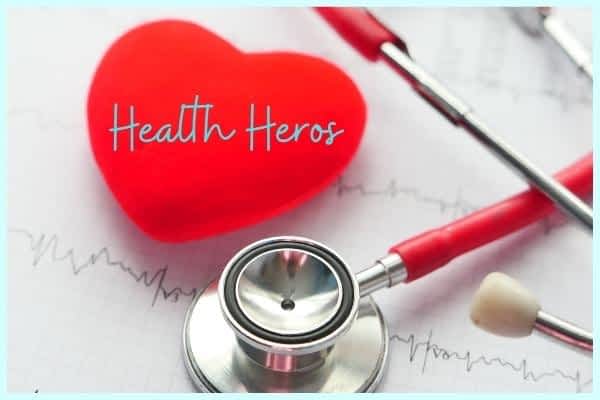 I felt red would have been too severe and weighty or could resemble blood in regards to the nursing theme. Not the image meant to be portrayed. The base and overall primary colors needed to be light with red accents.
Choosing your cake design elements is also a very important part of cake design. How many elements you use and the arrangement of those elements with the color scheme will determine the full balance of your design.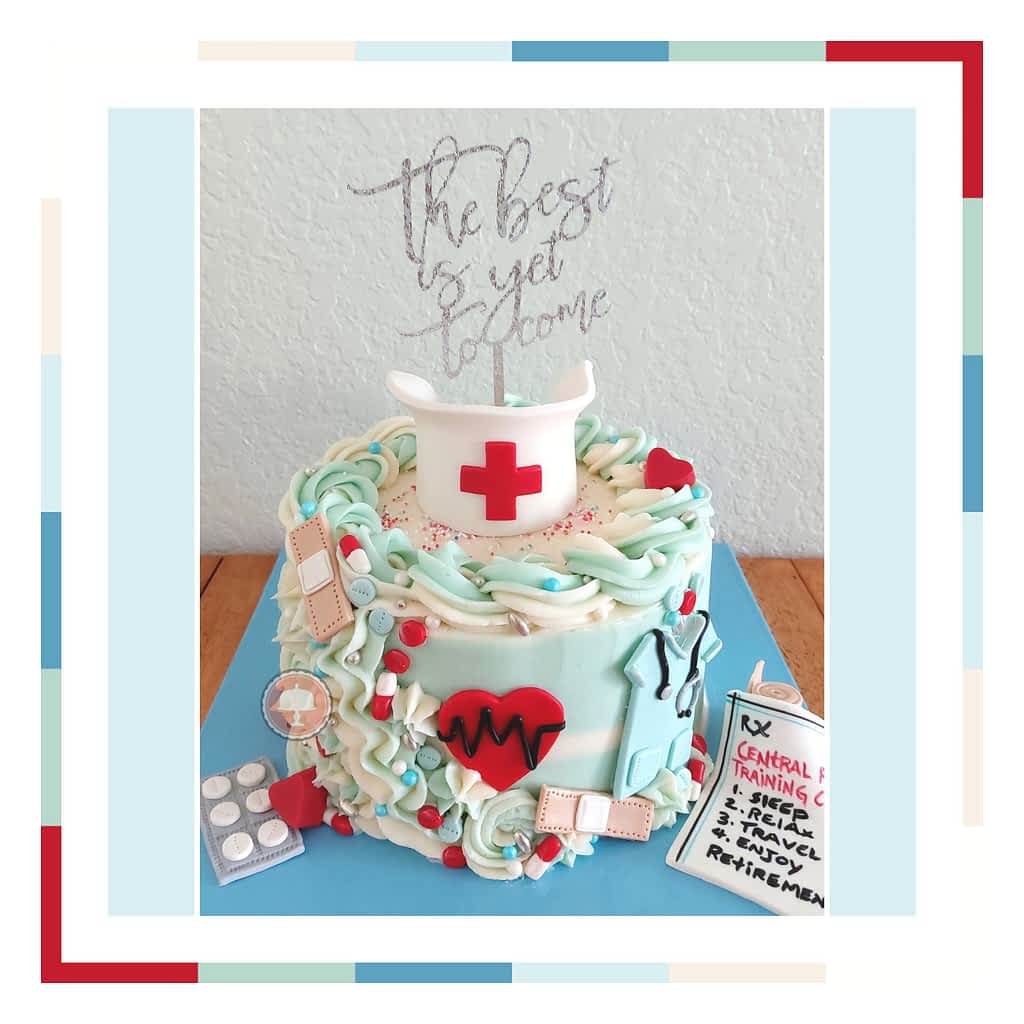 Color Palette – A white vintage nurses cap, cream bandages, a soft slate blue scrub top, a medium blue cake board, mint blue/green meds, red hearts, and silver accents tie all these nursing details together creating balance and unity.
Read more about Cake Design – The 5 Step Development Process and learn what you need to do to execute a complete and well-thought-out cake design like a pro.
NEW! – Be sure to check out my latest How-To Guide on creating a color palette for your next cake design.
Fondant Cake Toppers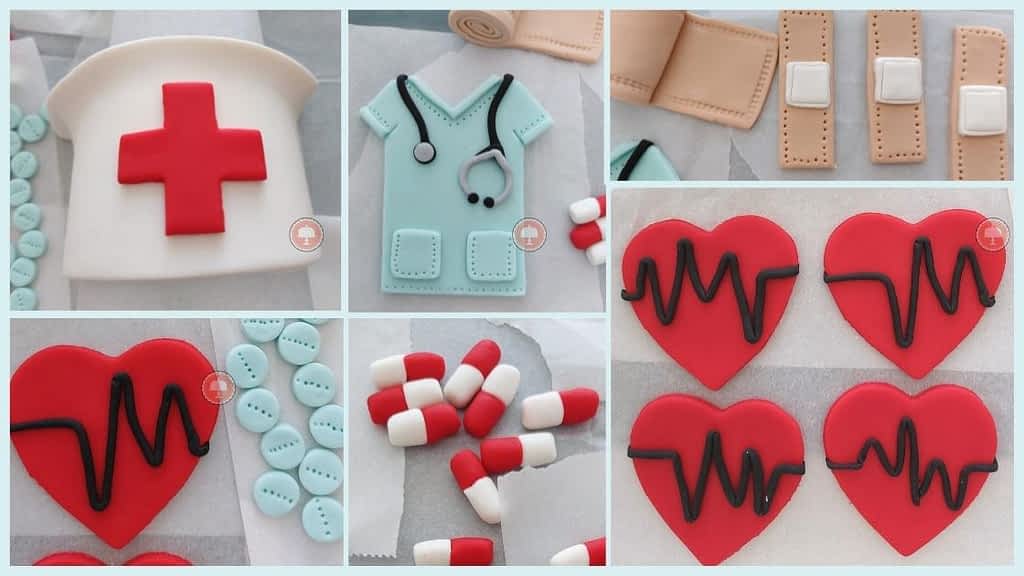 There is so much versatility working with fondant or gum paste when creating 3D Cake Toppers. I prefer to make as many cake toppers (depending on the cake design) in advance 1-2 days before cake-making day stored in airtight containers.
This saves a lot of time and allows the fondant or gum paste to dry for sturdy application. Since the nurses' cap was the main cake topper it needed extra drying time because it was thick and heavier than anything else on the cake.
After molding, I wrapped it around a large plastic cup for 2 days after which was solid and ready for firm application.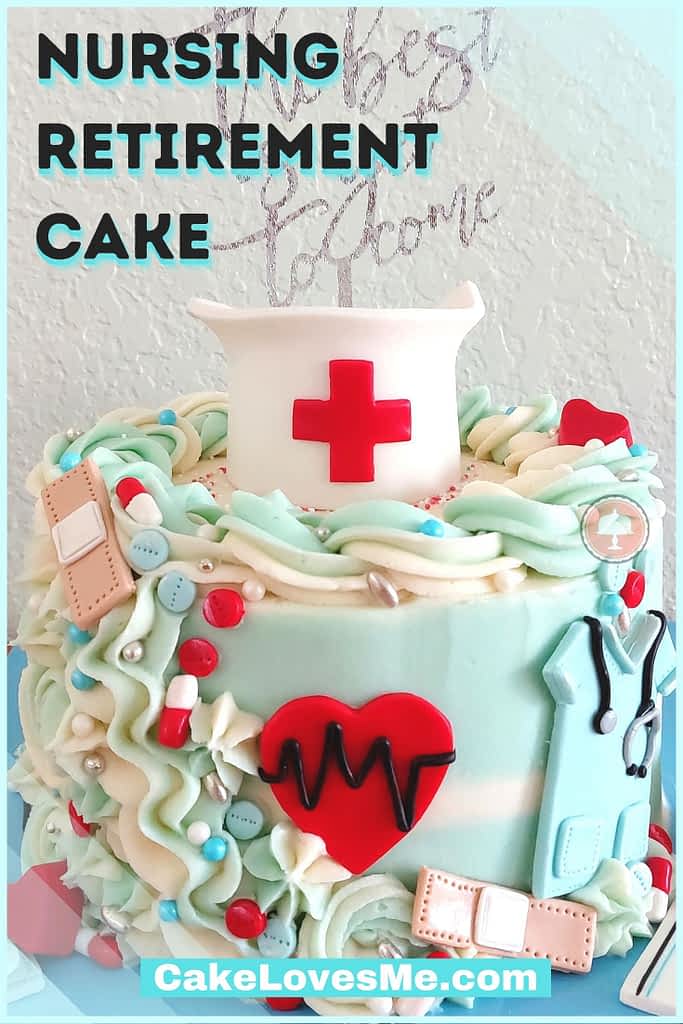 Heavy or large soft fondant figures will literally not stand up well if applied before drying-only if the weight is supported from behind or on the side of the cake for example.
If you need soft fondant or gum paste figures to apply "soft" to the cake for more freedom then do not make them in advance.
Decorative Piping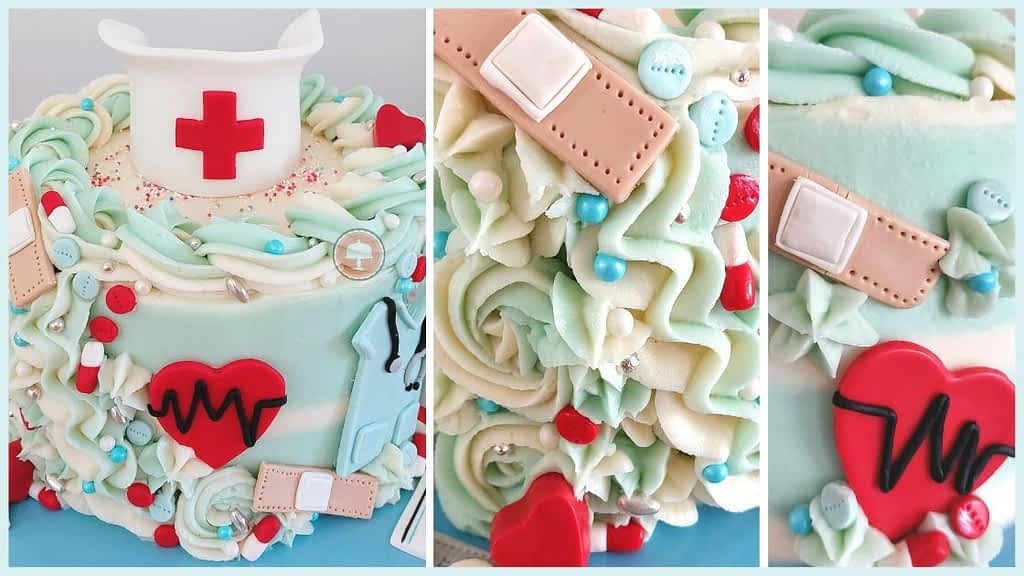 Decorative Piping is so versatile! Oh, the things you can create with a piping bag and different piping tips. Practice (on a flat surface) with different tips to see what fits your design.
Check out the piped border on my Festive Pineapple Cake Design. The piping tip used was perfectly suited for that design.
It starts with a vision in my head and after a few sketches and/or "piping play" the design starts to flow. A thick and thin striped base was the start.
I then wanted a top border, a wavy cascade on one side with rosettes and star tip details to anchor my fondant figures.
Then minimal rosettes, star tips, and wavy piping were added around the sides and back of the cake with fondant figures.
Cake Signage
Cake signage is really popular right now and it's not likely to "go out" any time soon. We're seeing all types of cake signage toppers on birthday cakes to holiday cakes to special occasion cakes even wedding cakes. Different colors, messages, fonts, and numbers can add that special accent tying the whole cake concept together.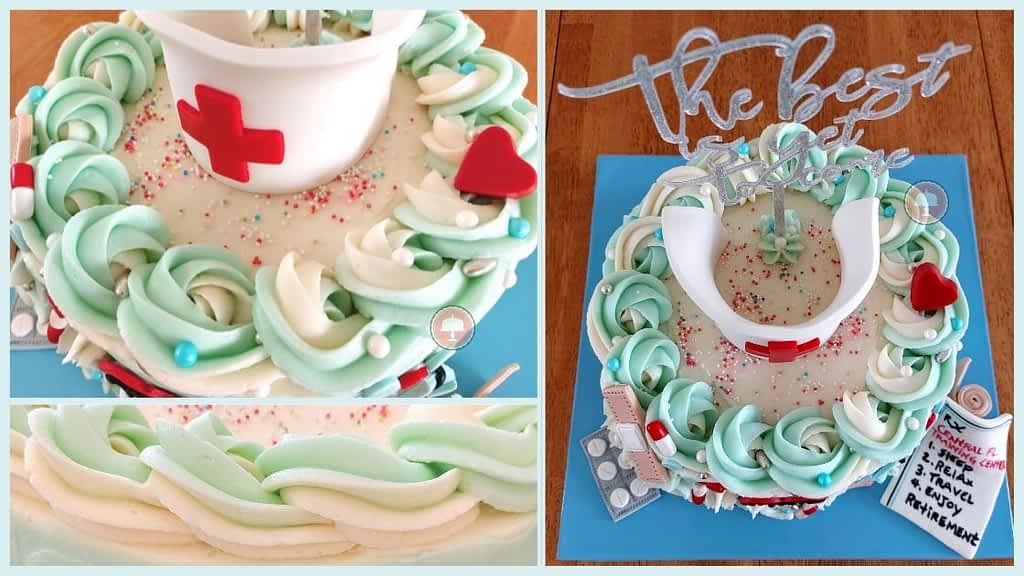 "Happy Retirement" is a nice sentiment but I wanted a message a bit more personal and meaningful. "The Best is Yet to Come" is not only perfect for nuptials but just as perfect for someone who is starting a new chapter in life.
I really like cake signage depending on what it looks like or how it's made. All signage is not made alike. Beware of low-quality-made products that can cheapen the look of your cake design. Shop around, look for sleek and stylish vs. less expensive.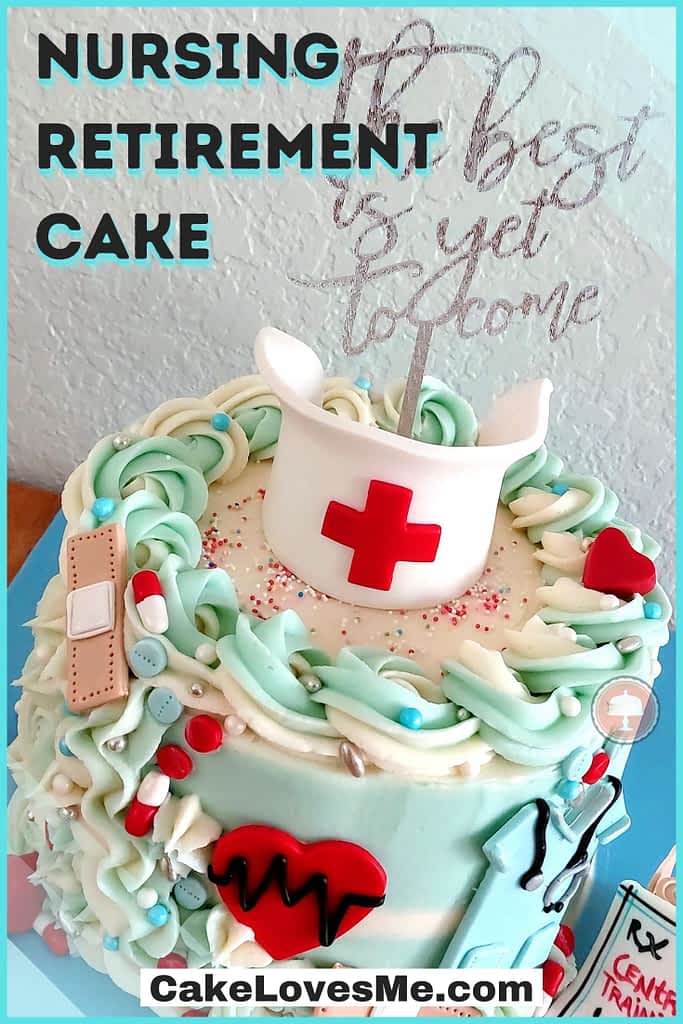 Please visit these additional Cake Ideas with inspiring Piping Techniques that will help you "up your game".
I hope you enjoyed my Memorable Nursing Retirement Cake. Happy Baking!