All I can say is YUM! Escape into this Rich Dark Chocolate Cake Design with decorative piping, stencil design, and molded dark chocolate pieces that adorn this delicious creation. This cake would be fitting for anyone who loves all things elegant and chocolate!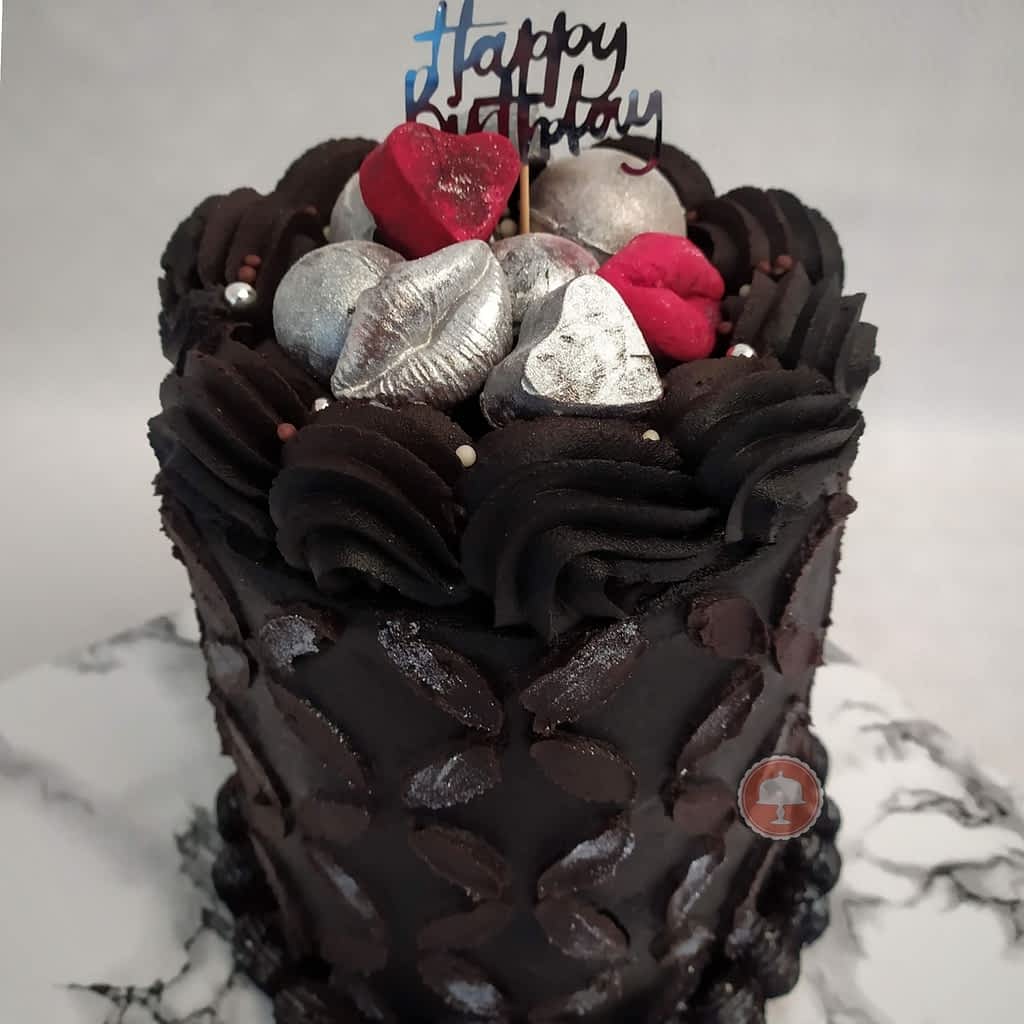 Cake Stencils
Make sure you buy food safe stencils made of plastic that are reusable and easy to clean. Craft store stencils made of laminated paper will not hold up. Don't be fooled. Not all products work for multiple mediums. Here I used a simple floral/star pattern around the cake. Using stencils takes practice. Slight mistakes can happen but try to avoid scraping the frosting off and starting over. This could mess up the base layer and you don't want to re-do the whole chilled/set base layer over again. It's kind of like piping handwriting…you get few chances to get it right. Ok..breathe. It will be fine just keep at it.
How to – Stencil
Some people pin their stencils in the corners to make the stencil stay in place. I've tried this but sometimes it doesn't work. Starting from one side use a frosting spreader, frost over the stencil thinly, then with your cake smoother take off excess frosting then peel the stencil away from one side of the stencil to the other.
Use this method with pins or without. Once your frosting covers the whole stencil space it will be stuck to the cake, ready for the excess to be scrapped off and stencil peeled away. The best advice I can give is to be patient with yourself and don't pack on the frosting too thick. You want your design to come out smooth and thin.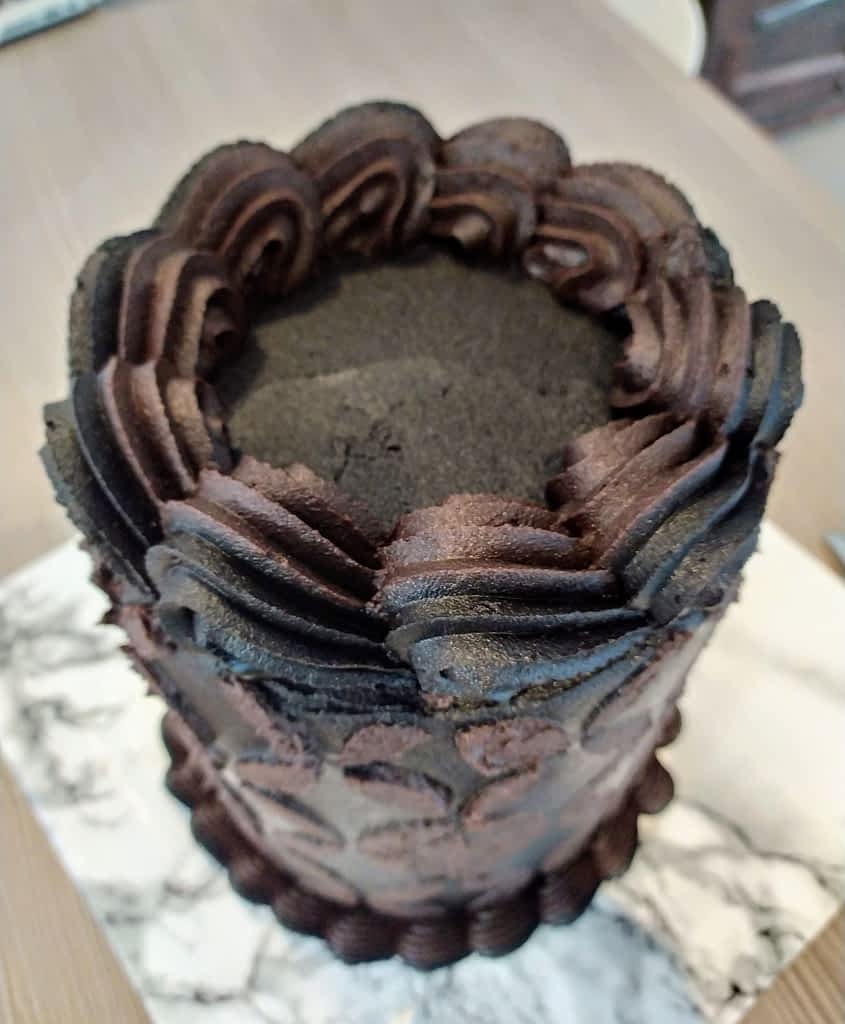 Piping Technique
For this Dark Chocolate Birthday Cake, the #829 Star Pastry Tip was used to create these wonderful large scallops. This piping technique was super fun to do and I combined two different depths of chocolate buttercream. The #866 Star Pastry Tip was used for the base of this cake to tie the top and the bottom together. Can you see the two-toned chocolate buttercream's in the top piping? This was done by making two different chocolate buttercream frostings.
One with a medium-toned unsweetened cocoa powder with medium-dark melted chocolate and the other with black unsweetened cocoa powder with dark melted chocolate. Unsweetened black cocoa powder is a special item. You cannot find this in a regular grocery store and it's more expensive than regular cocoa powder. The good news is a little goes a long way and the black cocoa powder will deepen your frostings like you won't believe!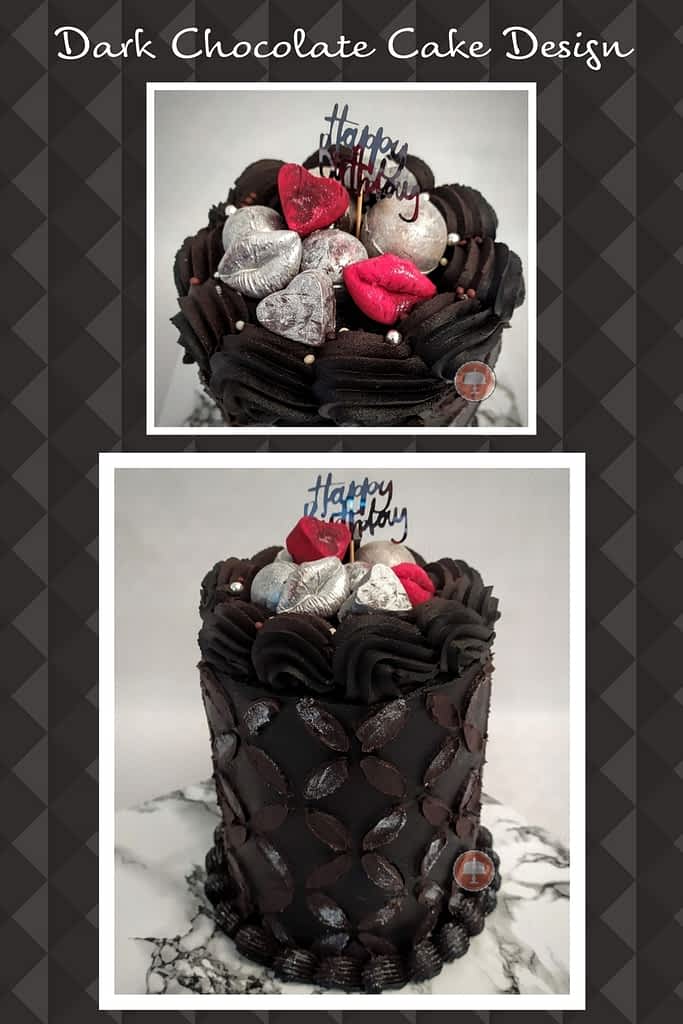 Silicone Molds
Silicone molds can be used for a variety of crafts or art projects. They've become part of a "Cake Trend". They are great for baking, making candy, fondant, frosting, or chocolate. You've seen them online or in cake supply/hobby shops. Silicone molds come in a variety of designs, sizes, shapes, and are made from silicone.
It's an ingenious invention. They can handle the hottest temperatures and not melt. Silicon is easy to use, easy to clean, and can help you create the most fantastic decorations for your baking. If you do it right your cakes, candy, or chocolate will peel out of the mold like a dream.
If you'd like to do these same mold designs look for sm. or med. semi-sphere molds, small lip mold, and small heart mold. You can use the double boil method to melt chocolate or the microwave. I melted tempered chocolate (broken up bars) in the microwave 20 seconds at a time giving a few seconds in-between intervals until the chocolate was melted but not overheated.
This is a patient process. You will have to gauge how many melting intervals you need in regards to how much chocolate you are melting. Maybe do no more than 1-2 cups of chocolate at a time in a microwave-safe bowl or glass measuring cup. I prefer a glass measuring cup and I did about 1.5 cups of chocolate at a time.
Go slow, be patient, do not overheat! Overheating will make your chocolate seize up and you don't want that. Also, do not stir the chocolate in-between intervals-just let it be, it will melt. Lightly stir after your last melt. While your chocolate is still warm simply pour the chocolate into a clean mold (sitting on a flat surface-I put the mold on a cookie sheet so I can move it without disturbing the chocolate or the mold) and let it sit for a few hours. Once firm peel the mold from the chocolate piece or pop it out gently and it's ready to use.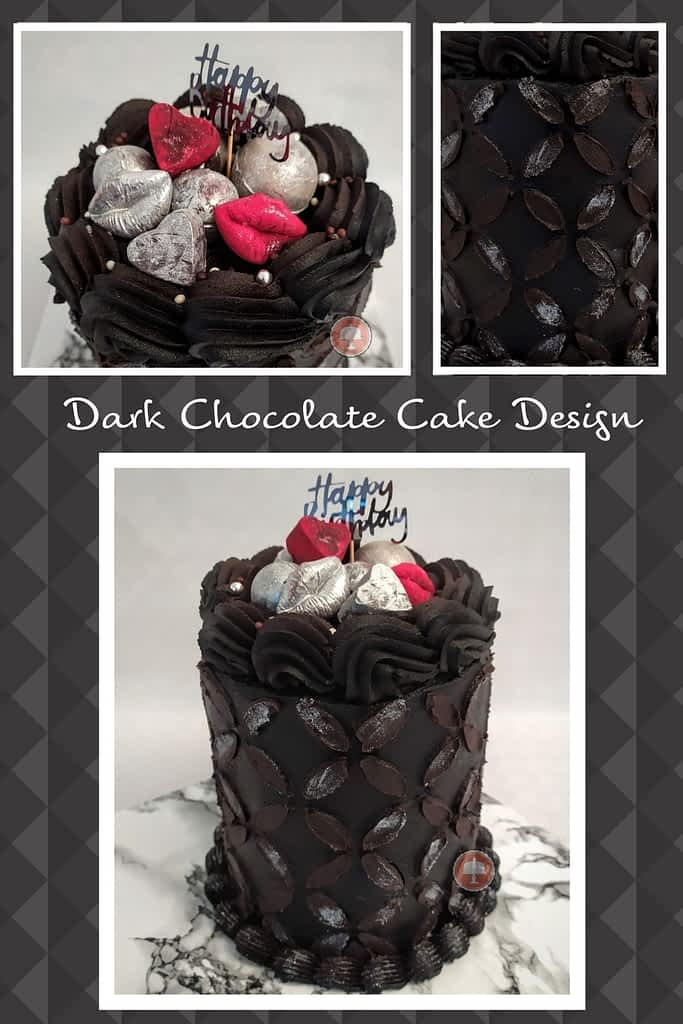 Edible Luster Dust
Can I tell you how much I love Edible Luster Dust? Here goes…I Love it!! It can dazzle or jazz up any edible decoration. The shine that keeps on giving. Silver luster dust and red luster dust were the colors chosen to accent these chocolate pieces and the floral stencil. With a 1/4 tsp simply tap some into a plastic bag, put your chocolate pieces in the bag, close it, and shake it up. Just like chicken in bread crumbs.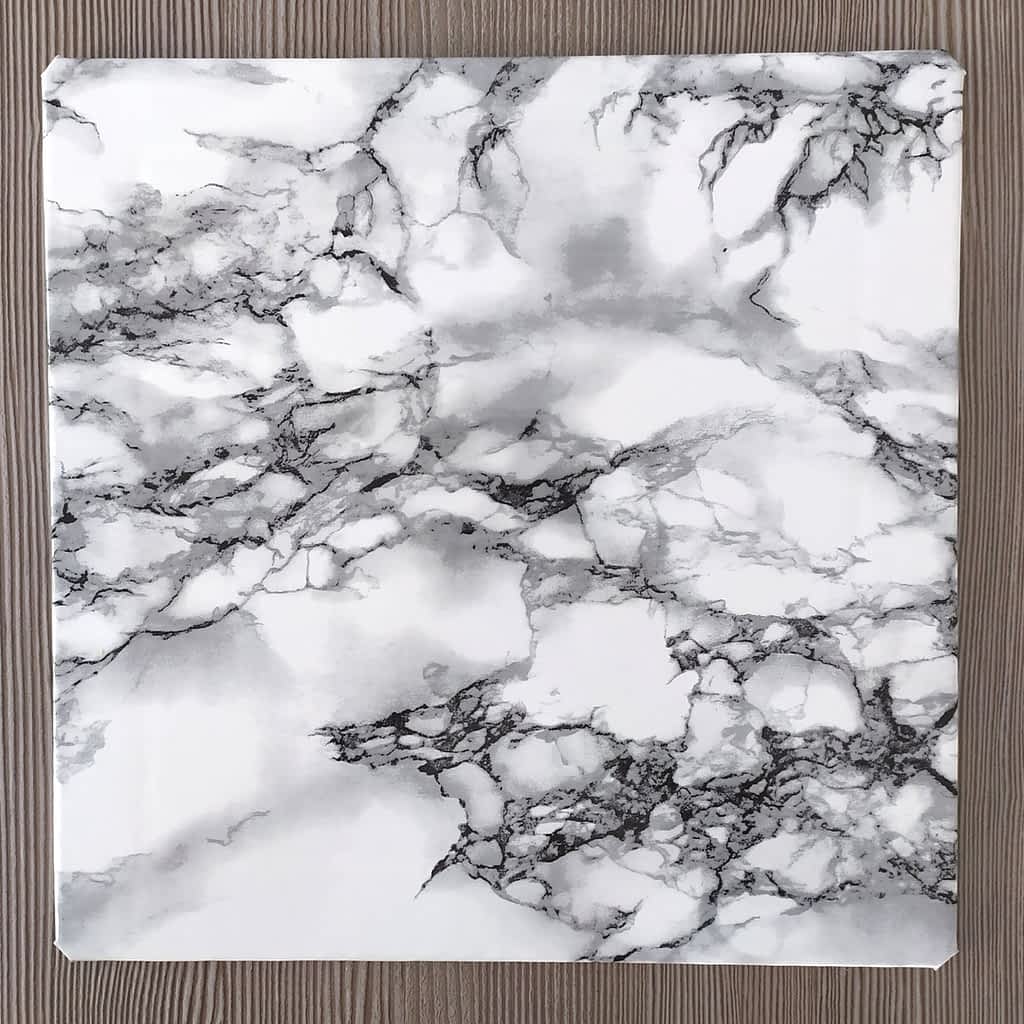 Make sure the bag is closed! Luster Dust is really messy, it can get everywhere and I mean everywhere. Handle with caution. Ok, so take your chocolate pieces out and store them on parchment paper in an airtight container before application. Using gloves will help avoid finger smudges on the chocolate pieces and dust all over your hands…in your eyes, in your hair, on your clothes.
I hope this Rich Dark Chocolate Cake Design inspires you.
Thanks for visiting. Happy Baking!