This Festive Pineapple Cake Design was perfect for my Dad who turned 80 on December 9th, 2021. It was an honor to create a tropical birthday cake design for him that was festive, happy, bright, and fun.
Table of Contents
Celebrating a senior's birthday doesn't mean the cake or decorations should focus on age, color, or style. In my book, just the opposite unless specifically requested. Ideally, we should all be proud at any age, for sure – be proud! And…It's also ok not to want your age screaming large on the cake or on every single decoration in the room.
Cake Design – The 5 Step Development Process
With every cake idea, comes the initial cake design concept that must translate what you'd like to convey for the intended. Execution and completion of that design concept takes careful planning. This is called the Development Process.
Step 1 – Communicate with the customer. Gather all wishes and details regarding the intended to better understand what the cake size, flavor, fillings, frosting, fondant, design concept, subject matter, color palette, font, icon, or preferences the cake design must focus on.
Keep in mind that your cake design should be original. Avoid duplicating other cake designs unless specifically requested by the customer.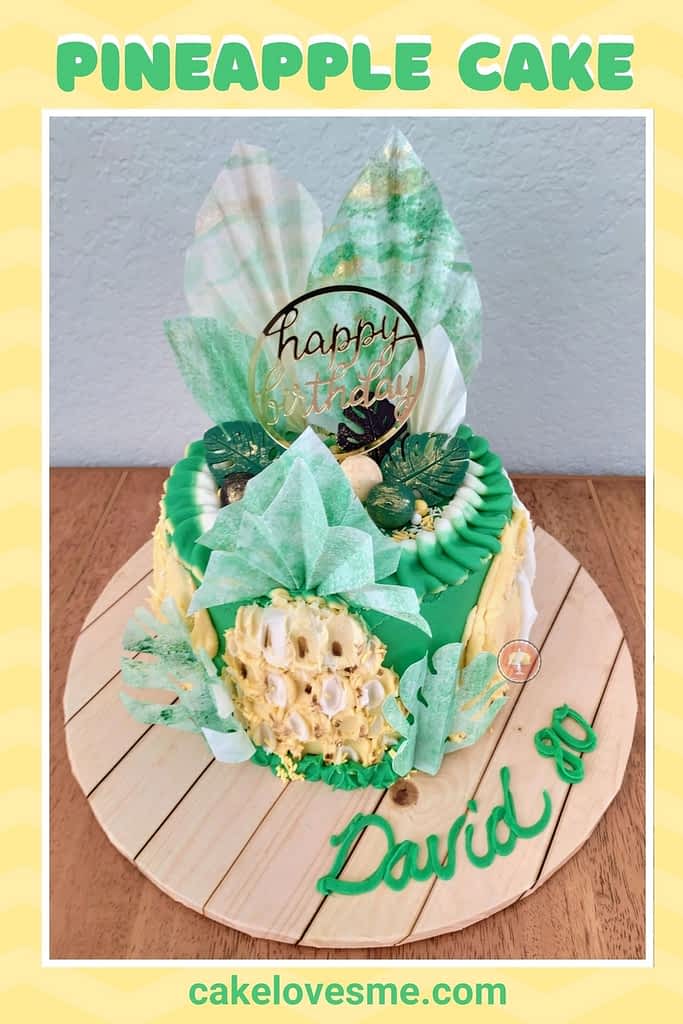 In these cases be sure to tell the customer that you will be putting your own spin on the idea (with moderate changes) so the cake remains an original design.
Step 2 – Research, compile, design idea. Sketch ideas, illustrations, or subject reference research, take notes, gather all materials, tools, and ingredients needed. Inspiration can come from anywhere. Channel your inner artist. Like any school project, preparation and organization are key.
Step 3 – Determine the timeline of design to execution for the day of cake completion. Make sure to factor in all the special cake design techniques you plan to do with cake baking, frostings, fillings, chill time, etc. Whatever is needed to complete your cake design should be part of your timeline.
Step 4 – Document your process. Take pictures from start to finish so you remember how you executed your design and how you will modify or correct anything (if need be) for your next cake design.
Step 5 – After your cake is completely finished you'll need final photos. You went through a lot to produce that work of art so don't just take mediocre pictures with bad lighting and a ton of junk in the background. This final stage of the project is very important if you want to properly preserve your cake design for all time. It's time for Photo staging.
The camera you use/HDR capabilities, videos, multiple angles, lighting, cake theme consideration, backdrops, and props are all things that take much thought and consideration. You don't need to be a professional photographer nor replicate a Vogue photoshoot just a clean shoot that accentuates your art. Think complimentary and/or neutral backdrops so as not to compete with your cake design.
My advice: read up on photo staging/product photography, and best practices for social media and content exposure. What do you want your photos to convey? What are you selling? It's your content and you will want it represented in the best possible way, clear images that are visually pleasing for your targeted audience.
Cake Color Palette

The general color palette I created as a guide for this Festive Pineapple Cake Design was inspired by yes…Pineapples of course! and all colors coinciding with the light tropics. I wanted a light and warm yellow for the pineapple with gold and wood brown accents as well as a cake board that looked like wood planks picking up the deep brown and gold yellow hues.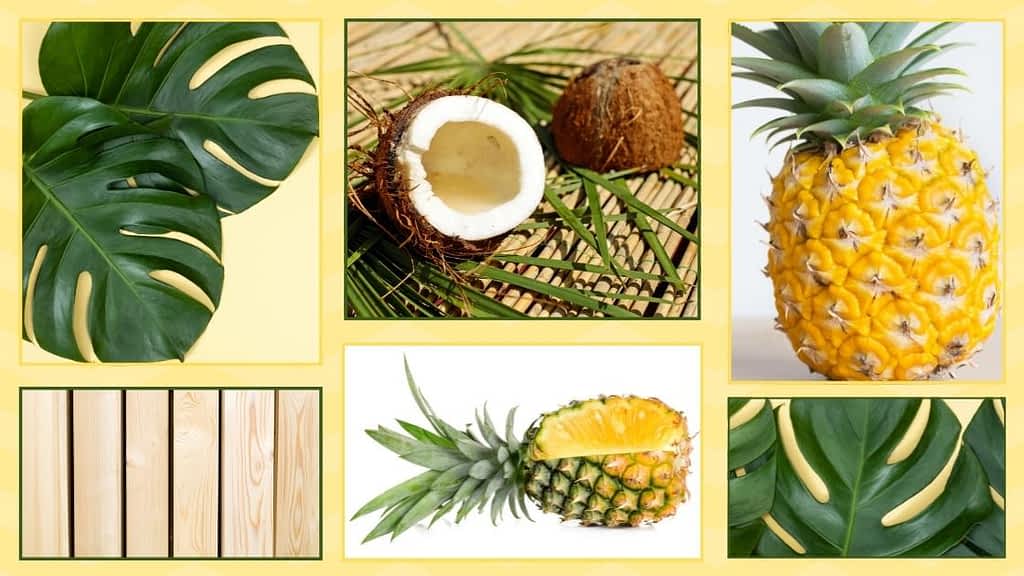 The wafer paper fans and palm leaves were tinted sea foam, grass, and deep forest greens. The grass green buttercream worked best as the cake base color allowing the lighter colors on the cake to really pop.
Forest green, deep brown, and light yellow were chosen colors for my chocolate candy melt molds accented with edible gold luster dust on top of white and yellow sprinkles.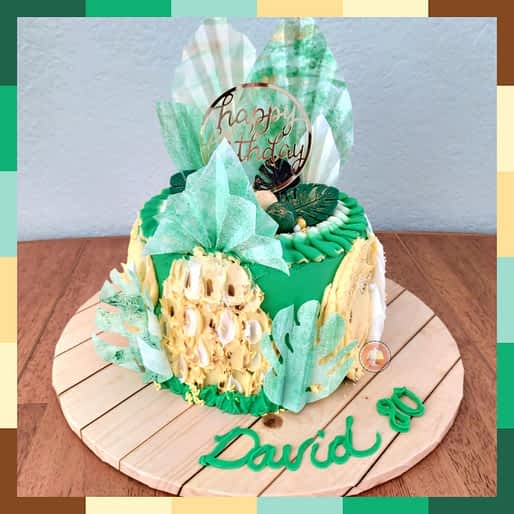 The gold Happy Birthday sign ties everything together completing this Festive Pineapple Cake Design.
NEW! – Be sure to check out my latest How-To Guide on creating a color palette for your next cake design.
Edible Wafer Paper – Techniques
Who knew the technique of tinting, folding, molding, cutting, and binding wafer paper to cakes would be such a hot trend in cake design right now? This is something to appreciate for sure. Oh, the things you can create! I am just beginning my journey into working with edible wafer paper.
My first suggestion is to watch several youtube videos on how to create, tint, manipulate, and adhere edible wafer paper to cakes. You will need patience and practice. Wafer paper is very fragile, melts easily if it gets too saturated or warm, and the application takes precision and timing.
Some cake designers suggest waiting until the last moment to attach wafer paper to cakes because the paper is so fragile and on different edible surfaces. I guess it depends on the surface.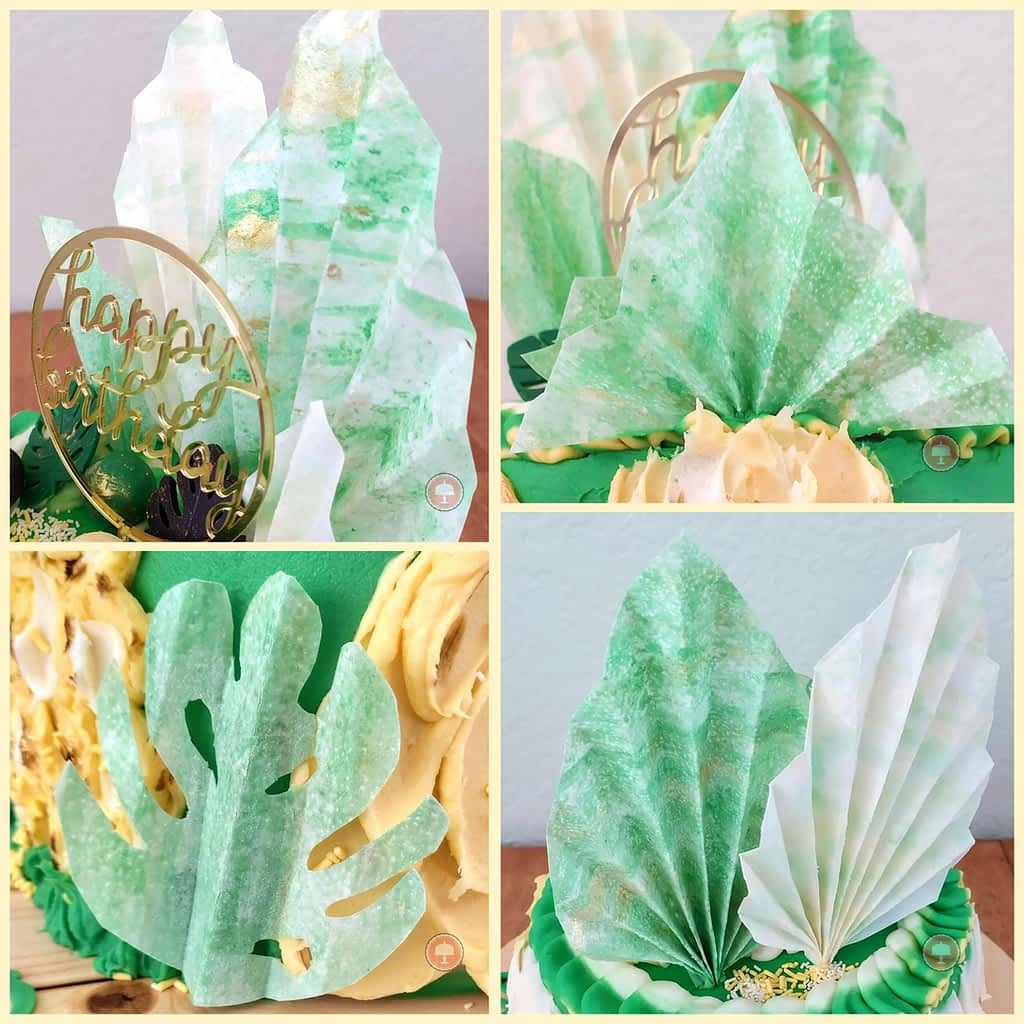 My Festive Pineapple Cake Design had lime-flavored buttercream as the base. This is a solid frosting and the cake was chilled until the party day so I knew my wafer paper accents would hold steady. Attaching any design accents on a cake at the last minute doesn't really work with my general photo staging, boxing, and chilling schedule.
Please visit many of my other Birthday cake ideas showcasing piping techniques, fondant, color palettes, chocolate drip, edible luster dust, and more.
I hope you enjoyed my Festive Pineapple Cake Design. Happy Baking!