A fun Gone Fishing Cake for any guy or gal who loves to fish. It's great to do cakes that focus on someone's passion or hobby. If you are looking for fishing birthday cake ideas, then then I hope this easy fishing cake will provide good cake decorating inspiration.
This cake has an ombre buttercream piped & spoon effect with fondant decorative reeds, lake plants, fishing bobbers, and rustic signage fondant fishing cake topper.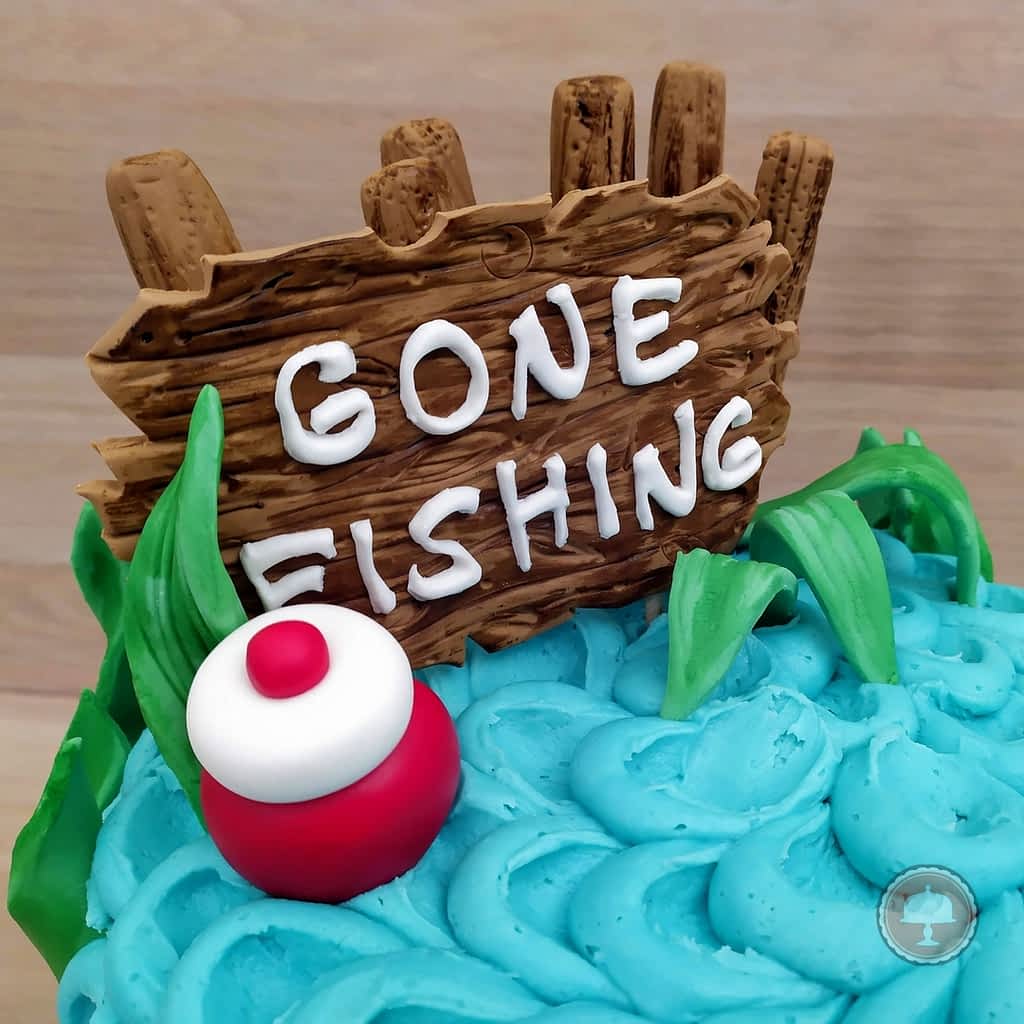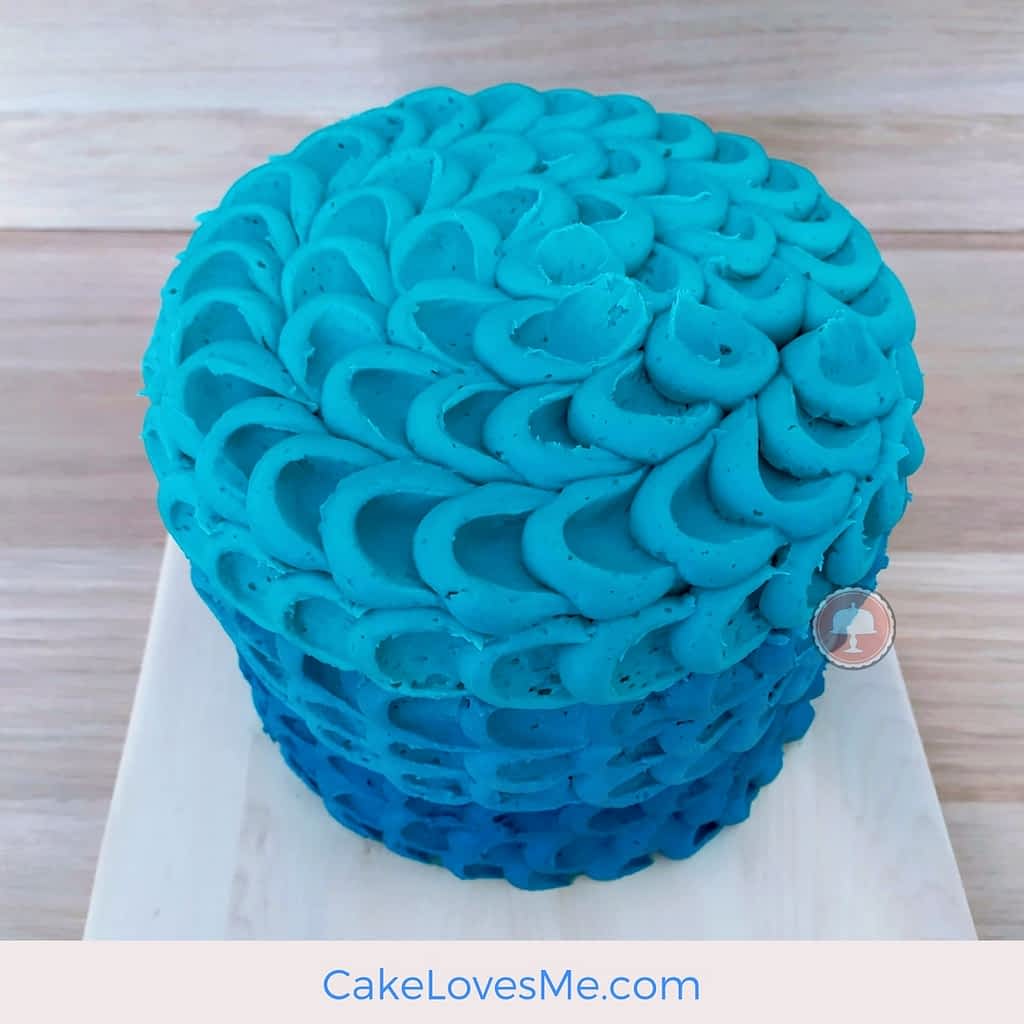 Buttercream Piping Techniques Used for Fishing Cake
This fishing cake uses two piping techniques: Spoon Piping ("petal effect") and Ombre technique. Ombre means 'shaded' in French, and is the gradual blending of one colour hue to another, and in this case I moved from the darker blue the bottom to a lighter shade at the top.
Each row was done one at a time by piping large dots with a 0.6″ piping tip, piping bag and using the end of a spoon. I then used the petal effect spoon piping technique, to resemble flower petals or water ripples. This piping technique requires multiple batches of buttercream.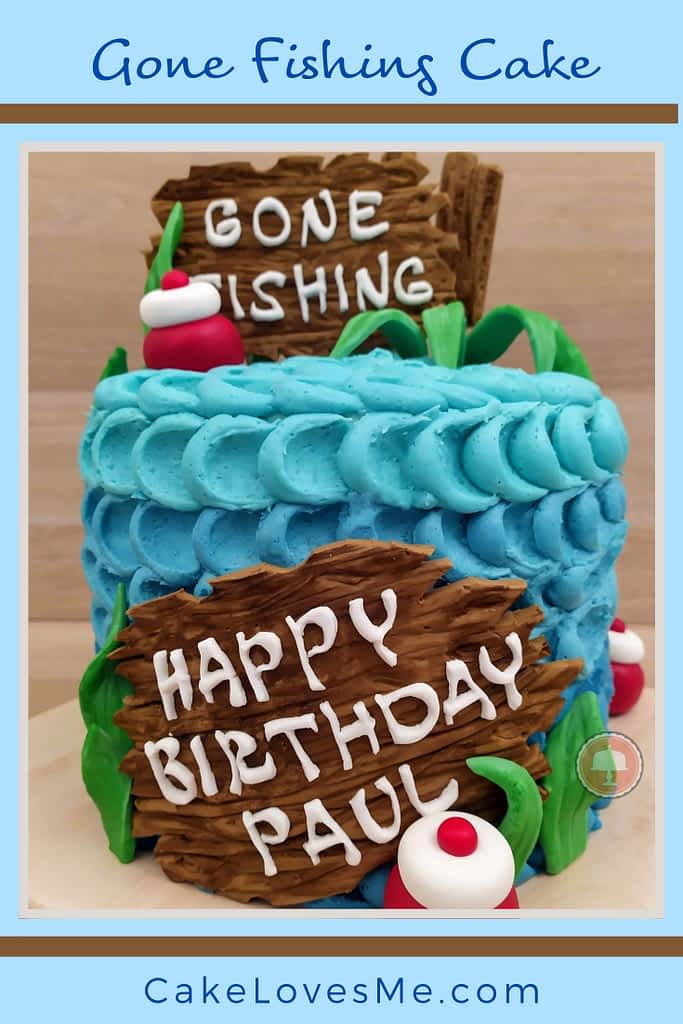 Gone Fishing Cake Fondant Toppers
Most fondant cake toppers can be made prior to cake making day. This allows the fondant time to set and dry. The lettering can be rolled and cut close to applying the topper to the cake. When using a letterpress tool the fondant must be rolled out thin. If you roll it too thick each letter will be harder to cut.
Take a sharp-edged knife (not serrated) and cut around each letter and smooth the edges. This is a delicate process. Do not wait too long to adhere the letters to the fondant sign. The letters will still be tacky and edible glue or water is not necessary to help them stick. If the letters dry too much the glue or water will be needed. Make sure you have small paintbrushes on hand for this step.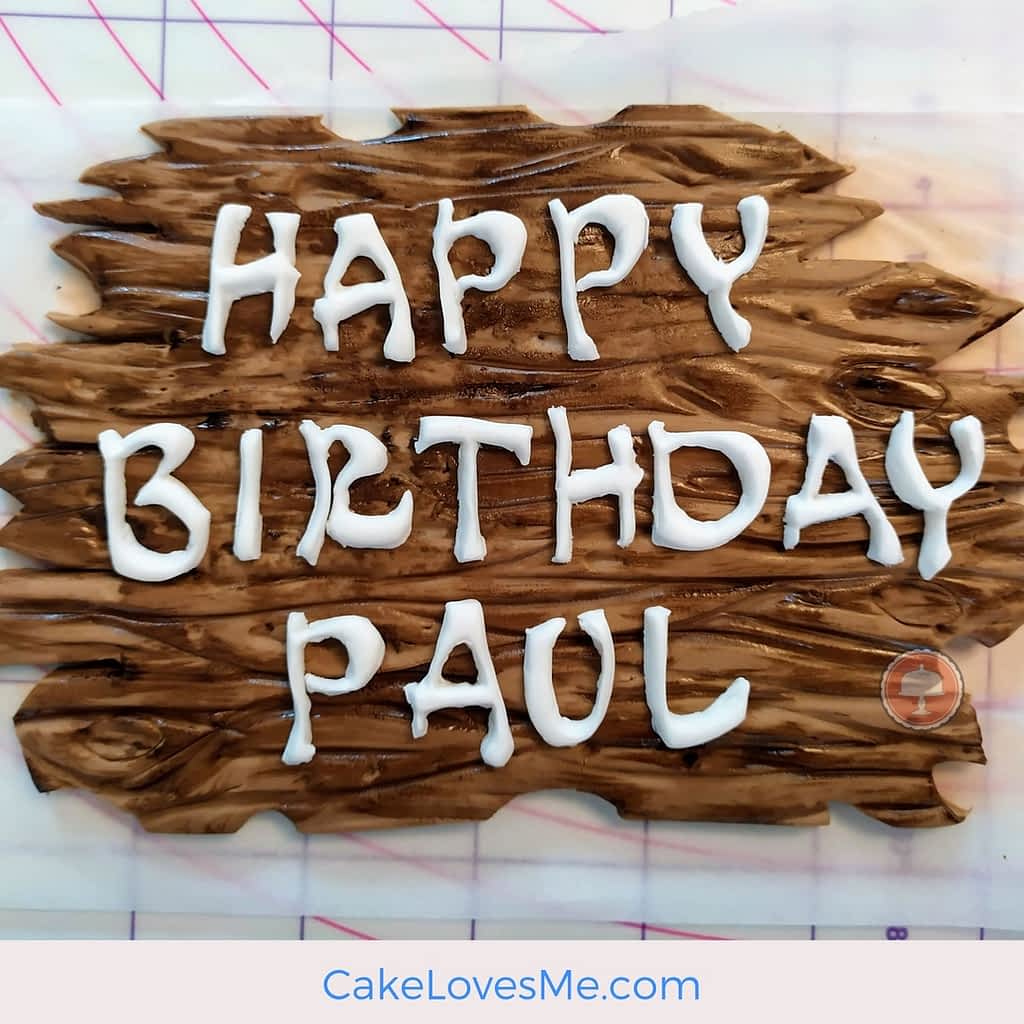 Details matter even from the back of the cake. I wanted the back of the Gone Fishing sign to have realistic posts. The reeds anchor the look from the back along with the river leaves and plants. To shape the river leaves drape them over the side of a cup, allow to dry then apply to the cake.
I used fondant shaping tools to cut and distress the fondant to resemble weathered wood. Then I used edible paint to darken the fondant adding to the weathered wood look. The edible paint needs time to dry. After which the lettering can be applied to the sign.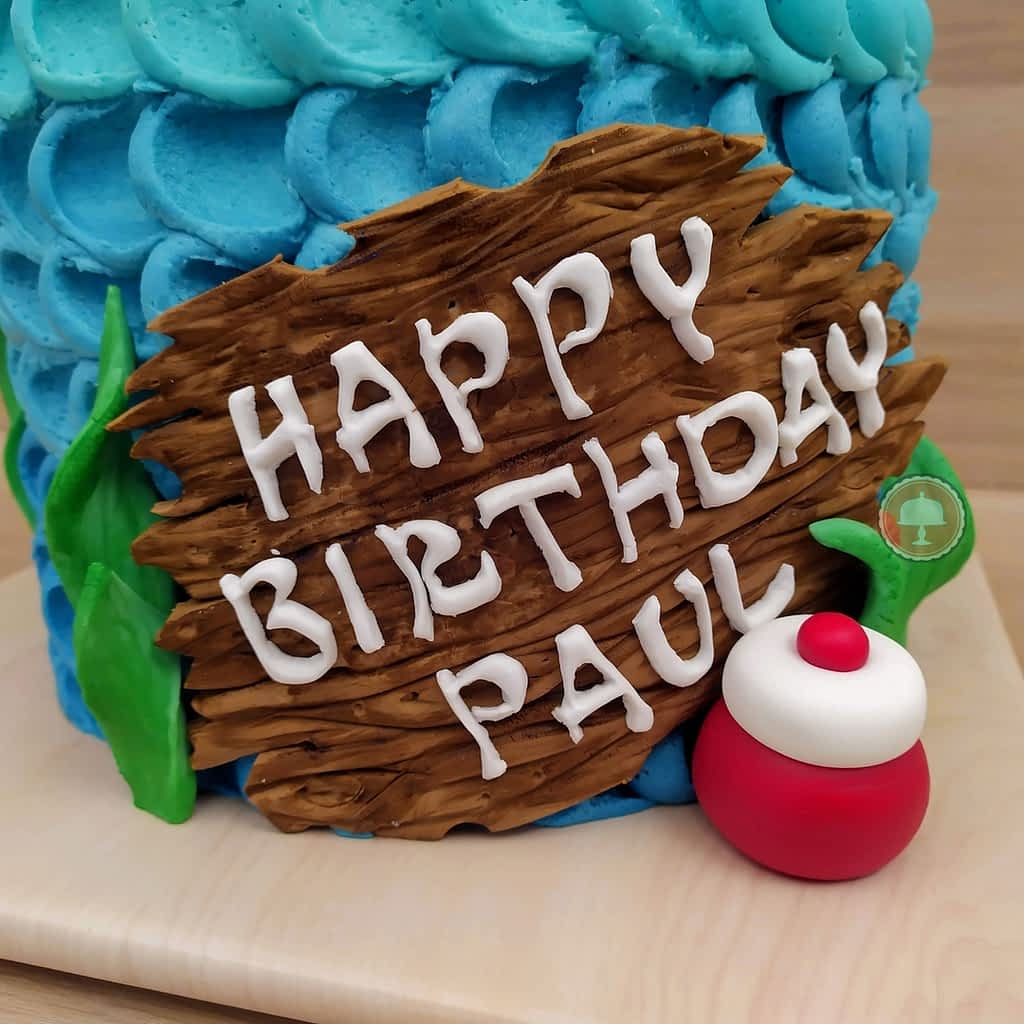 Cake Board Covering for Fishing Cake
I covered this cake board with a complimentary wood look contact paper. It looks nice with the rustic fondant signage. A blue paper matching my buttercream color would have looked nice as well but I went with the wood. There are many things you can do (DIY Cake Board) to dress-up your cake boards. They must never be forgotten in the design scheme.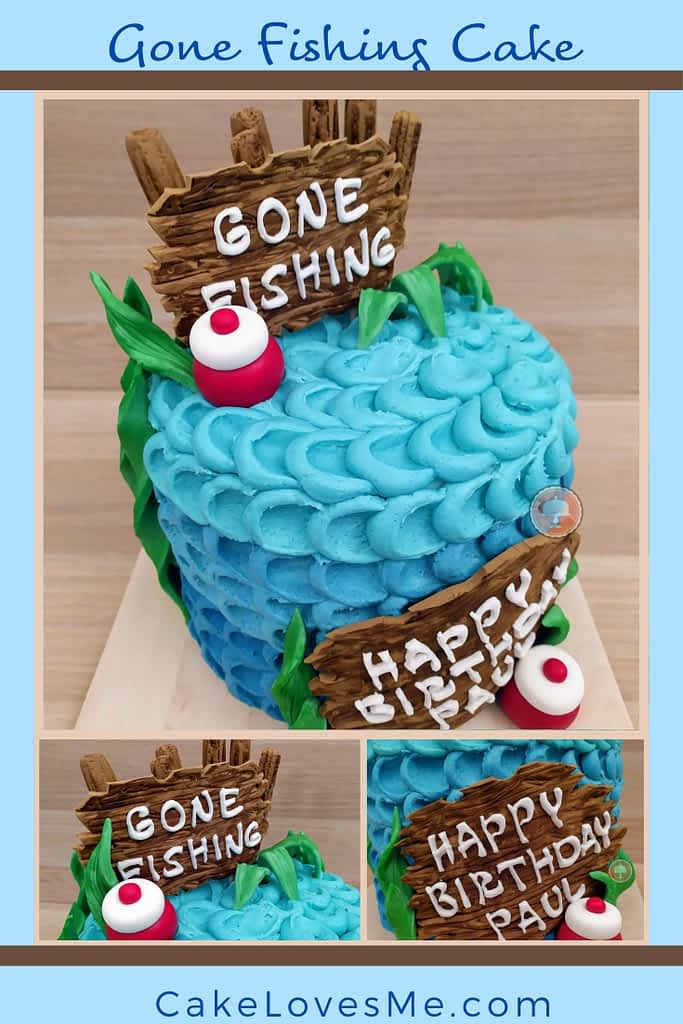 Fishing Cake Decorating Tip
Don't throw anything away (ie: extra decorating materials) until your cake is picked up or delivered. This is so important. Even the tiniest amount of cake cuttings, fondant, or buttercream is valuable. You may be thinking, the cake is done, I don't need it-well you just might! because unexpected things happen and you may need all your extras for touch-ups or fill-ins. Trust me on this one and don't let your family members eat anything left over either until the cake is out the door.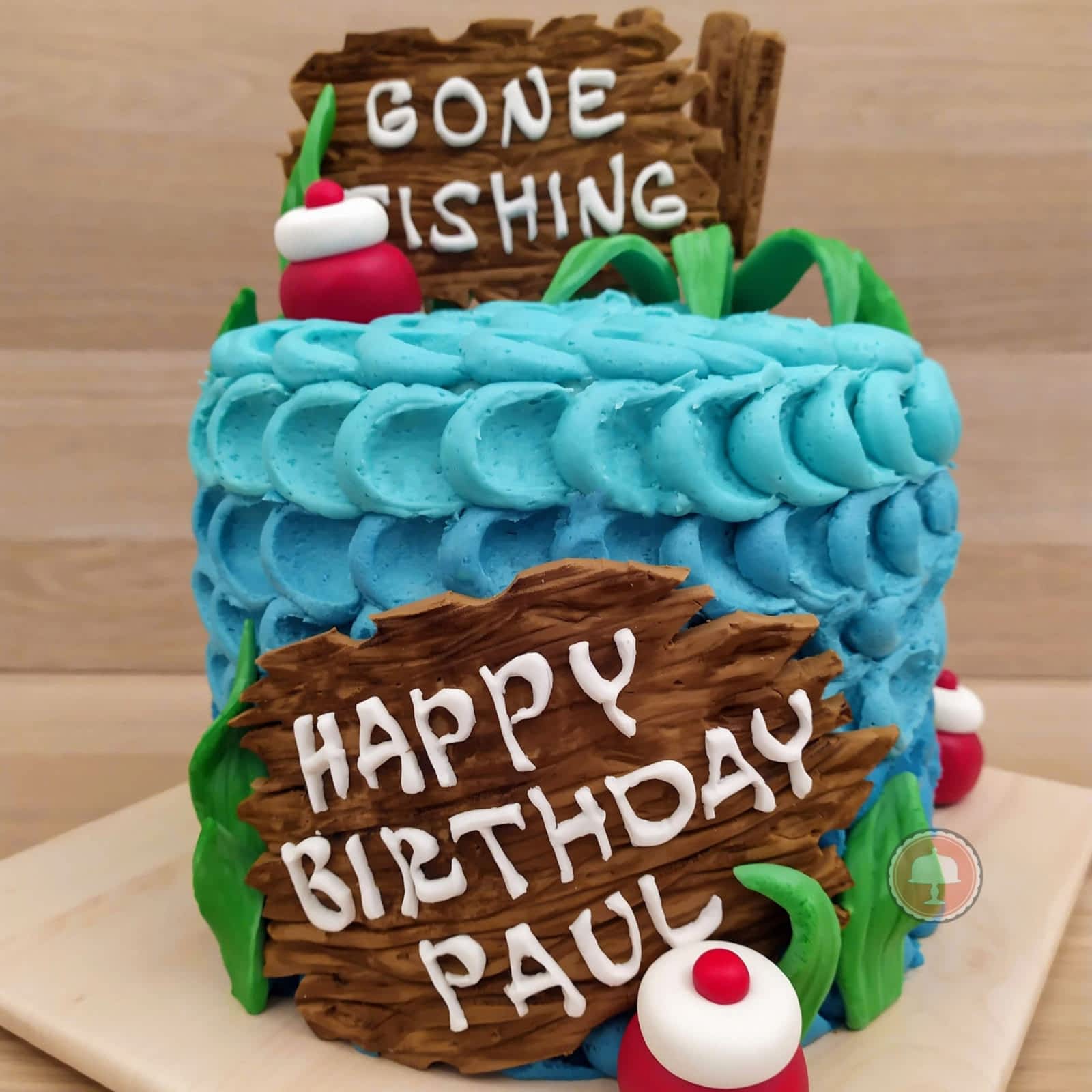 Instructions
A Fun Gone Fishing Cake that you can Do!
Create the base 3 layer cake

Use the letters on the sign

Use this technique for the back of the sign

Make some water reeds and a few bobbers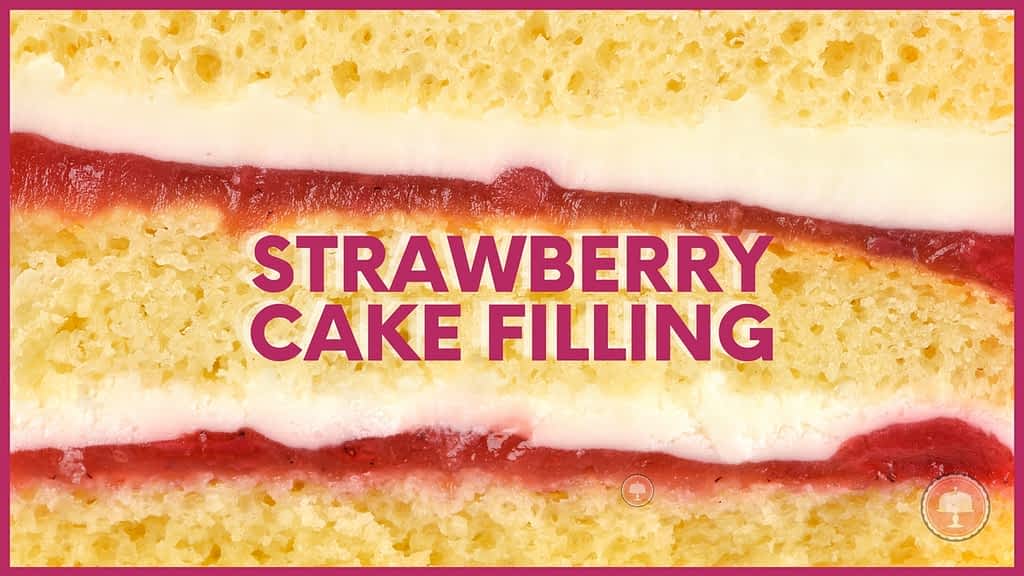 Thanks for visiting my Strawberry Cake Filling Recipe. Happy Baking!
If you enjoyed this cake design, be sure to check out some of the other cake creations, tips, tricks and recipes.