There are so many cookie recipes out there but this Favorite Chocolate Chip Cookies – Recipe is one you'll go back to again and again. It's my "go-to" anytime I dream of Chocolate Chip Cookies. These cookies are soft and chewy with light crusty edges. Crunchy and chewy with delectable chocolate in every bite, YUM!
After experimenting with many Chocolate Chip Cookie recipes I picked up many tips and tricks. Finding your favorite cookie recipe/s is a gift because you'll always use them and others will want them!
Chocolate Chips
So much chocolate so little time! Different chocolate intensities, sweet, semisweet, bittersweet, unsweetened, cocoa content, milk, dark, white chocolate, so many different chip sizes, blocks, and shavings.
You don't need to settle on one chocolate chip, size, intensity, or brand for your cookies. Try a few combinations. The best chocolate chip cookies coming out of my kitchen have a few chocolate types, chip, and chocolate chunk sizes. Make sure to buy quality chocolate and you can't go wrong.
Cookie Dough
After your cookie dough is made and the chocolate chips and chocolate chunks are added use a wooden spoon to combine. It's time-efficient to premake the cookie balls, stack them on a plate and chill so they're ready for baking.
To chill or not to chill cookie dough? That is the question. The answer is always: Chilling is better than not chilling and here's why…Chilling cookie dough before baking prevents the dough from spreading out too much in the oven.
Chilling cools the fat in the cookie to keep its shape (especially if you have high fat) giving you beautiful full cookies that are soft and chewy versus flat and sad with no love in the center. No one wants that so please do not skip this step. Meh! – what a pain, right? I know but you'll have better cookies for it so Chill baby Chill!
How long should you chill your cookie dough? A good 30 minutes to an hour is ok if you're short on time but if you want all those flavors to develop several hours or even overnight will serve you well.
Cookie Baking Essentials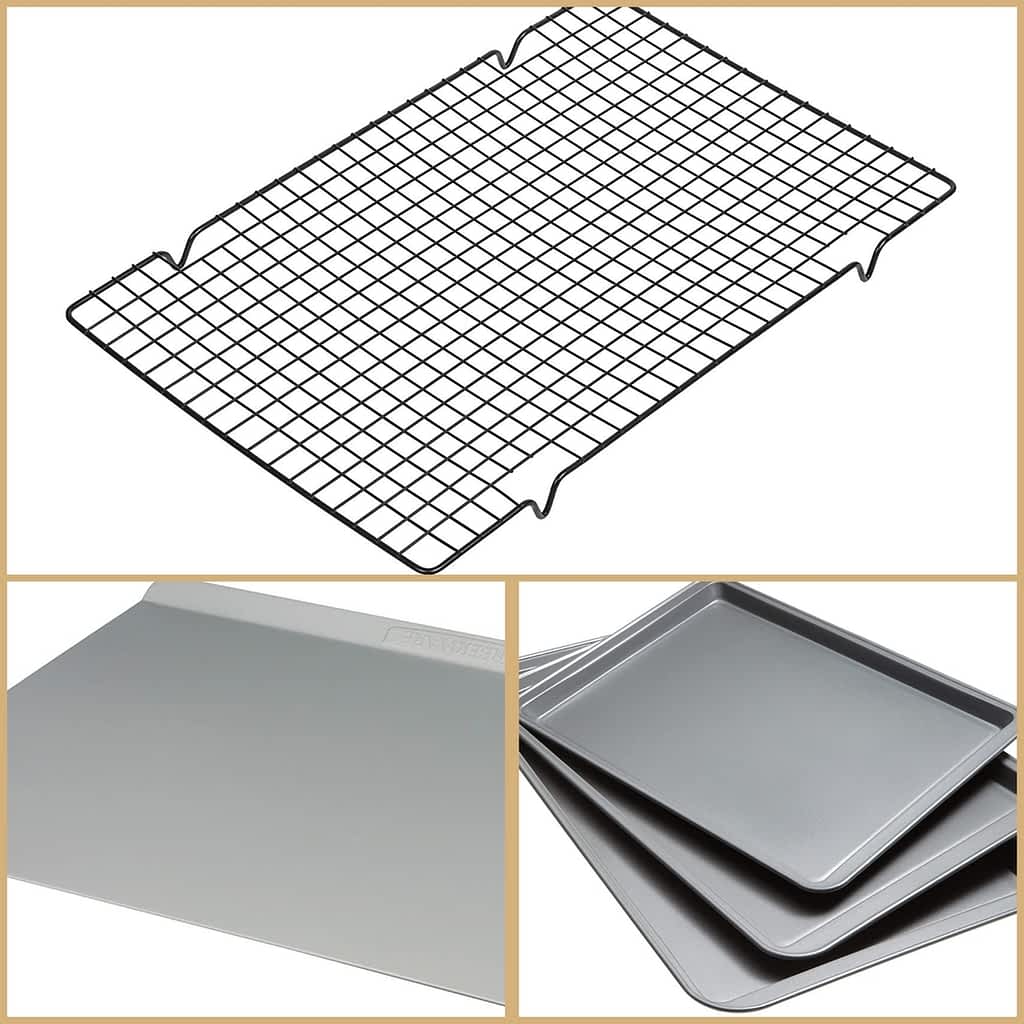 It's important to invest in quality cookie baking essentials. Cookie sheets, Cooling racks, & a Cookie Scoop set are 3 main tools needed for making these Favorite Chocolate Chip Cookies or any cookie for that matter.
Favorite Chocolate Chip Cookies – Recipe
Favorite Chocolate Chip Cookies
Equipment
Hand held or stand mixer

Mixing Bowl

Measuring cups and spoons

Spatula

Chopping knife for chocolate bars

Wooden Spoon

Cookie Scoop

Cookie sheet

Parchment Paper

Drying rack
Ingredients
1

Cup

Chilled & Cubed Unsalted Butter

(2 Sticks)

1

Cup

Granulated Sugar

1

Cup

Light Brown Sugar

Packed

2

Large Eggs

1

tsp

Vanilla Extract

2 3/4

Cup

Flour

1/4

tsp

Baking Soda

1

tsp

Baking Powder

1

tsp

Salt

2 1/2-3

Cups

Regular sized & Miniature Chocolate Chips, Chocolate bar chunks & shavings.

Approx. 2 cups chocolate chips sizes, Approx. 1-2 dark chocolate bars chopped into chunks and shavings equaling 2.5-3 cups of chocolate.
Instructions
Measure all chocolate/chips, cut your chocolate bars (with proper knife) into chunks with shavings (now) so it's ready. You decide how much chocolate you like in your cookies.

Preheat oven 375 degrees. Line a cookie sheet with parchment paper.

With mixer cream butter (first) then add both sugars to the butter until light and fluffy.

Add eggs one at a time then add vanilla. You don't need to overmix-just fullu combine.

In a separate smaller bowl combine all your dry ingredients – Flour, Salt, Baking Soda, & Baking Powder

Add dry ingredients to wet ingredients.

Gently fold in all your chocolate with your wooden spoon.

With your cookie scoop make cookie balls and place or stack them on a plate or in a container.

Now is the time to chill your cookie balls (covered) in the frig. If you're pressed for time chill a minimum of 30-45 min.

Ready for baking – Place your cookies in a row (properly spaced apart depending on size) on your cookie sheet lined with parchment paper.

In a preheated oven – Bake 10-12 minutes until light to golden brown on the top and around the edges. Careful not to overcook as the cookies will still cook on the pan after being taken out of the oven.

Let cookies sit on the pan for 30 sec. They will go down a bit. With your spatula transfer cookies to your drying rack to cool.

Cool and enjoy and/or freeze extra to have for another time. See notes below.
Notes
*Double this recipe for more fresh cookies or freeze for later. 
*Add additional ingredients such as white chocolate chips, mint chips, pecans, walnuts, marshmallows, M&M's, or whatever you like. 
*Using multi-sized chocolate chips, chocolate bar chunks & shavings will make your cookies SO much better!! One-sized chocolate chips are just boring.  
*Use only real butter – not margarine or any other "fake" types of butter.
*Chill cookie balls in the frig between cooking.  
*Cook one pan of cookies at a time. 
*After cookies have cooled store in an air-tight container.  
*Freeze half the cookies in a freezer bag to enjoy later.  Just take out, defrost and enjoy fresh cookies any time!
Nutrition
Calories:
190
kcal
Carbohydrates:
24
g
Protein:
2
g
Fat:
10
g
Saturated Fat:
6
g
Polyunsaturated Fat:
1
g
Monounsaturated Fat:
3
g
Trans Fat:
1
g
Cholesterol:
22
mg
Sodium:
87
mg
Potassium:
89
mg
Fiber:
1
g
Sugar:
15
g
Vitamin A:
168
IU
Calcium:
23
mg
Iron:
1
mg
https://cakelovesme.com
For more creative recipes check out Easy Strawberry Cake Filling Recipe along with Need A Great Buttercream Filling Recipe? for buttercream filling and much more.
Thanks for visiting. I hope you enjoy this recipe as much as I do. Happy Baking!