So many Fall cake ideas, not enough time to do them all. I initially had many "Fall Cake" thoughts of grandeur and then the trending piped pumpkins came to mind. With an 824 open star tip, these pumpkins are easily mastered and fun to do. Depending on how big you want the pumpkins determine the size of the star tip. Cake size matters as well. You could also try the larger 826 open star tip. Cake design doesn't always need to be overdone themes or cakes loaded with "stuff". Sometimes less is more and people love simple designs. You don't have to show up to a dinner or party with the Colosseum of cakes!!
To achieve all the colors you see in this buttercream I recommend the Wilton 12-count gel-based food color set. I don't know what I would do if I didn't have a set of primary colors along with additional colors to compliment. Use the Wilton, brown, teal, burgundy, Kelly green, lemon yellow, and add a little brown to the royal blue to get this slate blue I used for the base color.
Gel food coloring vs. liquid is best for tinting frosting. Gel doesn't add extra liquid and the saturation is brighter or deeper using very little. Always test colors a little at a time for desired saturation as you can't reverse the darkness if you use too much. *Tip: if you are trying to reach a darker hue do not keep adding and adding gel. Cover your frostings and let them sit awhile, the colors will deepen with time. You can even make your frostings a day in advance allowing the colors to set and reveal the deepest value possible.
Sprinkles make everyone happy! Just don't go sprinkle crazy, it's easy to do. For this Fall Cake, I used a variety of sprinkle sets. Look for this rainbow sprinkle version which you can find on most grocery store shelves.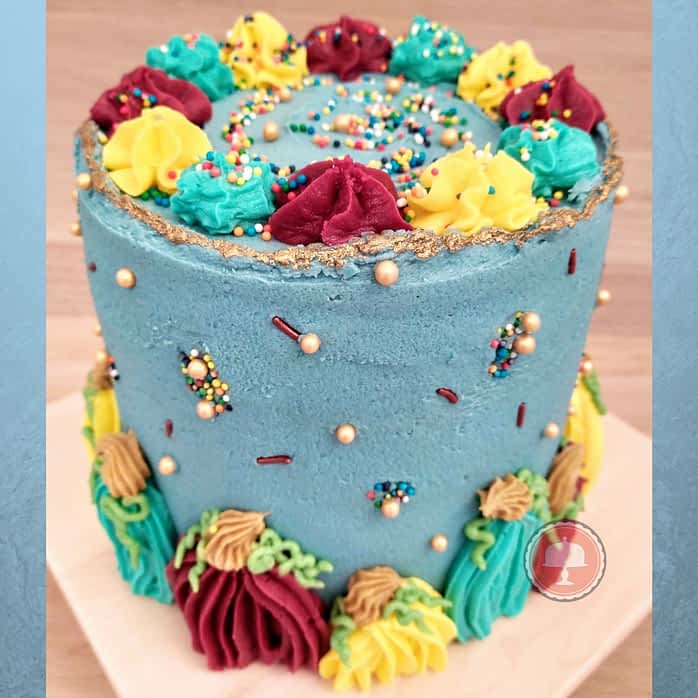 Edible gold pearls are easily found on the shelves of most craft and hobby stores along with edible bronze paint I used to accent the top edge of the cake. Pick whatever color scheme makes you happy! The options are endless. Check out this Lovely Anniversary Cake – 50th Wedding Anniversary showing more edible paint edging and bright sprinkles that really help this design pop.
I hope you like this Easy Fall Cake Ideas – Pumpkins and Sprinkles
Thanks for visiting. Happy Baking!