Introducing Spooky Halloween Cake Ideas – Frankenstein Cake. Halloween is one of my favorite holidays and who doesn't love Halloween inspired cakes and desserts?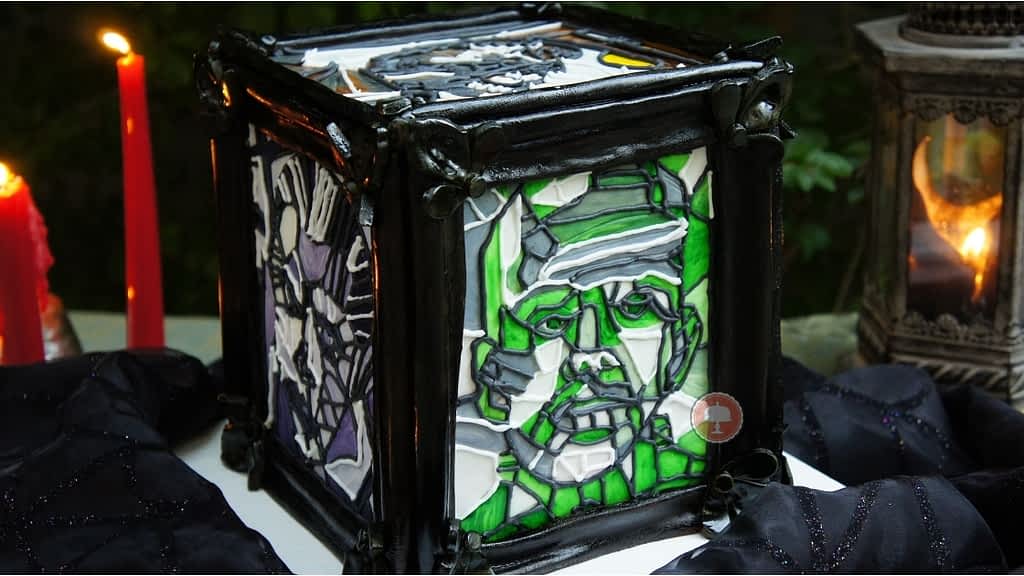 Since my last Cool Stained Glass cake – 4th of July Cake I was inspired by this piping technique and wanted to practice this on another cake. My Halloween cake goal was to produce a new design, a cake design no one has seen as well as sharpening the stained glass decorating skill. I needed an idea that would be unusual, a challenge to execute and something people would easily recognize.
Classic Movie Monsters
Initially, I thought it best to sketch or research patterns and images larger in scale for the stained glass piping technique. Simpler layouts that feature iconic Halloween images such as pumpkins, ghosts, witches, goblins, devils, skeletons, or mummies would all look so fun on a cake. These ideas are great but again, I wanted something really unique and different.
Moo-ah-ha-ha-ha! Can you hear my spooky laugh? Or maybe I was channeling The Count on Sesame Street. Either way, Classic Movie Monsters were what I wanted to do. That was the plan but how was I going to pull it off?
Big ideas are wonderful but you have to reconcile the execution of it. For this cake five classic Universal monsters were chosen, Dracula, Wolfman, The Mummy, Frankenstein & The Bride of Frankenstein. After studying the old monster movie photographs from the 1930s & '40s I was hooked.
The Cake Design Process
Ok, I had my idea now what? First I decided on the size and height of the cake being 6″ square and 4 layers high so I knew approximately how much canvas space I would have to work with. Measuring the size of the design and how it will cover the cake is really important. Measure all sides and height after the cake is frosted, and fully covered in fondant. Also, measure slightly over in size. Trimming fondant down is better than the fondant design not covering the space or corners.
I thought it would be so cool to take the Classic Movie Monsters from the 1930s & '40s vintage horror films and somehow represent them on a cake. I was completely prepared to sketch a stain-glassed design from photographs but then I found the most amazing stained glass images of the very monsters I wanted to showcase. Thanks to the talented, Velvet Glass Mosaics, the grids of these famous monsters were represented.
Since the face grids were so detailed, making impression lines on the cake itself was not going to work (what a nightmare that would have been! no pun intended) so I did five separate fondant wall panels 1/3″ thick measured for each cake side and top.
After the facial grid impressions and painting were complete the dried wall panels were applied (with edible glue diluted with water) corner to corner over the fully covered fondant cake. Because the panels were 1/3″ thick and dry they would not waver or droop when applied to the cake sides and top.
The next step was making the frame moldings and corner details. Early in the design phase, I asked myself, would I take the fondant images to the corners and have them just butt-jointed together? How would the edges look? I thought the cake would look best if I created picture frames around the faces resembling an old photo box.
I molded and painted the dark chocolate fondant frames a deep moss green and with this color, created a deep mahogany gloss. This was the exact look I was hoping for. No silicon molds were used for the frames so I had to make them by hand. Ugh! These were hard to do, the thickness, length, & corners had to fit well together. They're not perfect but I managed and if I ever do another cake like this again I will get a frame mold! Now moving onto achieving the stained glass technique.
Stained Glass Technique – Royal Icing Piping
It was very challenging to take these facial images and sketch/impress them onto fondant. So many grid lines! (some I took out if you can believe it) it seemed like doing this amount of piping would not work in such small geometric patterns allowing the faces to show through. I took a chance and went for it. When piping black royal icing (using #1 piping tip) it was helpful for me to start from the bottom up as well as doing the main facial outlining then working my way in and filling in the main features.
*This piping had to be done after the panels were applied and framed. It took piping the first face to feel comfortable. I also went back and did touch-ups & fixed a few mistakes when finishing the bulk of the work. After all was done I think Wolfman (top), Dracula, The Mummy, Frankenstein, and the Bride of Frankenstein turned out fabulous! Hard to say which is my favorite.
Royal Icing Recipes
There are various recipes for royal icing so use one that works for you and your customers. It is advisable to be aware of using icing or frosting with egg whites. Pregnant women, babies, or the elderly may have compromised health concerns. Know your audience and the risks here. This Royal Icing recipe is made with Meringue powder. This Royal Icing recipe has egg whites.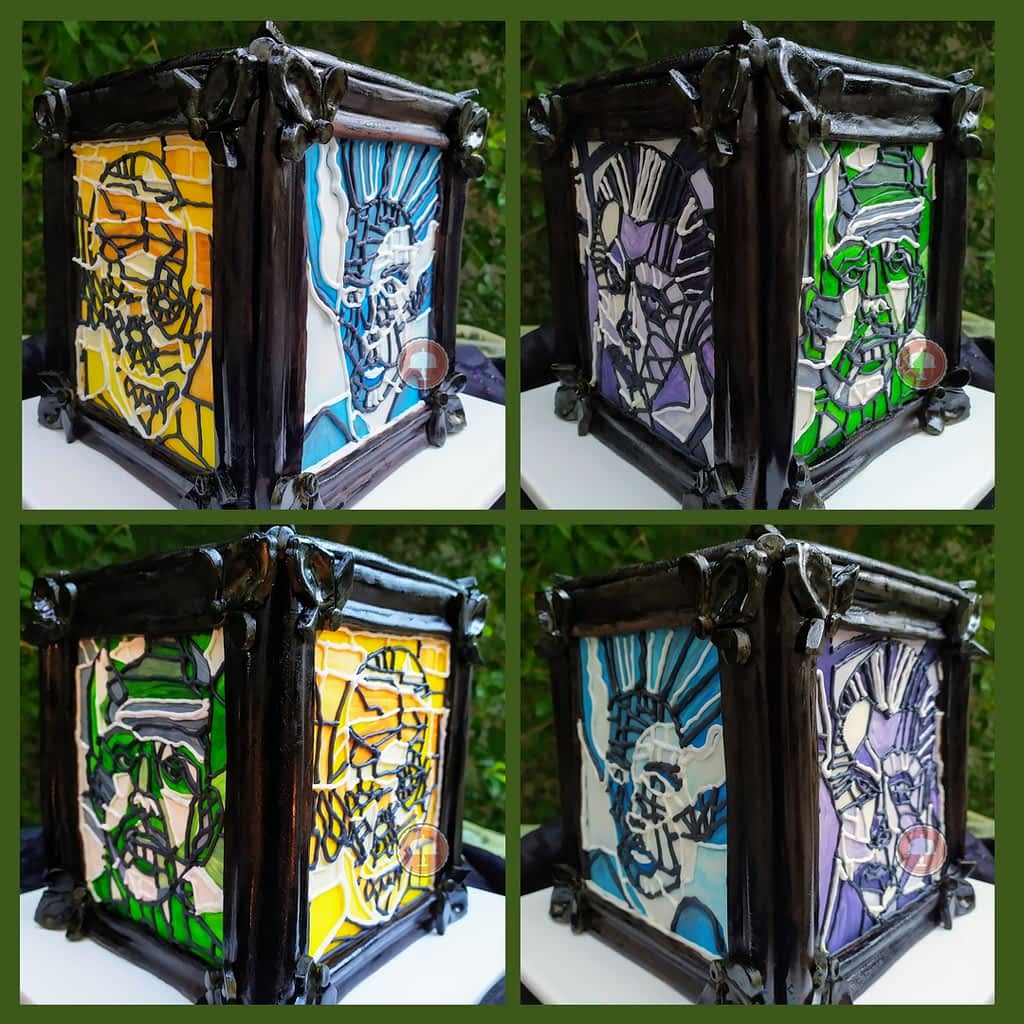 Talk about a difficult cake to photograph! I was pulling my hair out. No one angle will show every side. I cannot stress this enough – take a lot of pictures from different angles, heights, lighting, and backgrounds. The pictures you think you'll use are sometimes not as good as the ones you think you won't use.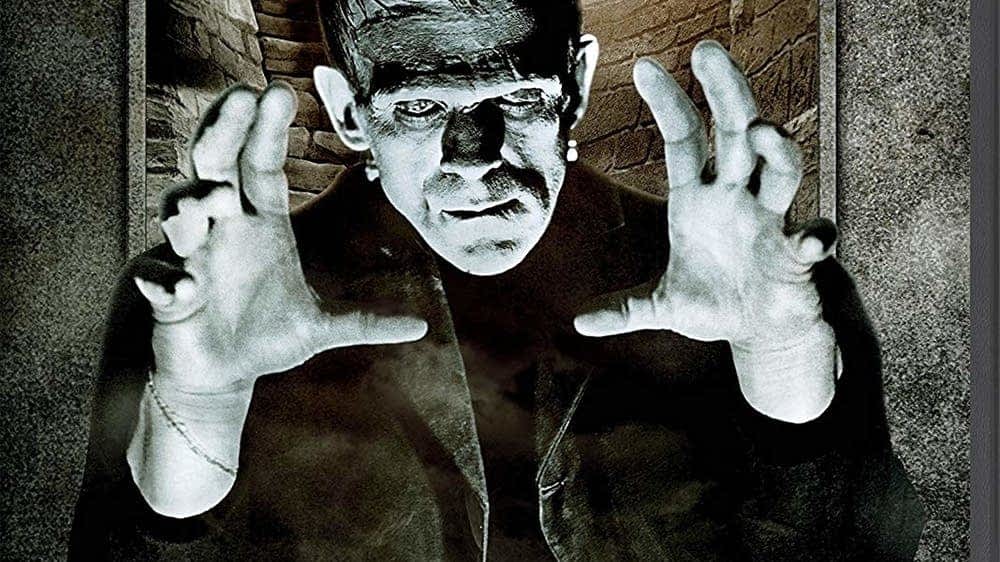 Frankenstein Cake Design Advice
Have a clear design idea and plan, sketch, illustrate and make proper measurements
Organize all your ingredients and tools ahead of time
Always practice new decorating techniques prior to working directly on your cake surface
Use full-proof recipes you know will be delicious and work for your design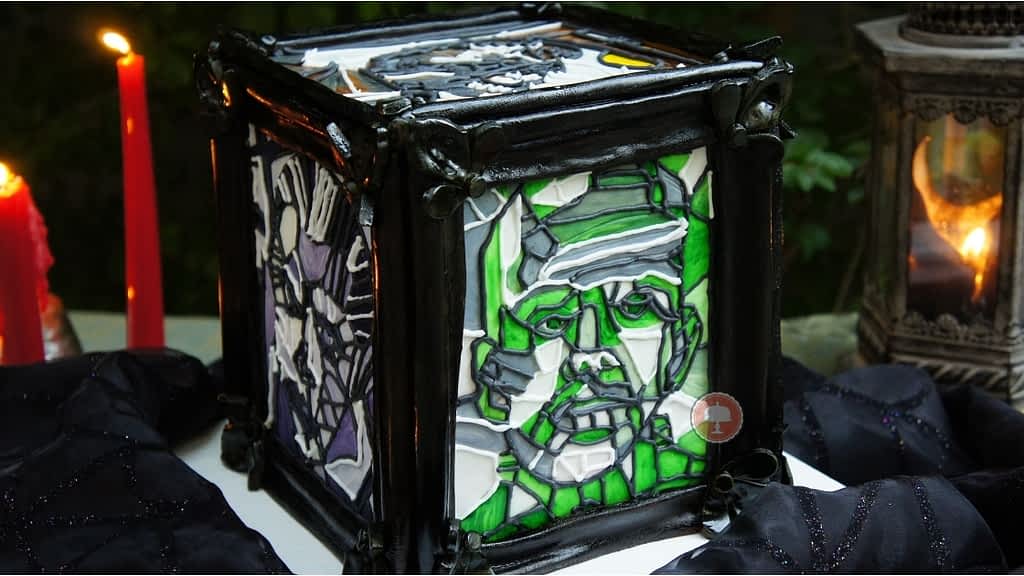 Everything you do is a learning process or a chance to sharpen your skills – remember, you will make mistakes!!
Don't freak out, there are ways to hide mistakes, be creative.
Always take small breaks, step back, look at your canvas, access the design.
Take pictures of every design step! You'll be glad you did as it will help you recall the process.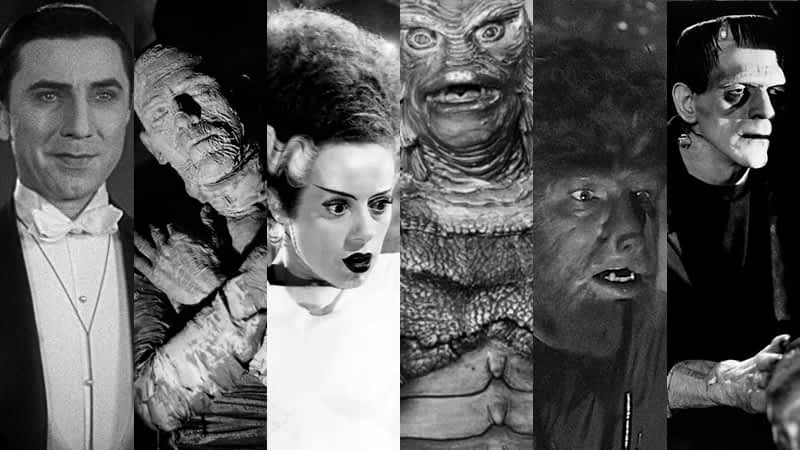 I hope you enjoyed reading about Spooky Halloween Cake Ideas -Stained Glass Movie Monster Cake.
Thanks for visiting. Happy Haunting!