This Buttercream Stencil Cake Design was the perfect Birthday cake for the intended to share with her close friends. The Birthday girl was really impressed with the monochromatic color palette, the intricate geometric stencil design, the buttercream piping, and the palette knife florals.
If you're looking for a way to improve your cake design skills then cake stencils just may turn out to be your best friend. Using cake stencils can completely elevate your cake designs to the next level.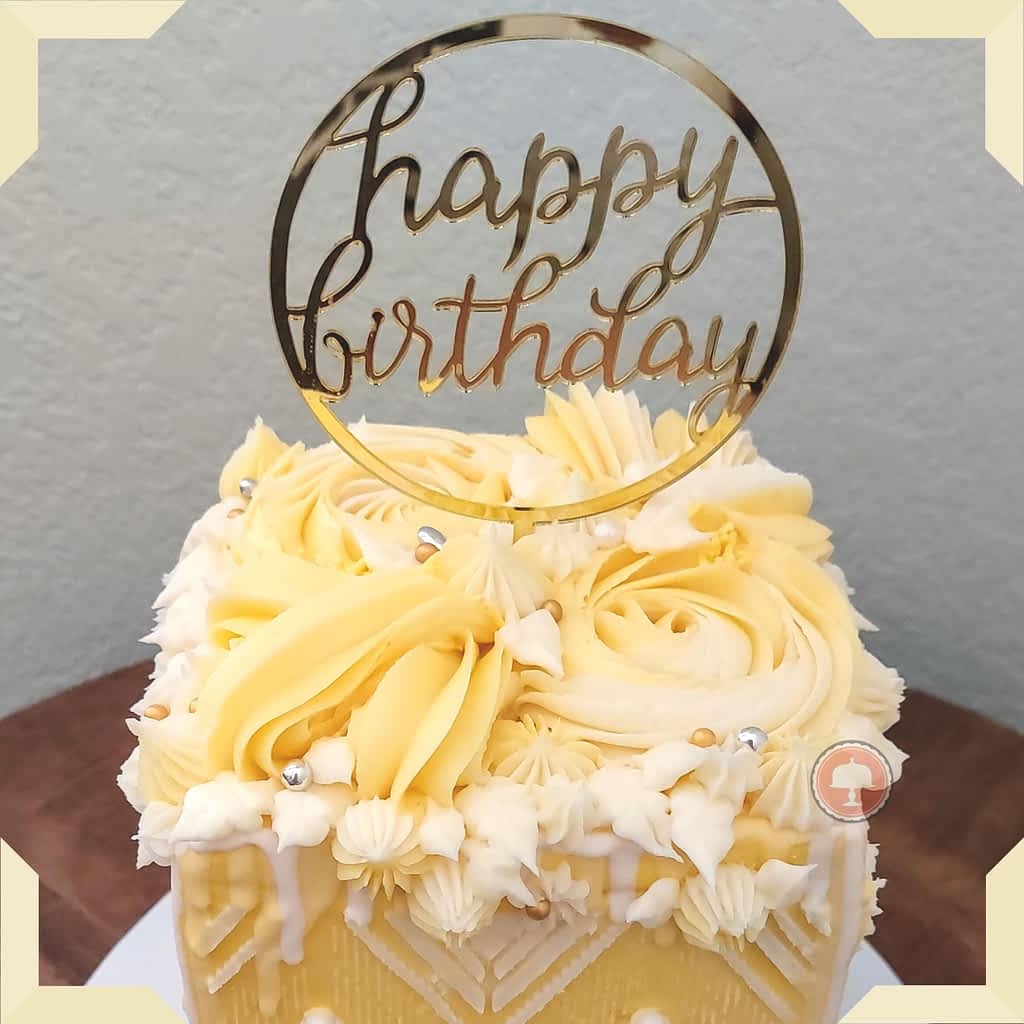 Cake Stencils allow you to create elaborate designs without trying to duplicate them with piping tips or trying them freehand. Naturally, there are a few main things to know and learn before using cake stencils.
Cake Stencils – Advisories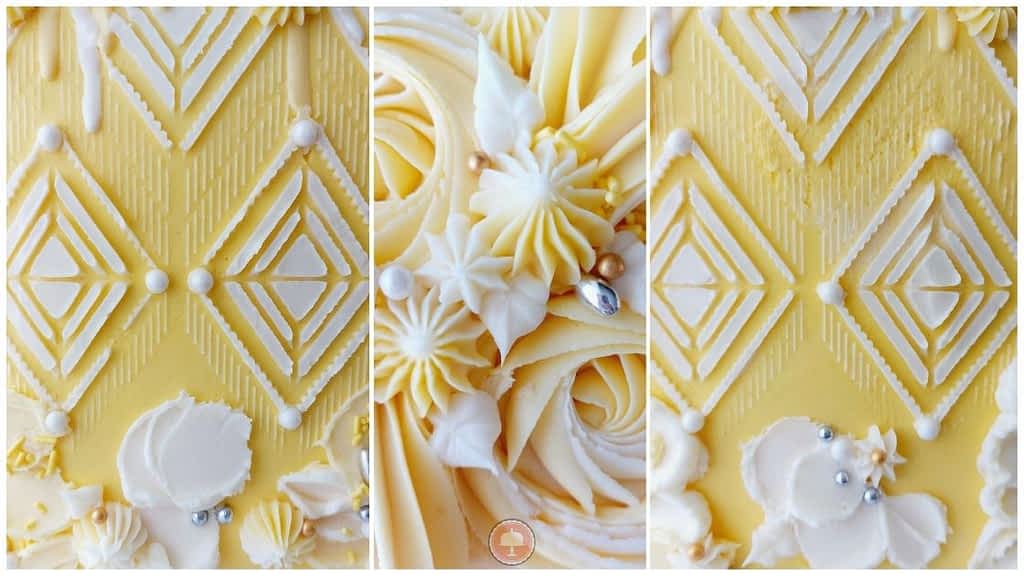 1. Plan your Cake Design
Sketch your theme, style, color palette, and size. A 2D sketch is very different from the real thing so it's very important to understand the design scale and balance. Without a cake design plan, it will be difficult to know what size stencil to use on your cake.
Check out my #1 Adorable Princess Unicorn Cake for more advice on "A cake designer's short checklist."
2. Start off Small – Practice
If you're new to working with cake stencils then Start off Small – Practice on little cakes, cupcakes, or cookies with simple stencils. Complex or elaborate designs can wait until you're comfortable working with the stencil size, stencil attachment, various cake surfaces, and different frostings/icing types.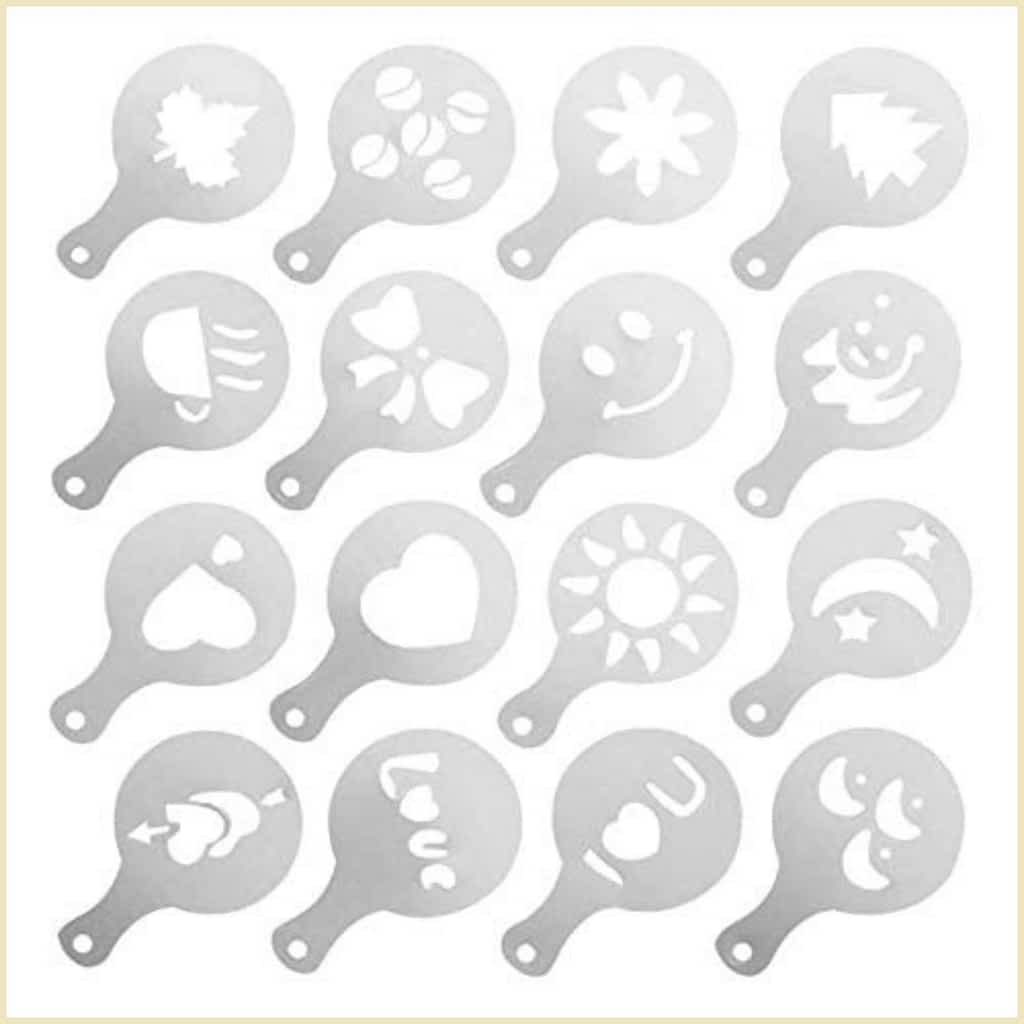 3. How-To Hold the Cake Stencil in Place
Holding the stencil in place can be a challenge. The first thing to remember is to "Remain Calm!" It will take some practice. There are things you must troubleshoot. Practicing different ways to attach the stencil to the cake surface will help you understand which way works best and on which medium.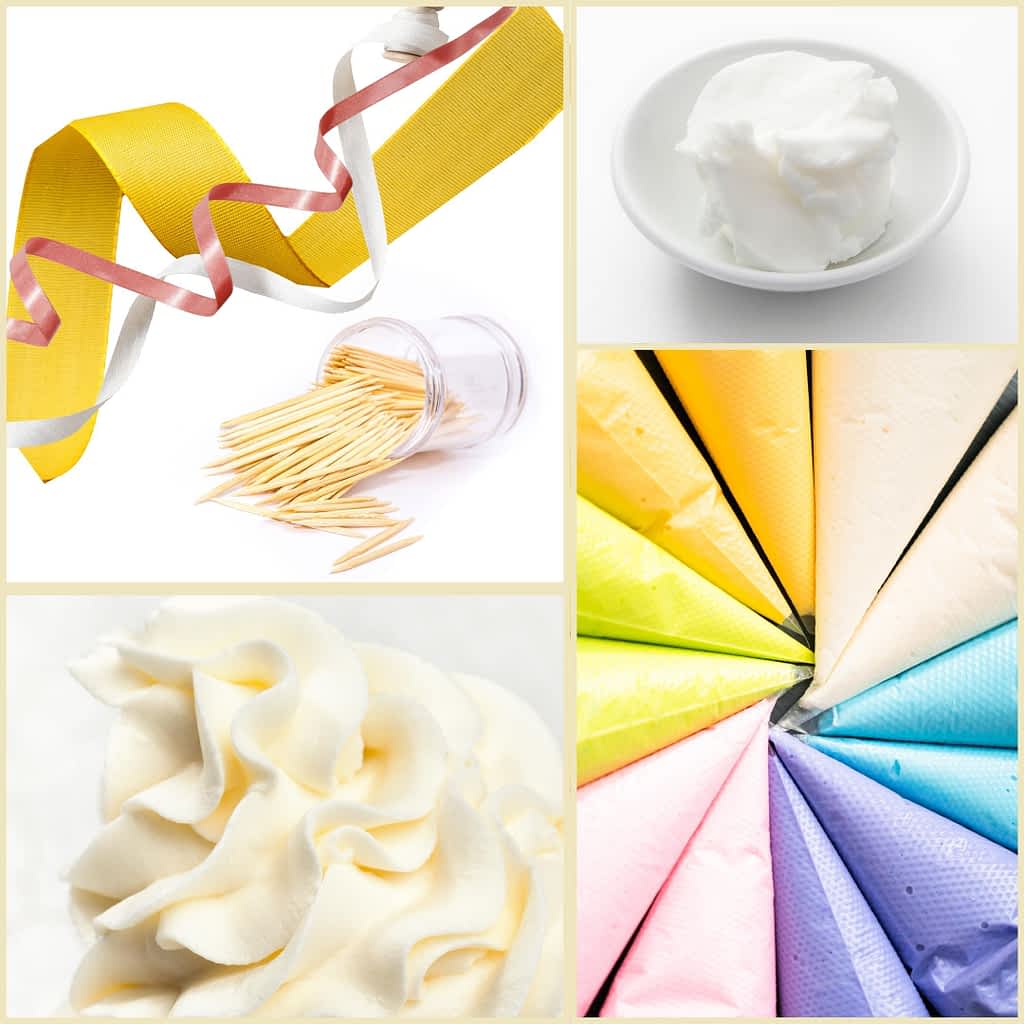 Toothpicks work well to hold stencils in place if needed with chilled buttercream cakes or even fondant-covered cakes. Remember, there will be holes that will need to be covered if you use picks. Do not use wire or metal pins in real cakes as this can cause contamination. A big no-no!

For "set" fondant-covered cake surfaces cut slits on either side of the stencil and thread the Ribbon through it facing the outer side of the stencil but not covering the design. Choose ribbon size accordingly. Use a close pin to attach the ribbon ends to the back. Do not use this method on buttercream cakes because it will stick and leave indentions.
Shortening can be lightly used behind a stencil to adhere to fondant-covered cakes. Also if the fondant is still tacky the stencil will sometimes stay in place without help from shortening or anything else.

By Hand. Hold your stencil in place with one hand and spread your buttercream or royal icing over the stencil with the other. Scrape off the excess buttercream or icing from the stencil with your icing side scraper to lift an even and thinner amount of buttercream off the stencil.
Then gently pull the stencil away from the cake to reveal your design. Be advised that the actual stencil edges can leave unintended indentations on your frosted cake. If this happens you can come up with ways to cover the indents.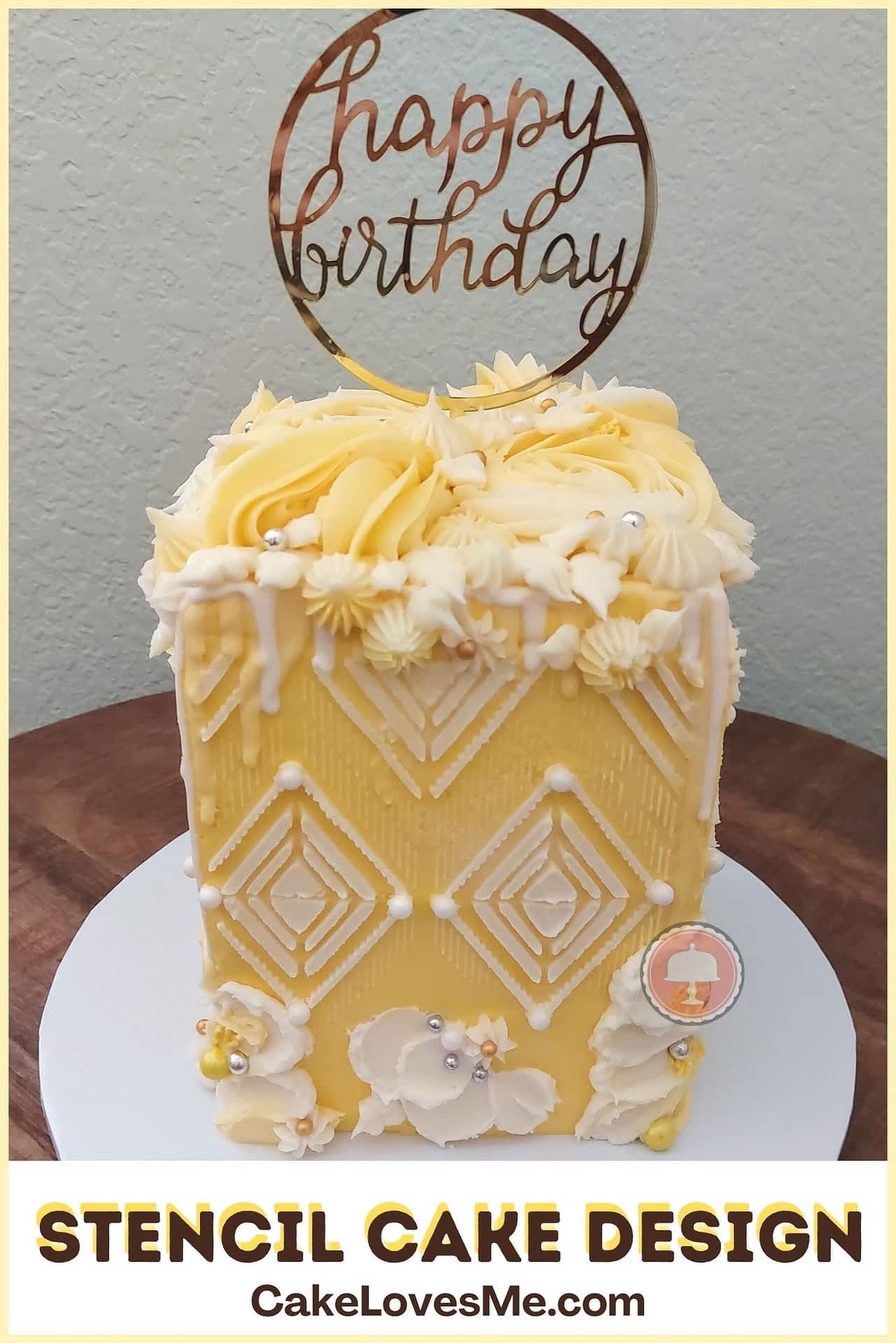 4. Stenciling with Buttercream, Royal Icing, Powdered Sugar, & Airbrushing
You can use any of these depending on what you want to do and what you're doing it on. Cakes, cupcakes, pies, cookies? Pair accordingly.
Buttercream, icing type, consistency, and/or thickness are paramount. Make sure your buttercream-covered cake is chilled first before attaching a stencil otherwise the stencil will stick and ruin the cake surface even before using the stencil.
Buttercream is thicker so it will not show as much in tiny stencil openings but it is still a good thing to use for cake stenciling. You must closely scrape off the excess buttercream from the stencil with your icing side scraper to lift an even amount of buttercream from the stencil.
Royal Icing consistency should be a bit thicker than toothpaste and will leave a thin smooth impression. If the icing is too thin or runny it will bleed under the stencil and ruin the stencil design. If it's too thick it can crack and not lift off the stencil. Remember, royal icing dries fast! You only have a few seconds to get it right.

Powdered Sugar is great for the tops of cakes, pies, cookies, pastries, torts, custards, whatever needs a decorative dash of powdered sugar! Just place the stencil on top, sprinkle the sifted sugar light or heavy, lift off your stencil, and Voilà! Fancy dancy stencil design.
Airbrushing is another option for stenciling that is fast and creative but you must be comfortable with (food grade/color safe) airbrushing. Spraying too heavy over a stencil can cause drips, bleeding, and saturation above or behind the stencil which will ruin your design. You can airbrush on buttercream or fondant. Practicing is key. Be sure to use a reputable airbrush machine because not all are made alike.
Cake Stencils-Pros & Cons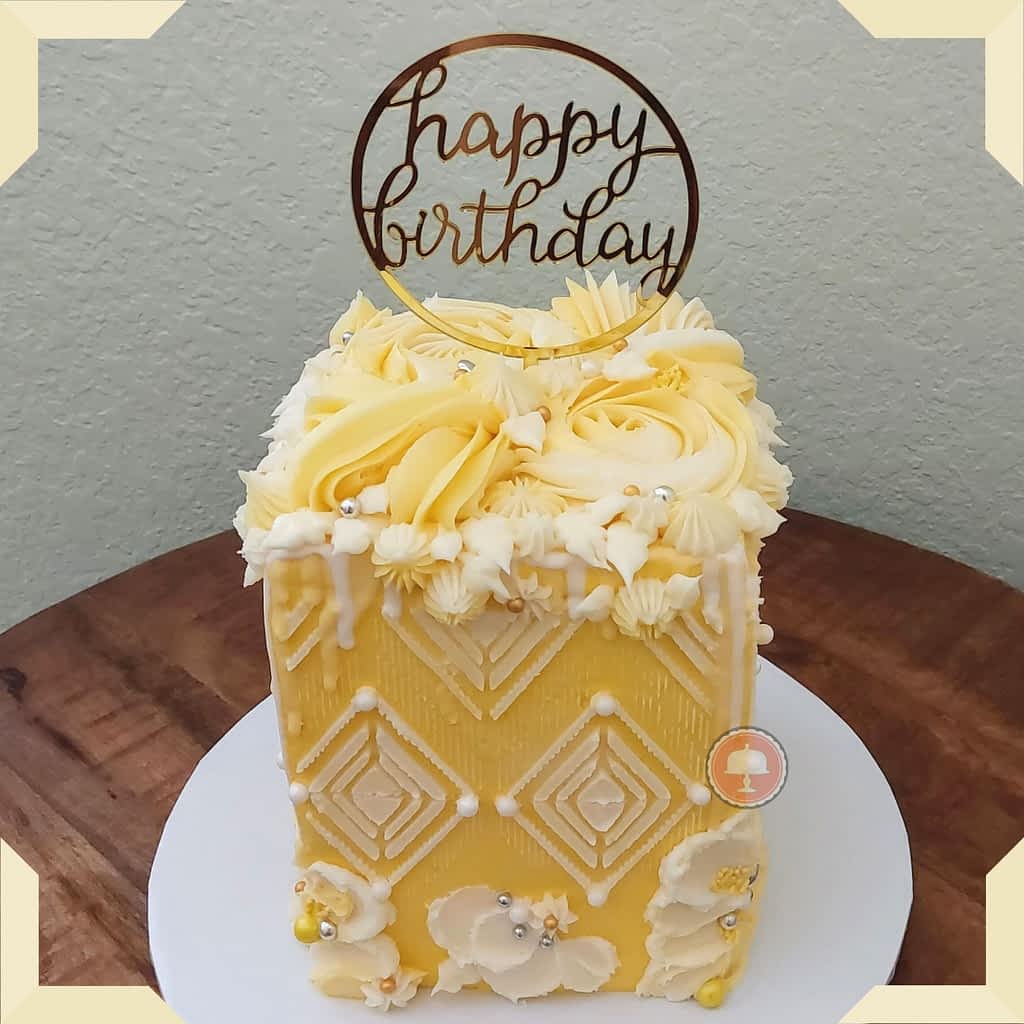 Pros
There are a huge variety of cake stencils to choose from. With all the new and trending cake shows, cake designs, and attention the cake industry is getting right now companies are paying attention to the cake stencil demand. So many cake stencils to choose from, so little time.

You can find everything from fruit stencils, florals, leaf patterns, geometric shapes, lattice designs, stripes, faux stone, ultra-modern designs, holiday-themed images, multiple font choices, you name it, you can probably find it.
Cake Stencils are affordable. You can buy individual stencils or stencil multi-packs. I love the multi-packs. You get extra stencils for a combined price.
Cake Stencils are reusable. If you buy the right ones made of durable plastic made specifically for cake decoration then they should last a long time if properly handled. The stencils are easy to clean with hot water and soap and easy to store.

Cake Stencils elevate your cake design! Experiencing artistic block? Not sure how to spruce up your cake design? Grab some stencils and go for it. You don't even need to use the entire pattern on the stencil. One popular stencil cake trend is to use parts of the stencil impression paired with piping, sprinkles, fondant, edible florals…whatever your heart desires. Be bold and have fun with it!
Cons
There are not many Cake Stencils Cons, not any I can think of except when new to stenciling getting frustrated or impatient is par for the course. Just plan your cake design, practice and you'll be golden.
Choosing your Color Palette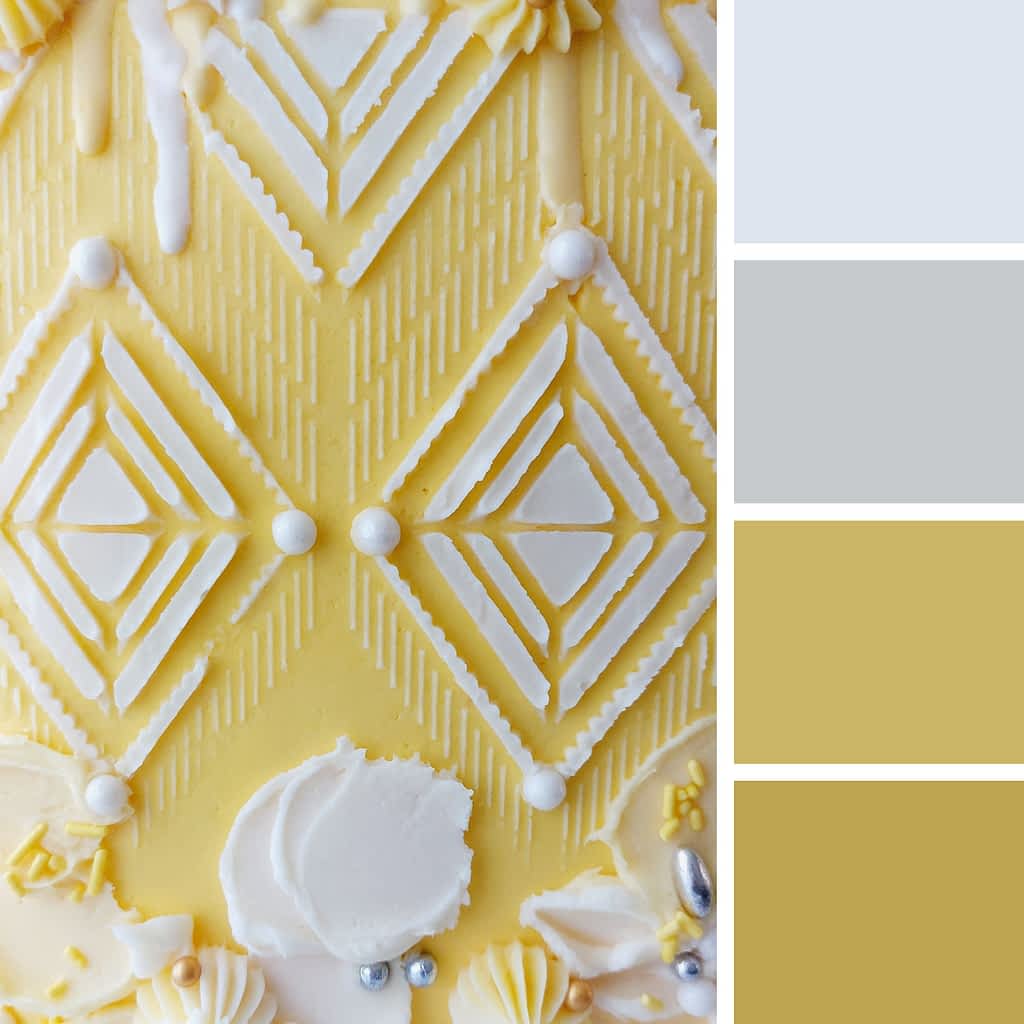 Choosing a color palette goes hand in hand with your design and its design elements. The number of elements you use and the arrangement of those elements with the color scheme will translate the full balance of your cake design.
My cake design plan was an elegant and geometric stencil design with an overall gradient color scheme. Decorative piping, pallet knife florals, and cake top rosettes were the design elements that would tie the whole design together with the stencil.
The Color Palette I chose for this Exquisite Buttercream Stencil Cake Design was a sequential color palette of light and dark yellows, cream, white, silver, and touches of gold. We see Sequential Color Palettes are popular with thematic mapping.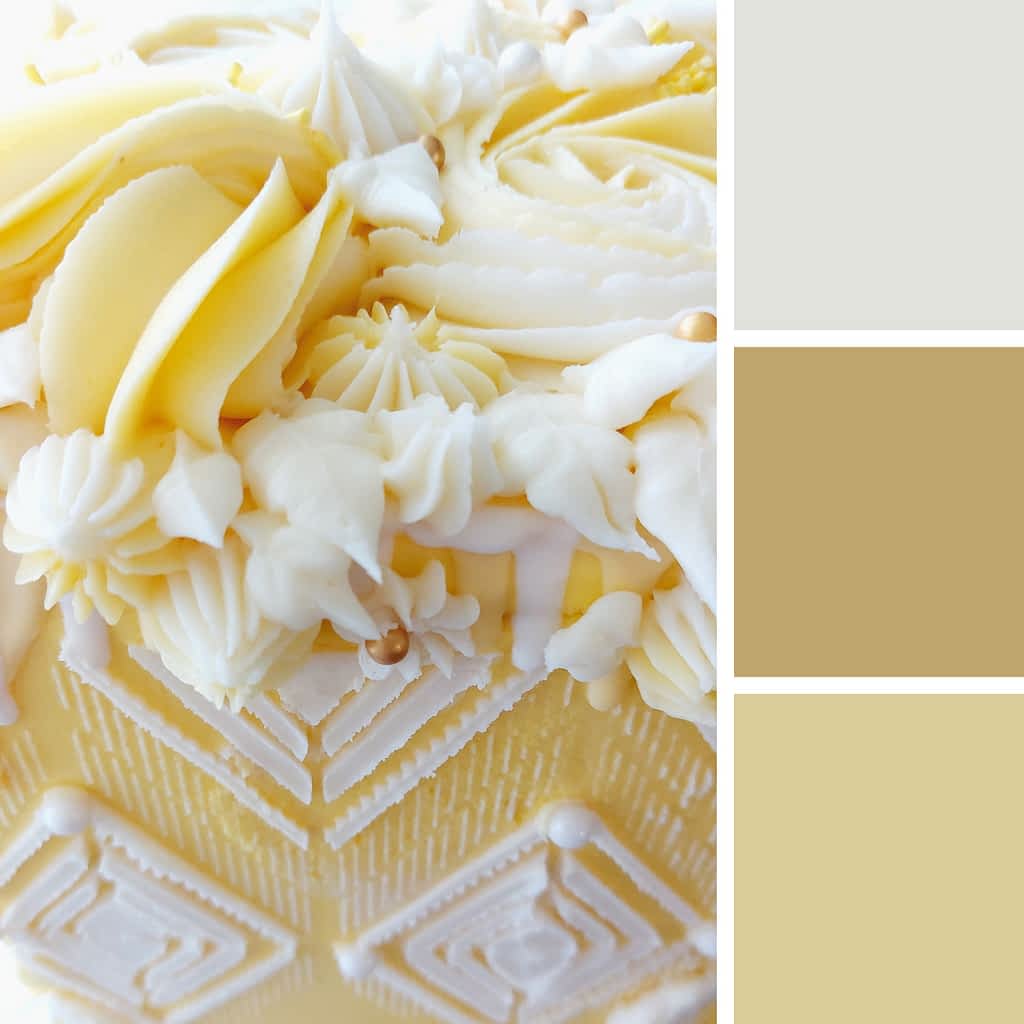 Sequential Color Palettes demonstrate data values ie: the hue progression from light to dark. The main sequential hue chosen was yellow paired with white, silver, and gold accents.
The goal is always to create unity, cohesion, and balance with the design, its elements, and the color scheme.
NEW! – Be sure to check out my latest How-To Guide on creating a color palette for your next cake design.
Thank you for visiting my Exquisite Buttercream Stencil Cake Design. Happy Baking!