Table of Contents
For months I had a Lady Gaga cake design with the goal to reference her image in conjunction with her "Stupid Love" song and video. This idea coincides with Valentine's cakes because the song is about love, unity, and acceptance. It's also light-hearted sarcasm (my second language) and humorous to relay this to your significant other on Valentine's Day.

A Modern Cake Design Inspiration for Valentine's Day
Some of the main Stupid Love lyrics, 'You're the one that I've been waiting for', Gotta quit this crying Nobody's gonna heal me if I don't open the door, Kinda hard to believe, gotta have faith in me! 'Cause all I ever wanted was love', 'I want your stupid love', 'We got a stupid love, love' (Love, love, oh), translates into a love letter from Lady Gaga to her fans-ie: her "Monsters" as she calls them, professing her undying devotion for standing by her through thick and thin.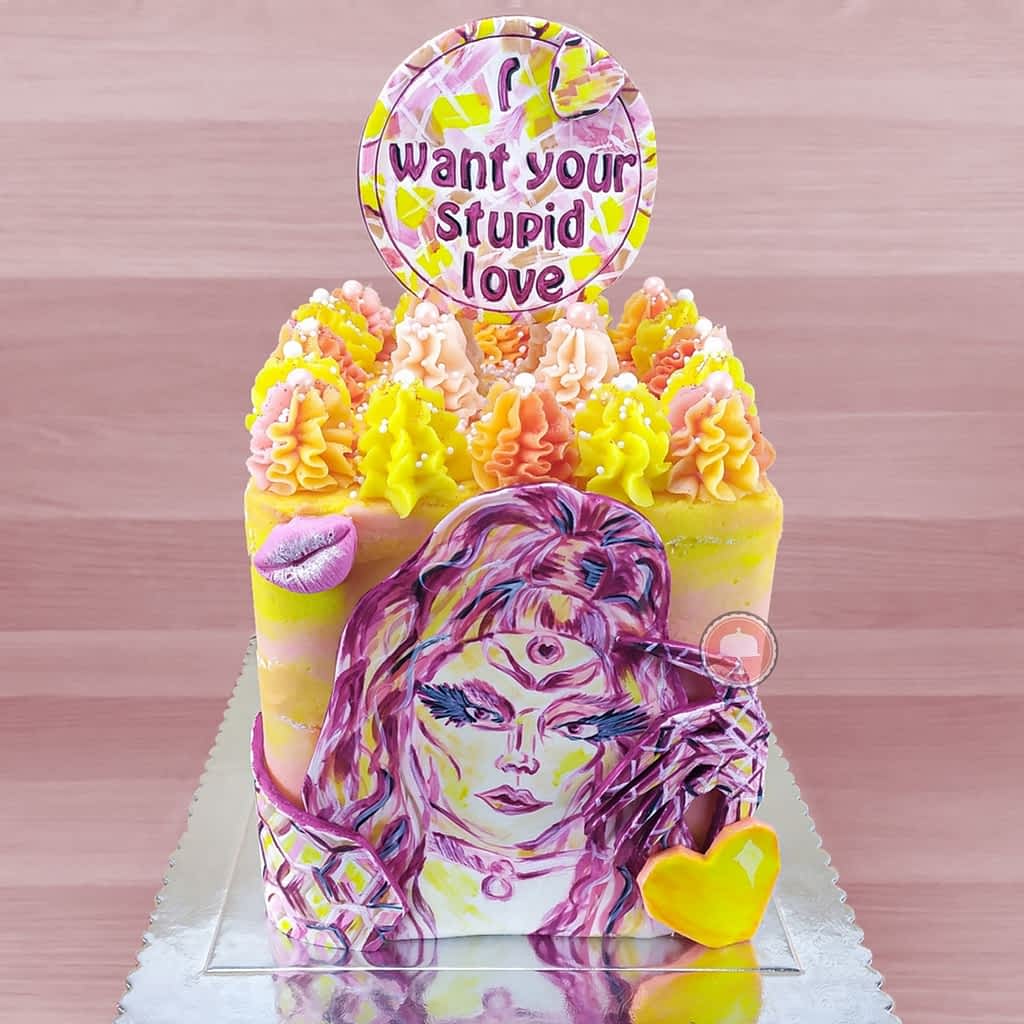 It's also a double entendre to the beloved people in our lives, those who are there for us. Who isn't a fan of the ultra-talented, Ms. Lady Gaga? The Stupid Love lyrics are poignant and endearing. Pull that message together with Gaga's beauty, costuming, and color pallet, and Voilà! I give you cake!
Choosing the Cake Color Palette
The color scheme I used compliments this cake coinciding with Lady Gaga's Stupid Love video costume. hair, and makeup. Neon yellow, neon pink, orange, and burgundy were the gel colors used to tint the buttercream frosting and paint for the fondant facial image, hand, shoulder pad, hearts, and fondant cake topper signage.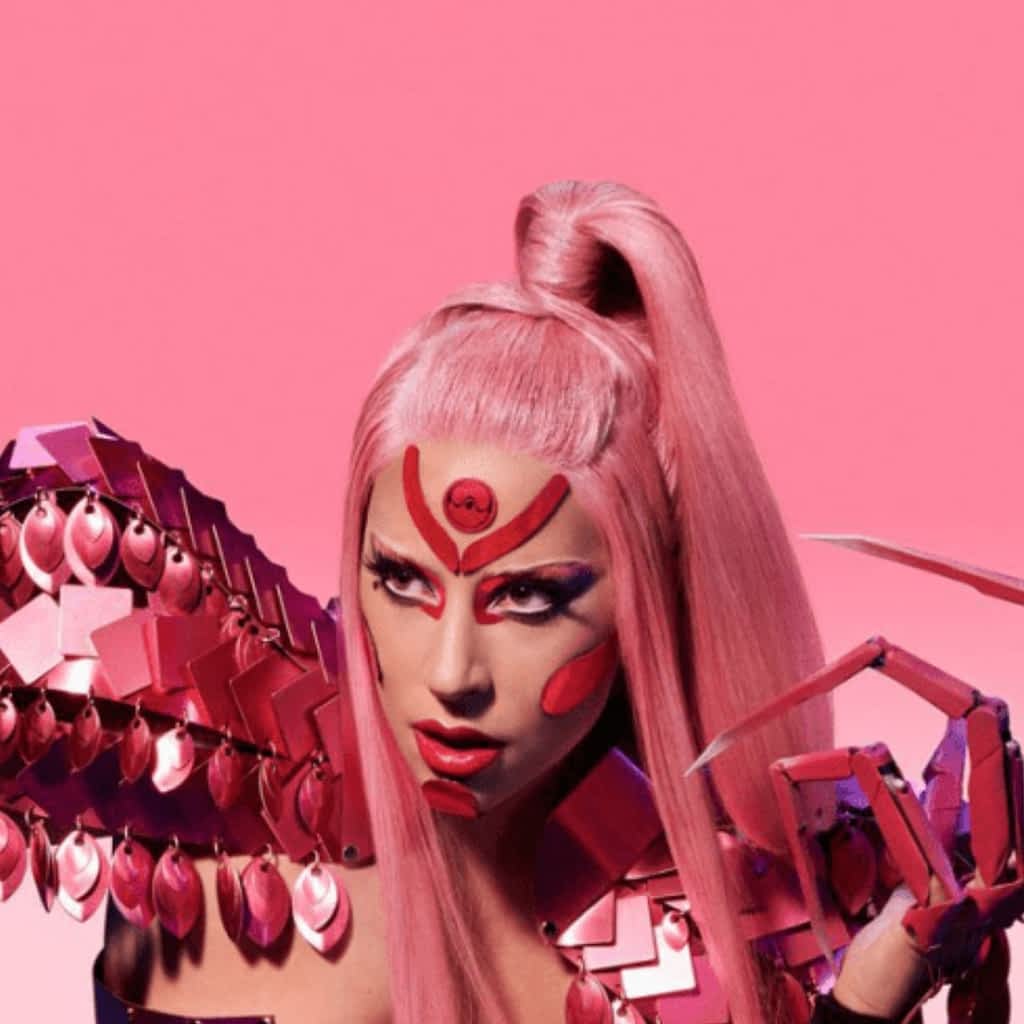 Moving from design sketch to Fondant Cake Topper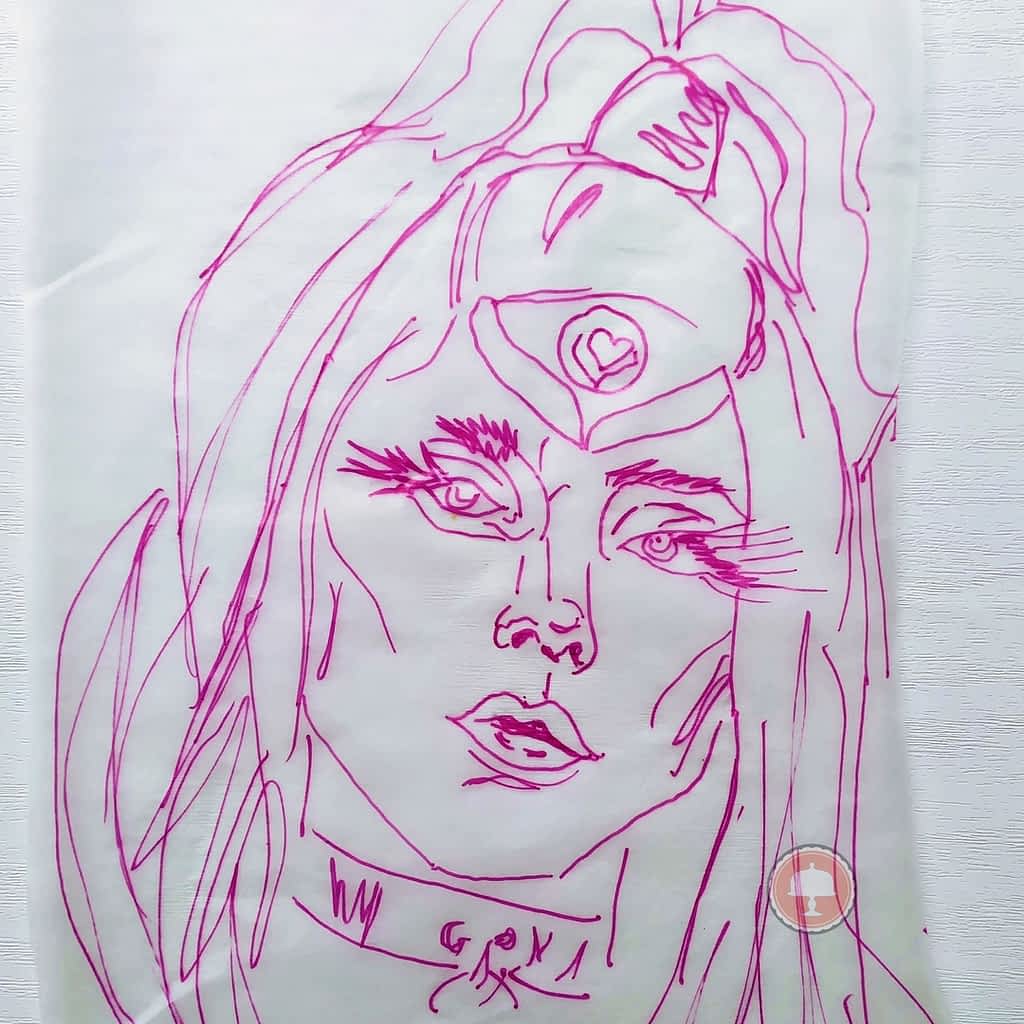 Cake Collar Decorating Technique
To frost this cake I used the Cake Collar method. Clear acetate cake collars are used mostly for mousse cakes or soft desserts but they are also perfect for chocolate wraps and frosting cakes with any design you can create.
Cake collars come in a variety of heights to fit your cake or dessert. This Lady Gaga Cake was 8″ high. Measure the radius or all side lengths of your cake and cut the acetate to that length. I crumb coated this cake before doing the frosted wrap so the frosting has something to stick to.
After you have your extra icing or frosting tinted pipe or use a spatula to spread your frosting on the acetate sheet. Make sure you know the look you're going for before taking this step. Take a frosting smoother and scrap the frosting flat on the acetate (for even thickness) then wrap the entire sheet around the sides of your cake.
Use a fondant smoother to press and smooth the sheet up against the sides of the cake. Place your cake in the refrigerator for 20-30 minutes or the freezer for 10-15 min. Take the cake out and gently peel the cake collar away from the sides. Fill frosting in any small holes or gaps in the design and smooth over with your icing smoother.
Trim the chilled top edges with a knife and frost the top of the cake design by hand. Voilà again! You will love using cake collars. After sketching Gaga's face on vellum paper I used fondant sculpting tools to make impressions on 1/4″ rolled fondant. I then hand-painted (with gel food coloring and edible marker) from the impression of Lady Gaga's face. The hand and shoulder pad was freehand.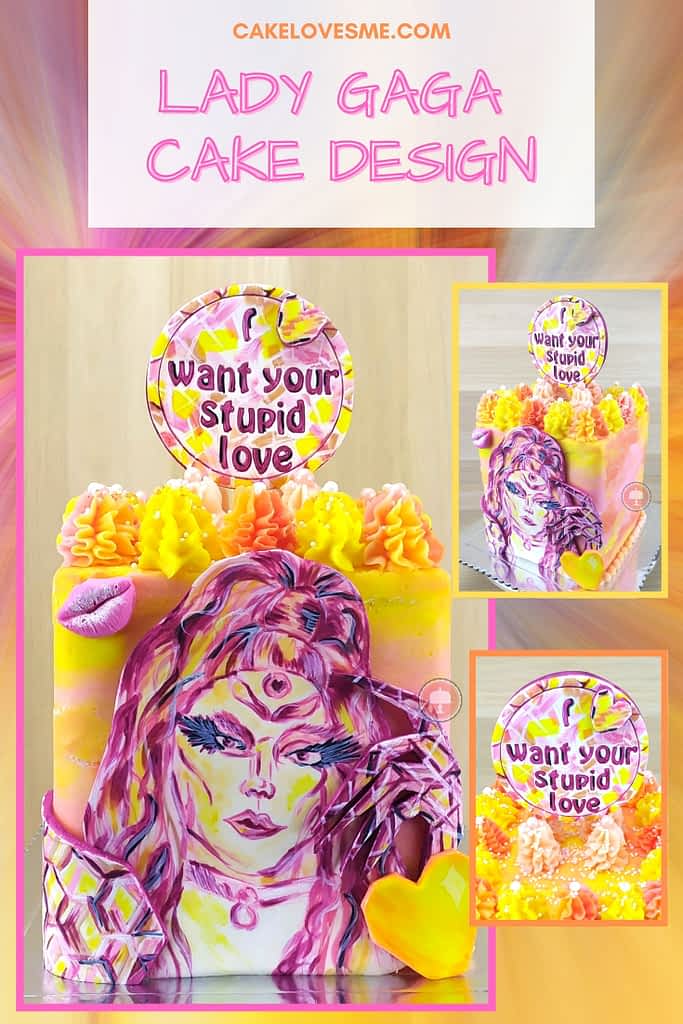 Buttercream Frosting Color Mixing
When painting fondant you must paint in short stages so the paint layers have time to dry before painting on more color. Let the fondant pieces dry for a few hours and store them in an airtight container until you're ready to apply them to your cake. You can do this work before cake making day so the fondant is properly dried and ready to go.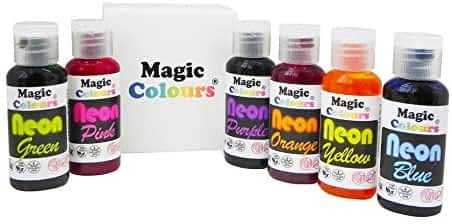 For this Lady Gaga cake, I used Magic Colours gel food coloring, neon pink, yellow, and orange. For the burgundy gel, I used burgundy Wilton gel color. Go easy on the neon gel colors when tinting your frosting!! These colors are potent. One drop at a time until you reach the desired saturation. For the tangerine color mix a little yellow and orange together.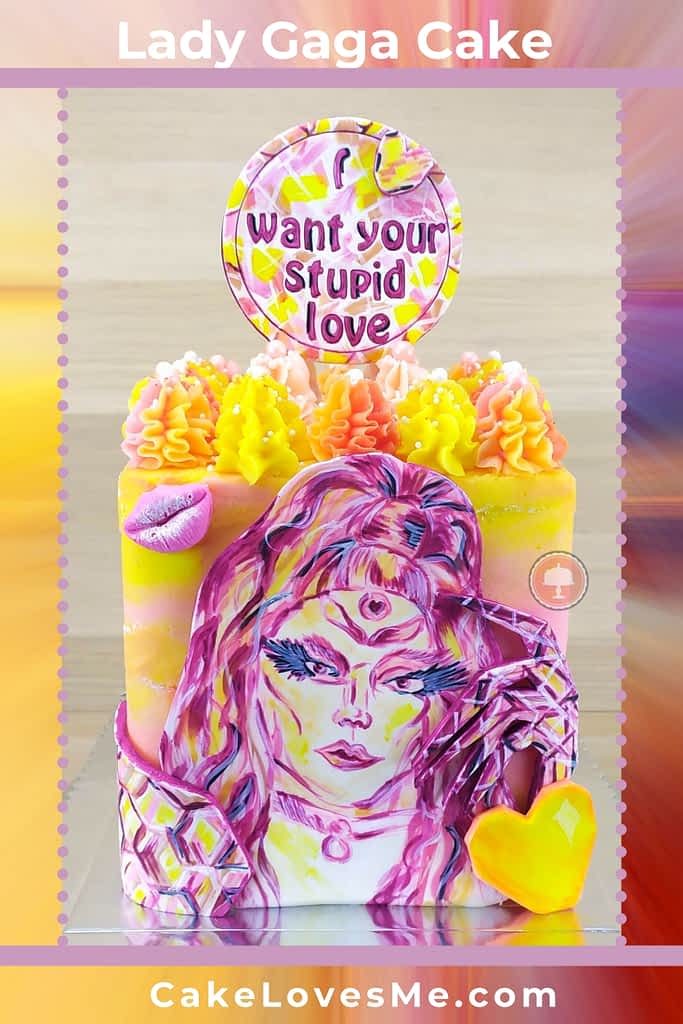 I hope you liked my Lady Gaga Cake Idea inspired by "Stupid Love" lyrics.
Thanks for visiting. Happy Cake Decorating!
---
Recent Posts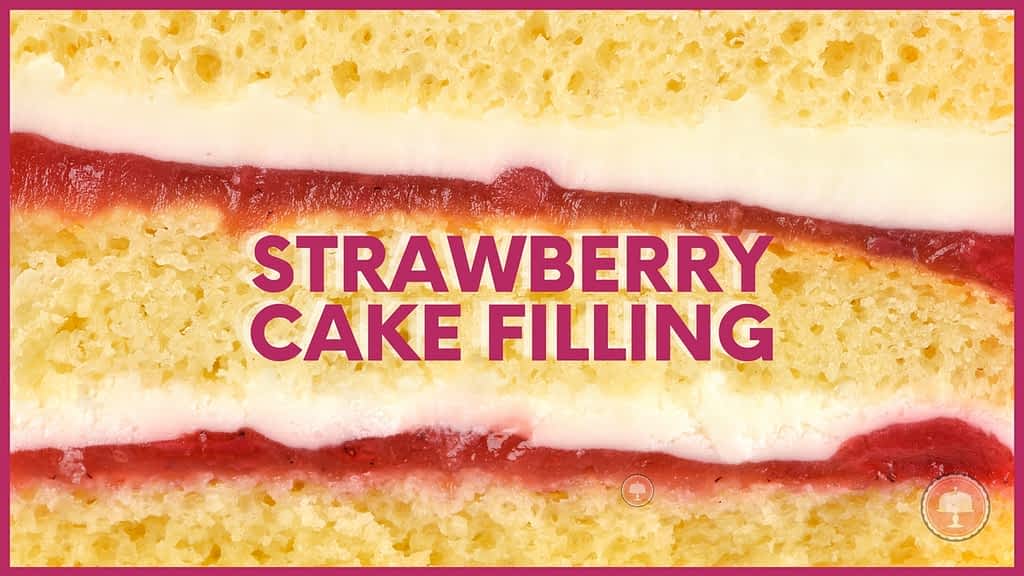 Thanks for visiting my Strawberry Cake Filling Recipe. Happy Baking!
If you enjoyed this cake design, be sure to check out some of the other cake creations, tips, tricks and recipes.