Elegant Celebration Cakes will never go out of style even if the setting or occasion is casual. This cake was a gift to a husband and Dad who was having a birthday. The family wanted a special message on top, assorted fruit, chocolate drip, and waffle cone accents. I was really pleased with how this cake turned out. You can have all the ideas organized but it all comes down to editing as you go, and design execution.
This was an 8″ round 4 layered vanilla cake with white tinted vanilla buttercream frosting topped with fruit, waffle cones, gold luster dust, edible gold leaf, sprinkles, dark chocolate drip, molded chocolate spheres with luster dust, and piped chocolate message.
How to Make White Buttercream Filling / Frosting
There are a few things you must do to make a white buttercream filling/frosting. Choose the whitest butter you can find. Butter colors range widely and it all comes down to the cow's diet.
Grass-fed cows have a diet with betacarotene and the butter produced from their milk will be a deep yellow. Grain-fed cows lack beta carotene and produce milk that makes a more pale yellow butter. Organic butter will mostly be richer in color than regular butter.
Besides the right type and color butter, there are two very important ingredients needed to make white buttercream. Those ingredients are violet gel food coloring and white gel food coloring. Read more in the recipe below.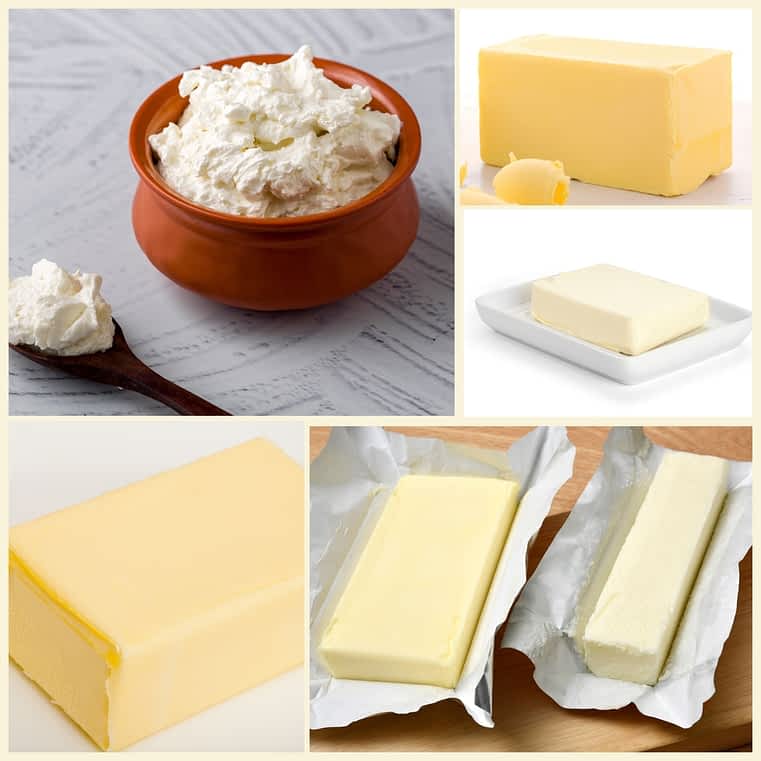 Cake Goop
This is a secret baker's use instead of parchment paper or butter spray. It's a home-made pan release – aka "Cake Goop". See the recipe, instructions, and notes on my Top 15 Baking Tools – Must-Have Essentials.
It's equal parts all-purpose flour, vegetable shortening, and vegetable oil mixed together to be coated on pans for easy cake release without tearing. I used cake goop for this Elegant Celebration Cake and it really does work like a charm!
How to pipe with melted chocolate
Melt your chocolate, candy melts, canned frosting, ganache – whatever you choose to use in the preferred heating method per medium and pour into parchment paper cones, piping bags, or a food-safe squeeze bottle can be used but the other two are preferable. You must wait a few minutes for the chocolate to cool because if you try to pipe too soon the chocolate will be too runny and won't set properly.
Make sure you plan the proper font size with the proper piping tip per medium, style, and cake surface space so you know your lettering will fit. Once the chocolate is cooled but still loose practice on parchment paper laid on a cookie sheet (must fit in your refrigerator or freezer)`.
Why not pipe on the cake directly? Because there is too much room for error and the chocolate has to be the perfect temperature to pipe as well as the temperature of your cake. If writing freehand you will need to pipe your messaging multiple times until you get the hang of it and then you'll have options to choose from.
Try piping each word as one piece. Place your lettering on a cookie sheet into the frig or freezer for approx. 15 min. I prefer the freezer, it's quicker. Once everything is set peel the lettering gently away from the paper with a sharp knife. You may break some which is another good reason to do extra and be sure not to pipe too thin.
Pick your best-piped words/lettering and carefully place them on your cake. Do not handle the chocolate too much as it will melt from the warmth of your hands. You can also use font templates underneath the parchment paper as a guide if you don't want to do freehand. Practice, practice and people will marvel over your talent!
Chocolate drip
To do chocolate drips on cakes you will need a squeeze bottle. Squeeze bottles are great for a variety of liquids from sauces, dressings, oils, vinegar, candy melts, and melted chocolate. Make sure the bottles are food safe, BPA and latex-free.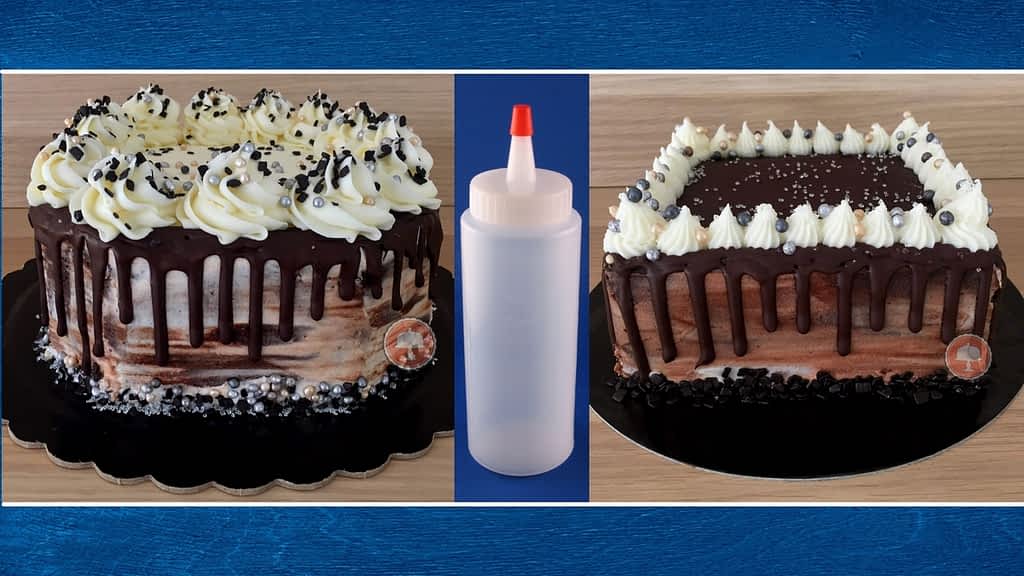 You can use piping bags or a spoon but the squeeze bottles are easy to handle and works well with chocolate. You can do chocolate drips on a chilled cake or room temperature cake. The chocolate will set quicker on a chilled cake (the chocolate should be warmer in this case) and you must be confident in the length of the initial drip. I prefer my cakes to be room temperature for a chocolate drip.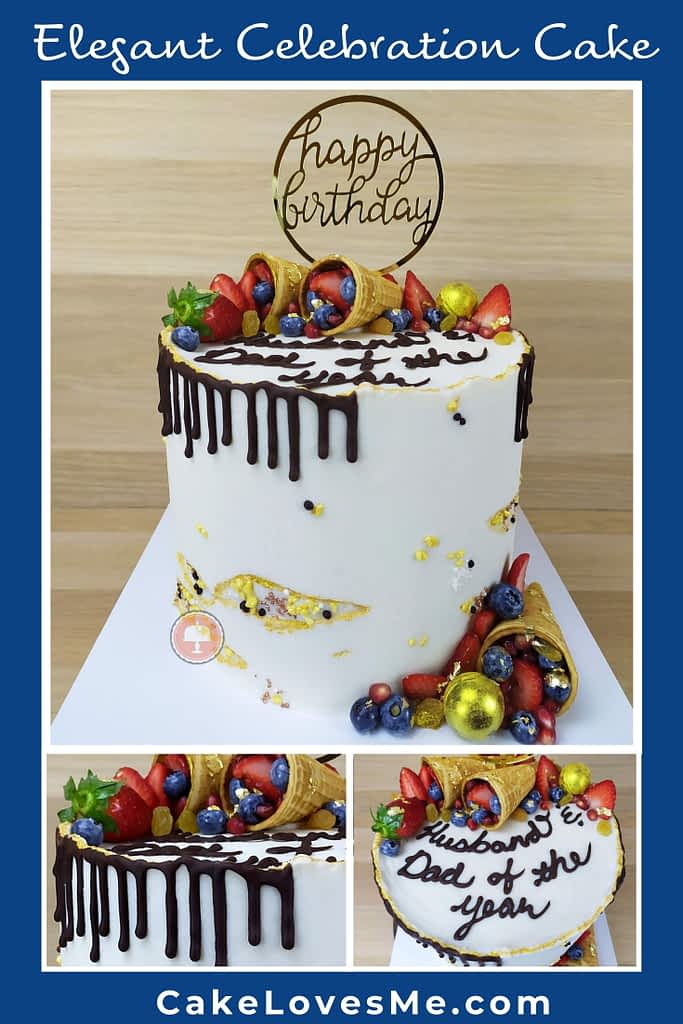 Make sure your chocolate is cooled down (about 10 min. after heating) but still loose. Always practice first on the side of a room-temperature glass or bowl and see how the drip goes down. Make sure you have the right drip consistency before you start the drip, squeezing gently, holding the bottle at a 45-degree angle, on the side of your cake.
White Buttercream Recipe
How to achieve white buttercream filling/frosting
Ingredients
5.5

cups

Powdered Sugar

2

cups

White unsalted Butter

Use the whitest butter you can find

2.5

tsp

Clear Vanilla Extract or other clear flavoring

5

tbsp

Heavy Whipping Cream

Violet Gel Food Coloring

tiny amount on a toothpick

White Gel Good Coloring

a few drops (optional)
Instructions
Whip/Mix the butter extensively until it becomes pale, light, and fluffly.

While mixing on low add 1 cup of powdered sugar at a time until fully blended. 2-3 min.

Add clear vanilla and half of the whipping cream on medium for 1 min.

Add remaining cream until desired consistency.

Dip a toothpick into a tiny bit of violet gel color and add to the buttercream and mix.

Add a few drops of white gel color and mix. (optional for extra brightness)
Notes
Whipping the butter extensively helps lighten the butter to start. 
Always start with less violet gel color to measure the value.  You don't want the buttercream to take on a greyish, blue, or purple color.  You only need a tiny bit!  The violet gel color off-sets the yellow hue in the butter.   Then (for extra brightness) add a few drops of white gel to assist in achieving the whitest buttercream.  
Make sure you use clear flavoring to help achieve a whiter buttercream.  Colored flavorings won't ruin the buttercream but you're going for white and it won't turn out as white as you'd like.  
**For warm climates you can add 1-2 cups of vegetable shortening to stabilize the buttercream.  Whip together with the butter before adding any other ingredients.  You can also add more flavoring, reduce the whipping cream, and/or sub the cream for a little water as milk or cream can separate in the heat.   
Nutrition
Calories:
471
kcal
Carbohydrates:
110
g
Protein:
1
g
Fat:
5
g
Saturated Fat:
3
g
Cholesterol:
17
mg
Sodium:
7
mg
Potassium:
12
mg
Sugar:
108
g
Vitamin A:
184
IU
Vitamin C:
1
mg
Calcium:
9
mg
Iron:
1
mg
https://cakelovesme.com
For more buttercream filling / frosting ideas and recipes see my Need a Great Buttercream Filling Recipe? There are so many flavorings and ingredients you can add to make buttercream fillings totally unique and delicious.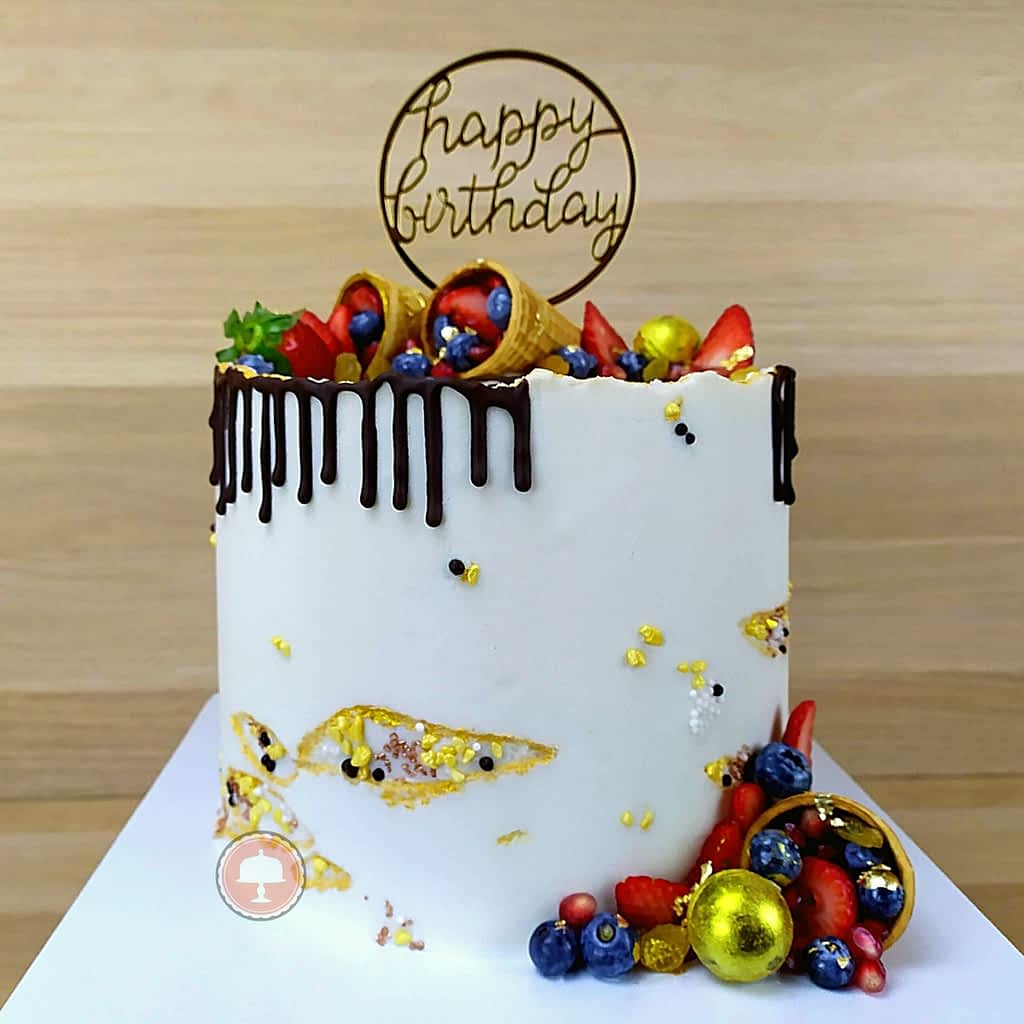 I hope this Elegant Celebration Cake inspires you. Thanks for visiting.
Happy Cake Decorating!