Ahhh this Candy Striped Drip Cake makes me happy and it made the intended Birthday girl, Camilla, very happy as well. Camilla wanted a candy cake with colorful blues, teals, whites, and a white chocolate drip.
This color palette is so light, airy, and soothing. In my mind, it's a cross between ocean waters and a winter wonderland plus one chocolate unicorn….haha :).
Once Camilla gave me her cake wishes I had the creative freedom to add to those wishes and execute a design that would best fit her taste. I try to put myself in the attendee's shoes. What would Camilla like?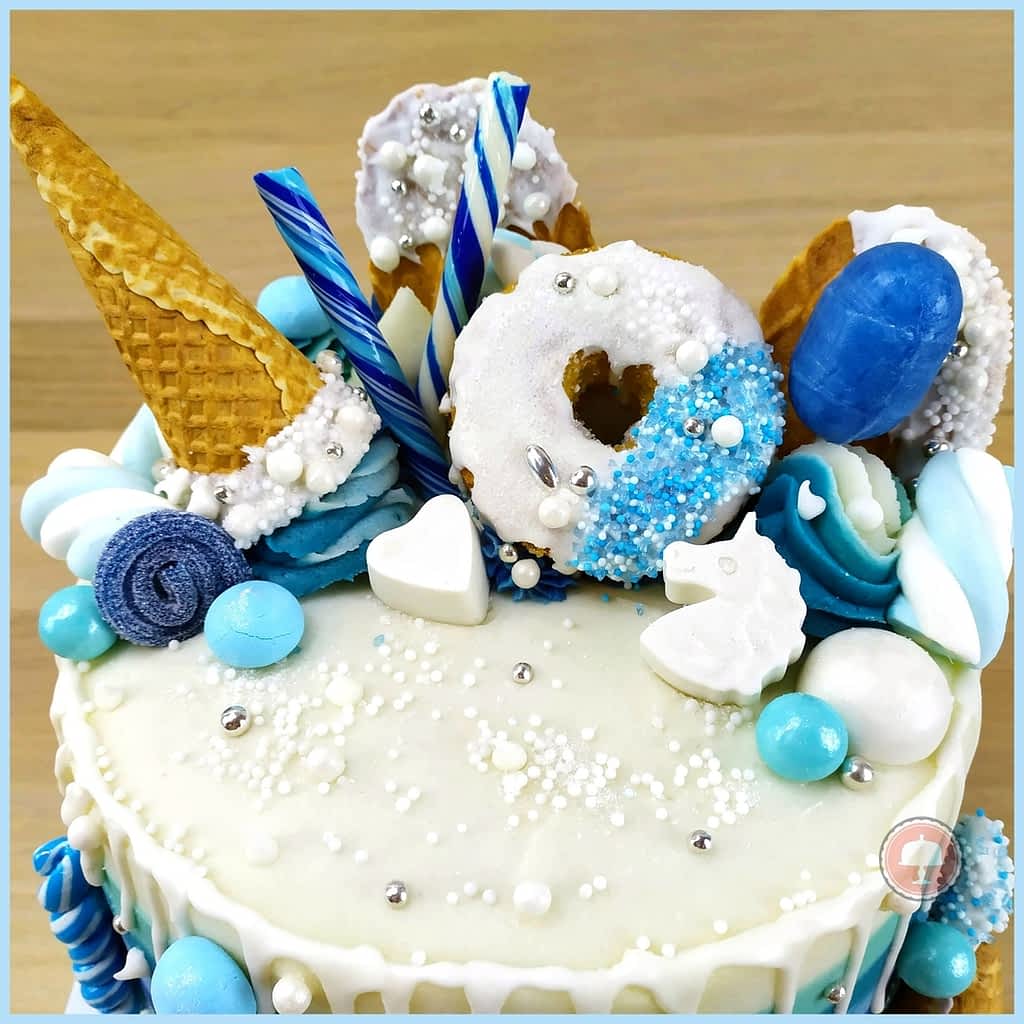 It's really important to learn how to edit whatever you're doing. When you have creative freedom don't just throw the kitchen sink at it. "Less is more" is absolutely true but this philosophy I believe is not so much about quantity as it is about balance.
These candy striped drip cakes are a big trend right now. Clean elegance was the goal without the cake looking jumbled. The cake topper quantity is complimentary with the cake stripes and additional candy decorations around the sides and base of the cake.
How to – Buttercream Cake Stripes
Make your buttercream frosting, equally divide the frosting into separate bowls for gel food coloring. As you can see I used 5 colors. This cake design required a lot of buttercream so approx. 6-7 cups of butter (6-7 batches of buttercream) were needed to complete everything. It's better to have more versus running out in the middle of decorating.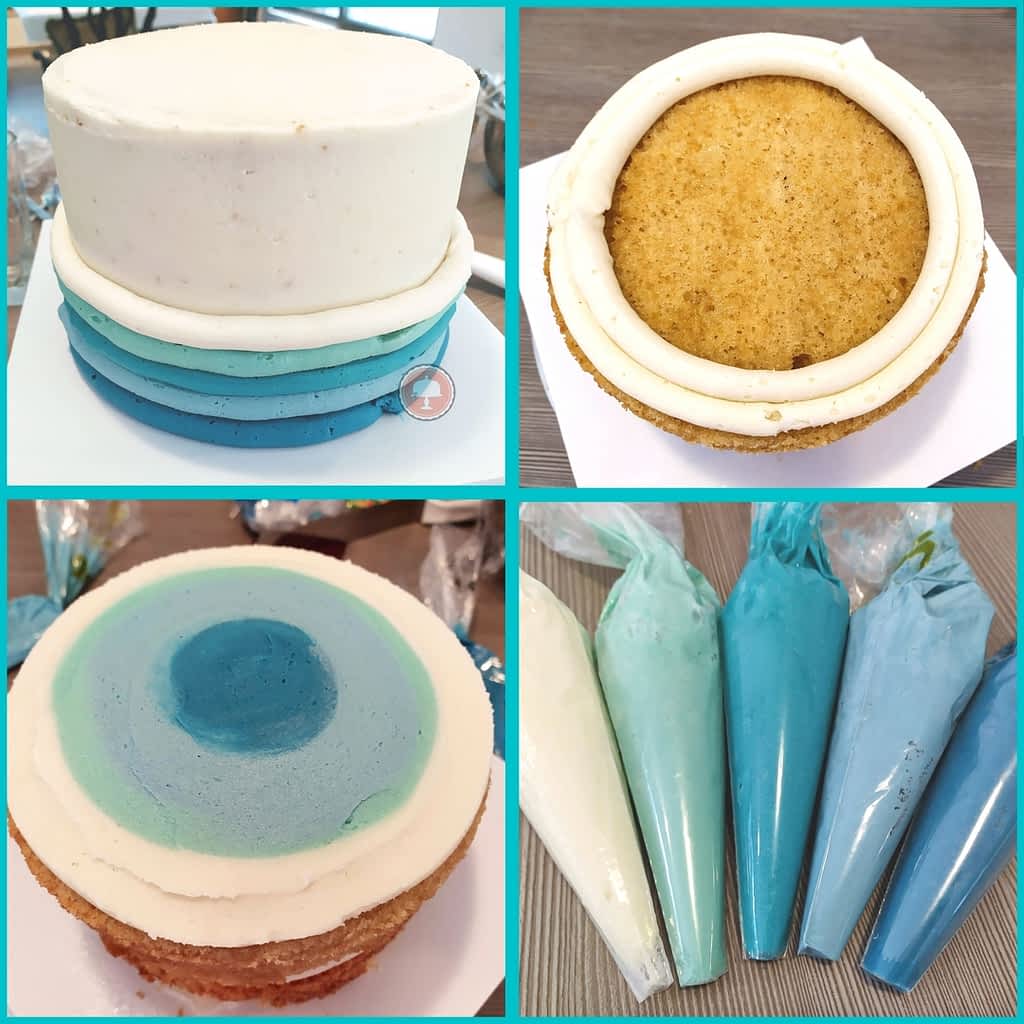 This was a, 8″ round high 3 layered vanilla cake. Simply put each color in a piping bag and snip the end off. No piping tip needed. I wanted to do the different colors on the inside as well. With the help of a cake turner pipe rows of each color in between the cake layers.
After filling, stacking all the cake layers, crumb coating your cake, and chilling, it's time for the buttercream cake stripes. Take each piping bag with each color and pipe rows around the cake starting at the bottom. Pipe each row on top of the last row gently pressing the buttercream close to the side of the cake.
With an icing smoother press up against the buttercream stripes gently while turning your cake. You'll need to do this a few times. Wipe clean the icing smoother every time so the buttercream does not smear back onto the stripes.
Since I wanted white buttercream on the cake top (using 5 colors) I started with the blues at the bottom. You'll need to estimate the stripe pattern with the number of colors you'd like to use along with the cake size.
Read about my Top 15 Cake Decorating Tools Must-Have Essentials for more tips on what you need to decorate cakes.
Chocolate Drip
Ahhh the super cool chocolate drip. Such a hot trend right now. White chocolate candy melts were used for this drip. Melting chocolate is a tricky business. There is so much to learn for different mediums. Do your homework for melting different chocolates. Take a look at my Elegant Celebration Cake where I elaborate on how to do a chocolate drip and chocolate lettering.
Cake Toppers
All the candy, doughnuts, cookies, chocolate, and accents were strategically placed to visually achieve leveled asymmetry and visual weight. The layout was not precisely preplanned but I had the vision in mind. I just went step by step per placement preference for editing and balance.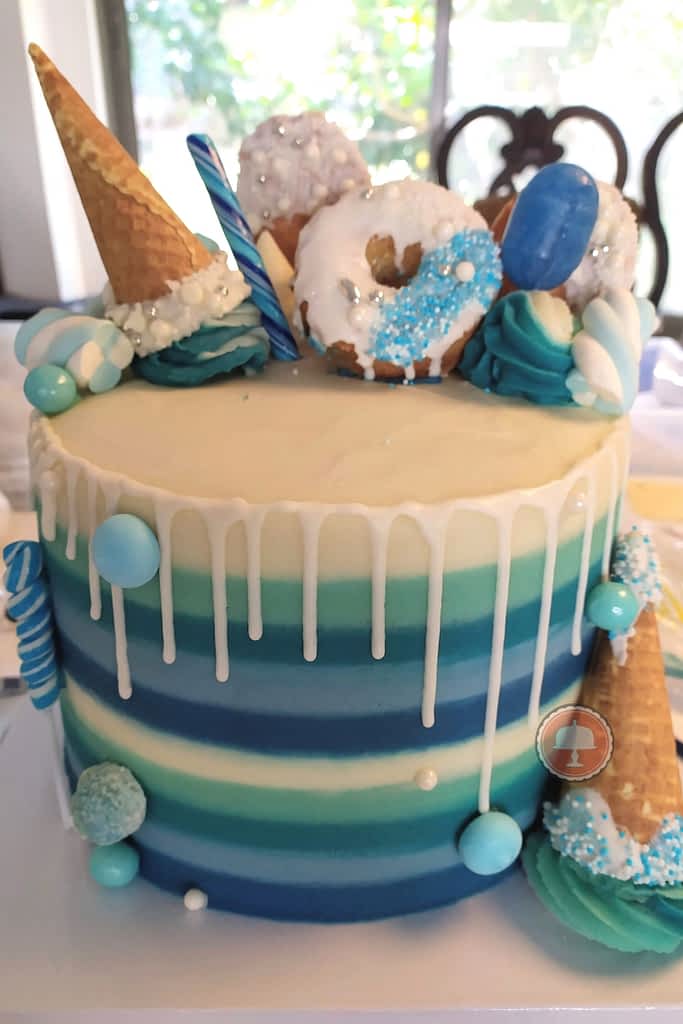 Tip – Always, always take small breaks in between decorating. Like an artist stand back, look at all sides, check if everything is level, are you going off script and getting lost, or are you doing exactly what you had visualized or planned?
Either way, stopping and accessing your design is so important because your eyes will play tricks on you. *Don't forget to take pictures throughout so you remember the process.
Color Palette
It's important to know how many colors you'll be working with because it's all about planning and organization. This Candy Striped Drip Cake needed several batches of vanilla buttercream as the batches must be split per separate color and amount of that color you need for what you're doing.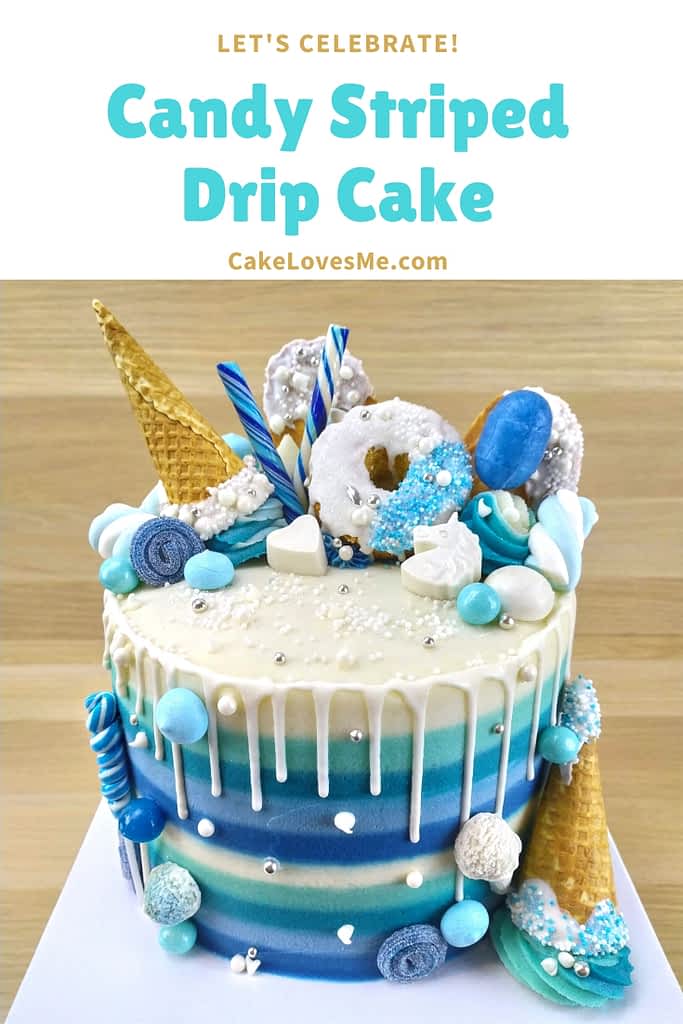 I wanted cake stripes for extra pizzaz, made chocolate dipped cake doughnuts, dipped waffle cookies with sprinkles, waffle cones, unicorn, heart, and half sphere candy molds, added more candies, lollipops, gumballs, white chocolate chips, and sprinkles. This cake is so dreamy!
NEW! – also be sure to check out my latest How-To Guide on creating a color palette for your next cake design.
I hope this Sweet Candy Striped Drip Cake inspires you.
Thanks for visiting. Happy Baking!