This "Popular Carpenter Cake Ideas – Tool Cake" was so much fun to do! I have been wanting to do a handyman-carpenter-tool-themed cake for a long time.
It was the perfect birthday cake for my father-in-law who was turning 80. He is a "jack of all trades" in the building industry and everything he ever worked on was a labor of love.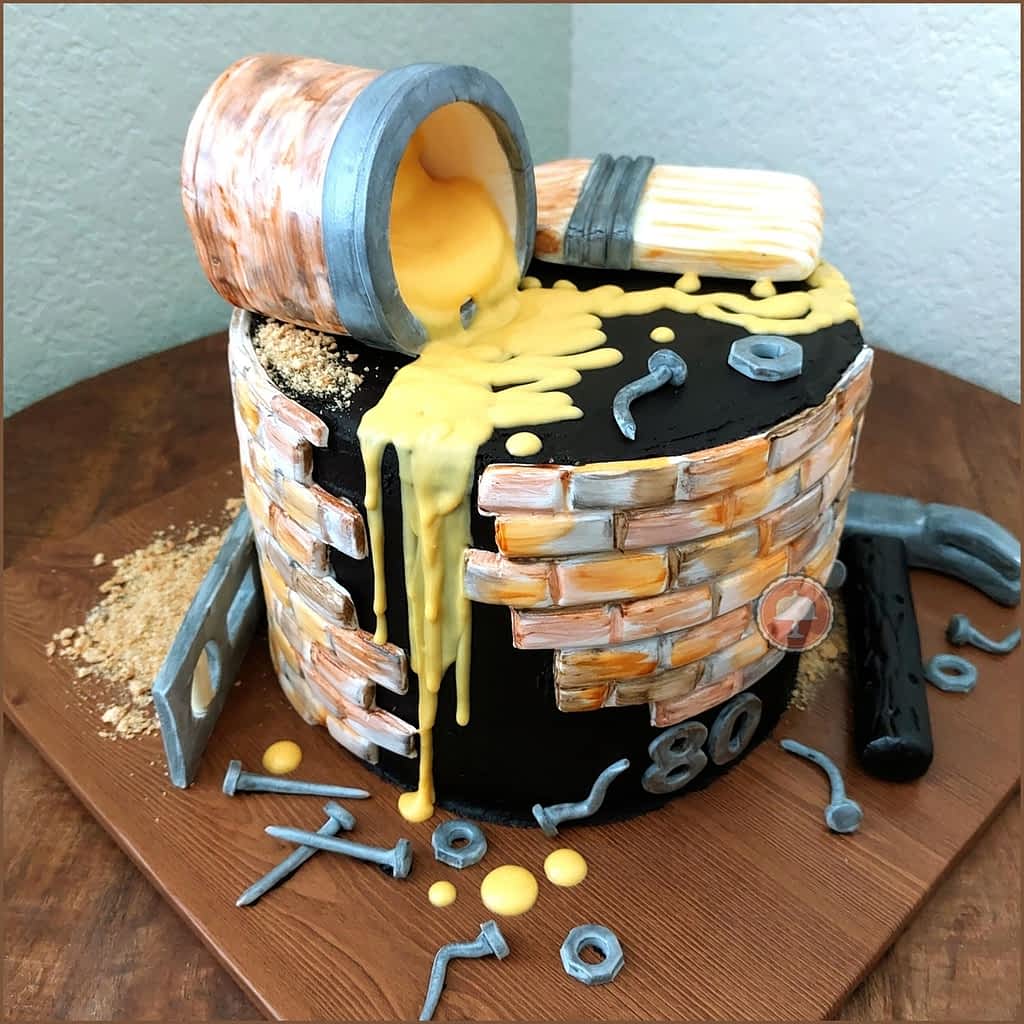 Design Vision
Let's first talk about your "vision for the design". The vision comes before the cake design plan. Like the chicken comes before the egg…or so they say. How can you plan an organized cake design without a vision for the design? A client will typically give you the design idea/s direction. Whether they do or don't you need to ask yourself a few things; who are the person/s you're designing for? and what would be their dream cake/s?

What do they love?- Find out their interests, occupations, hobbies, dreams, passions, and even down to favorite colors. Paired with the theme and its design elements are the cake flavors, fillings, frostings, fondant, edible features, and so on. What is your primary focus for that person/s? These answers will lead you to your Cake Design Plan.
The funny thing about cake design is sometimes you follow your vision exactly and other times that vision trails off into something delightfully unexpected OR…."sigh"…your direction can go south which is why an organized plan with a few solid ideas will keep you focused and on the right path to a beautiful, "cohesive" creation.

Planning your Cake Design
Before starting any cake you must have a Cake Design Plan. As mentioned have your "Vision for the Design" clarified. If you need a little inspiration it's perfectly acceptable to search for ideas in other people's work but you must make your design different and unique from all the others.
How many Carpenter Cake Ideas or any themed cake ideas for that matter have you seen that look exactly alike?? : with all the design elements positioned in/on the same location of the cake? Too many look-a-likes! I know it's not easy but do your best not to fall into a copycat trap.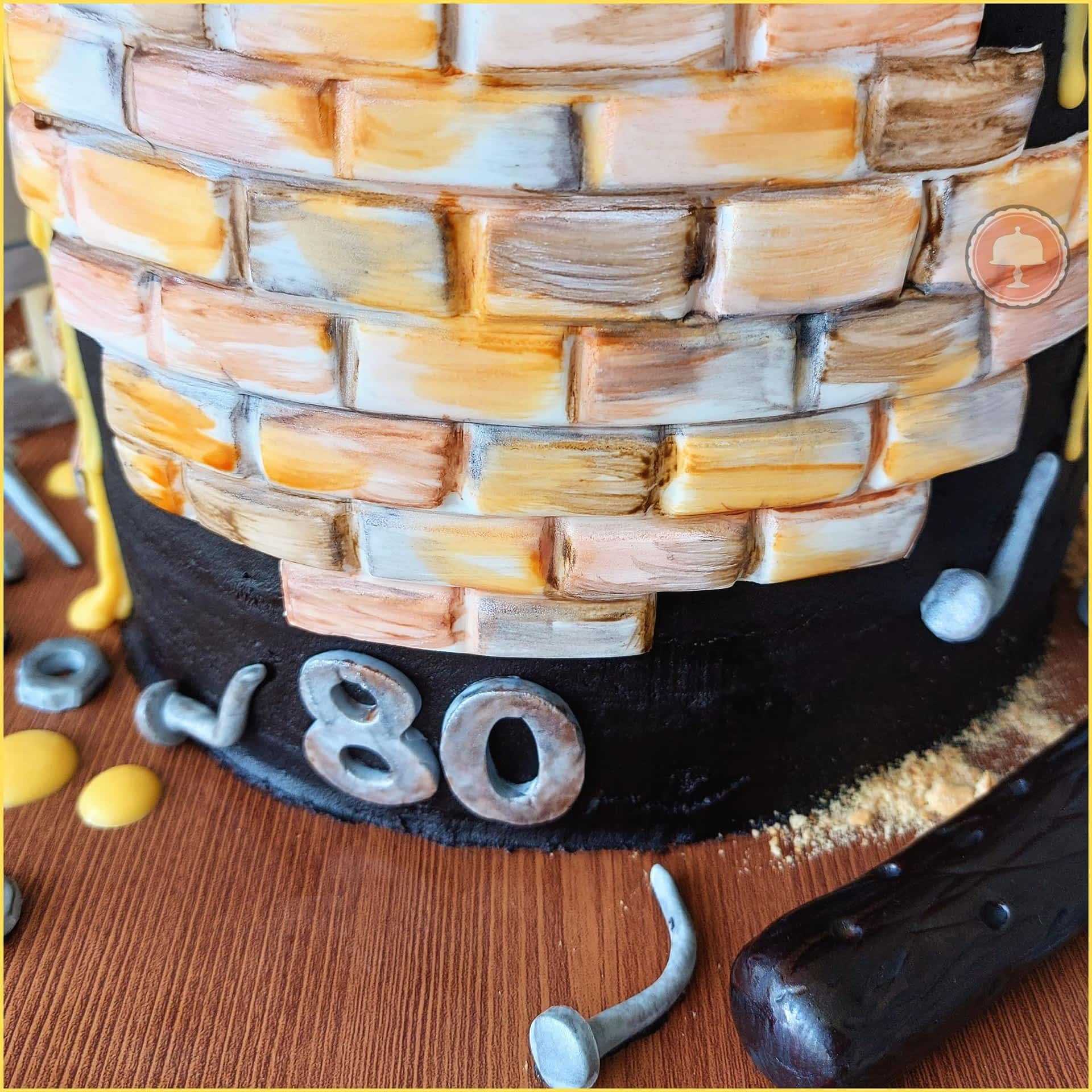 Cake design is all about balance in every way. The subject matter, size and balance with the design elements, placement of those elements, color scheme, cake size, additional visual details/texture, and even the cake board are all really important. Merging your color scheme with all the cake design elements is paramount.
Think "cohesion". You can research other cake designs for inspiration (but as mentioned – don't copy), watch tutorials, try different techniques, experiment with different cake design tools, break out of your comfort zone, and practice.
Read in more detail my Cake Design – The 5 Step Development Process.
My cake design plan was to feature a few primary tools my father-in-law used often as pronounced elements, painted weathered silver and pairing tool colors, scattered rustic nails, bolts, and a colorful staggered brick wall for the cake siding. I wanted a paintbrush and a paint can for the main fondant cake toppers with spilled paint going down two sides of the cake in between my staggered brick wall.
Attatching fondant to a Cake
When necessary lightly brush the back of the fondant with water, vegetable shortening, or piping gel to help the fondant stick to the cake sides. Large pieces are a bit tricky.
With a fondant smoother work fast pressing the pieces up against the cake so the fondant does not crack or bend down losing its shape.
Please have a look at my How-To Cover a Cake with Fondant – Fondant 101

After my brick walls were firmly adhered I chilled the cake for another 10 minutes then moved on to painting the brick, mounting the fondant cake toppers, and strategically dripping candy melts near the paint bucket.
Please check out my Top 50 Baking & Cake Decorating Struggles. It is an eye-opener!
Fondant Silicon Molds
If you haven't discovered silicon molds yet you are in for a treat! Silicon Molds are easy to use and they produce beautiful results. If you are a cake designer or you like to dabble with cake decorating then investing in silicone molds is worth it. Silicone molds are a quick way to achieve professional-looking results on your cakes.

There are so many silicone molds to choose from. It will take a little time to build up a collection. Choose molds that fit your aesthetic, choose designs you like to work with, or choose themed molds that fit client demands.
Many silicon molds are sold as a collection. If you don't want to make your own textured mold use molds such as this straight brick, messy brick, wood grain, and stone collection.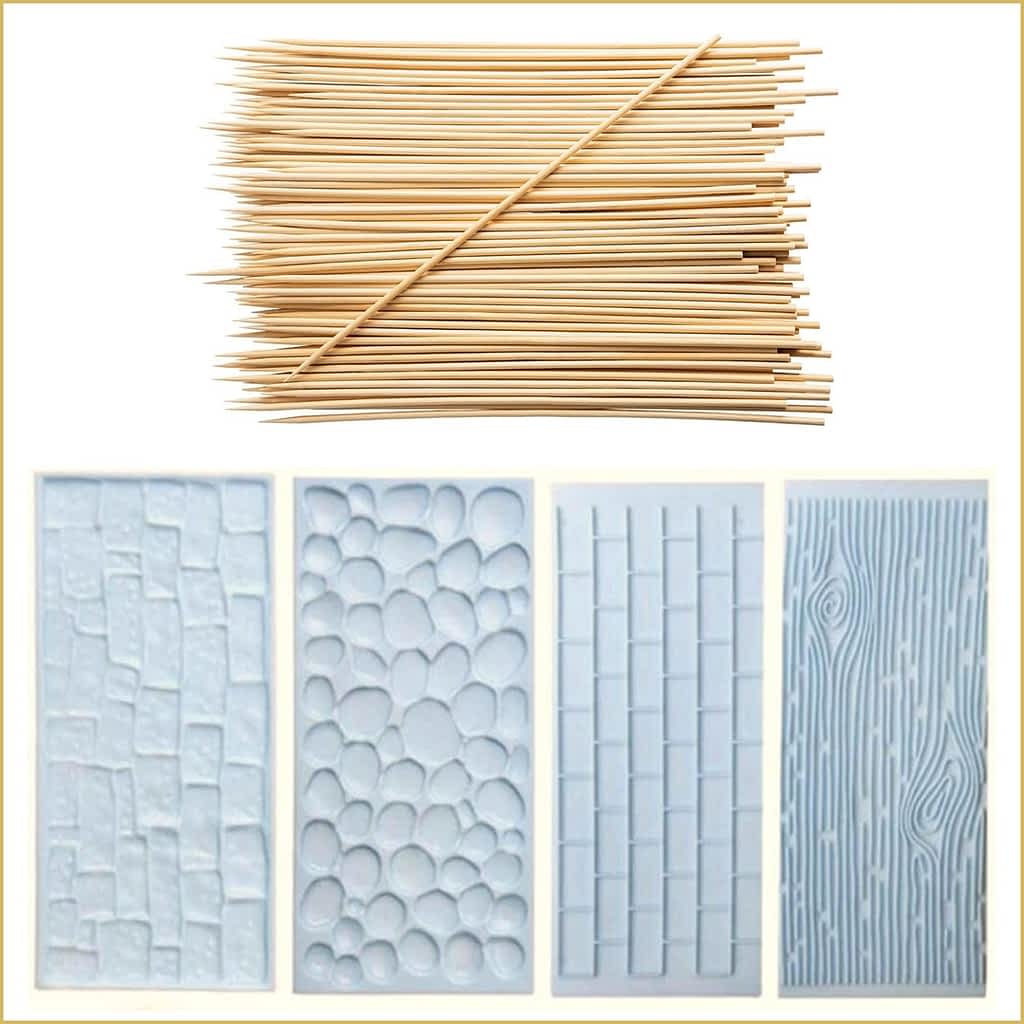 Sometimes it can be easier to create a faux or textured look with a few simple household items versus trying to find the perfect fondant mold. To achieve a brick wall look with fondant (without using a mold) simply roll your fondant flat to 1/8″-3/16″. Take a long thin or thick food skewer and make uniform row impressions to your desired brick height, stagger the line impressions from row to row then cut the sections to the desired size and length.
Fondant Cake Toppers
There is so much versatility in working with fondant or gum paste when creating 3D Cake Toppers. I prefer to make as many cake toppers (depending on the cake design) in advance 1-2 days before cake-making day stored in airtight containers.
This saves a lot of time and allows the fondant or gum paste to dry for sturdy application.
This Popular Carpenter Cake Ideas – Tool Cake had a few fondant cake toppers that needed extra drying time (especially the paint can and brush) because these elements were thicker and heavier than other elements and they were on the top of the cake.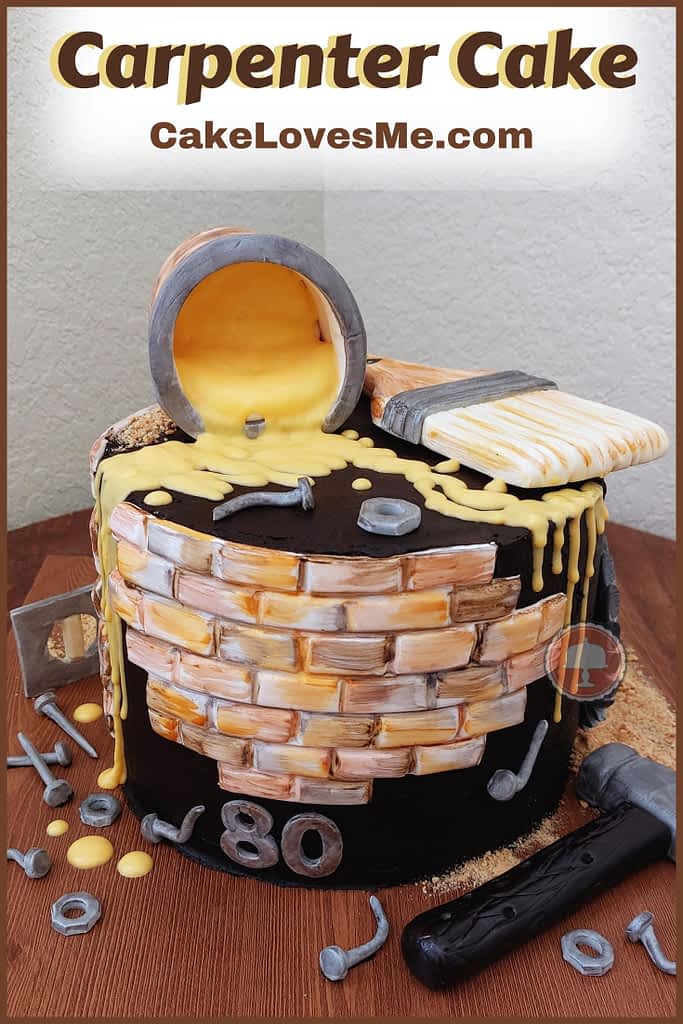 Even the lighter elements may need to be molded ahead of time depending on your plan of application.
The paint can, paintbrush, hammer, saw blade, and level all needed extra drying time so when it was time to position them on the cake they would keep their shape and sit sturdily on the top, on the sides, or on the cake board itself.

Heavy, large, and/or soft fondant figures will literally not stand up well if applied before solid drying. Sometimes the fondant figure weight can be supported from behind, under itself, or on the side of the cake depending on what you're making.
If you need soft fondant or gum paste figures to apply "soft" to the cake for more freedom then do not make them in advance.
Please take a few minutes to review my Top 15 Cake Decorating Tools – Must Have Essentials. A comprehensive list for beginners and/or intermediate cake designers.
Cake Color Palette
The general cake color palette I envisioned as a guide for my Popular Carpenter Cake Ideas – Tool Cake was inspired by…you guessed it – tools! using natural tool colors, the "patina" look of well-used tools, the surfaces they are used on and help construct, and the mess that happens in a workshop.
My cake color palette consisted of light and deep golden yellows, soft, medium, and silver greys, and wood-rusty-brown colors.
Choosing the right candy melt color helped tie everything together. Golden yellow was perfectly matched with the painted brick walls, paintbrush, and crushed graham cracker cookie "sawdust". Had I chosen a color outside of the other hues my cake design may have appeared non-cohesive.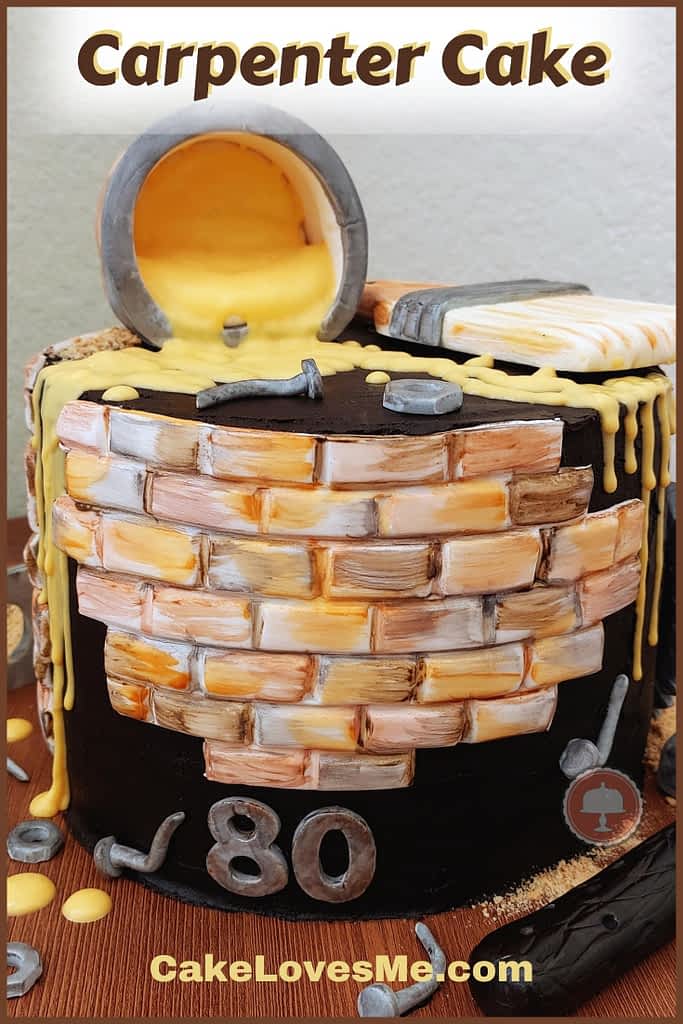 For more creative and fun cake ideas have a look at this Classic 2022 Graduation Cake Design or this Memorable Nursing Retirement Cake. Each has different techniques and design elements that are sure to inspire you.
Thanks for visiting my Popular Carpenter Cake Ideas – Tool Cake. Happy Baking!