From poodles to pugs, a Dog Themed Birthday Cake is not only super cute but a great way to create something really personal for the intended. Incorporating someone's pet image or likeness into a cake theme is a very popular request. Find out how you can use some simple tips and tricks to create an adorable pet birthday cake everyone will love!

We all love our pets! Who wouldn't love to see their beloved pet on top of their own birthday cake? This Dog Themed Birthday Cake was made for a southern country gal, who adores her Havanese dog, and is a Georgia Bulldog fan. Challenging combo right? I'll explain the method of my madness.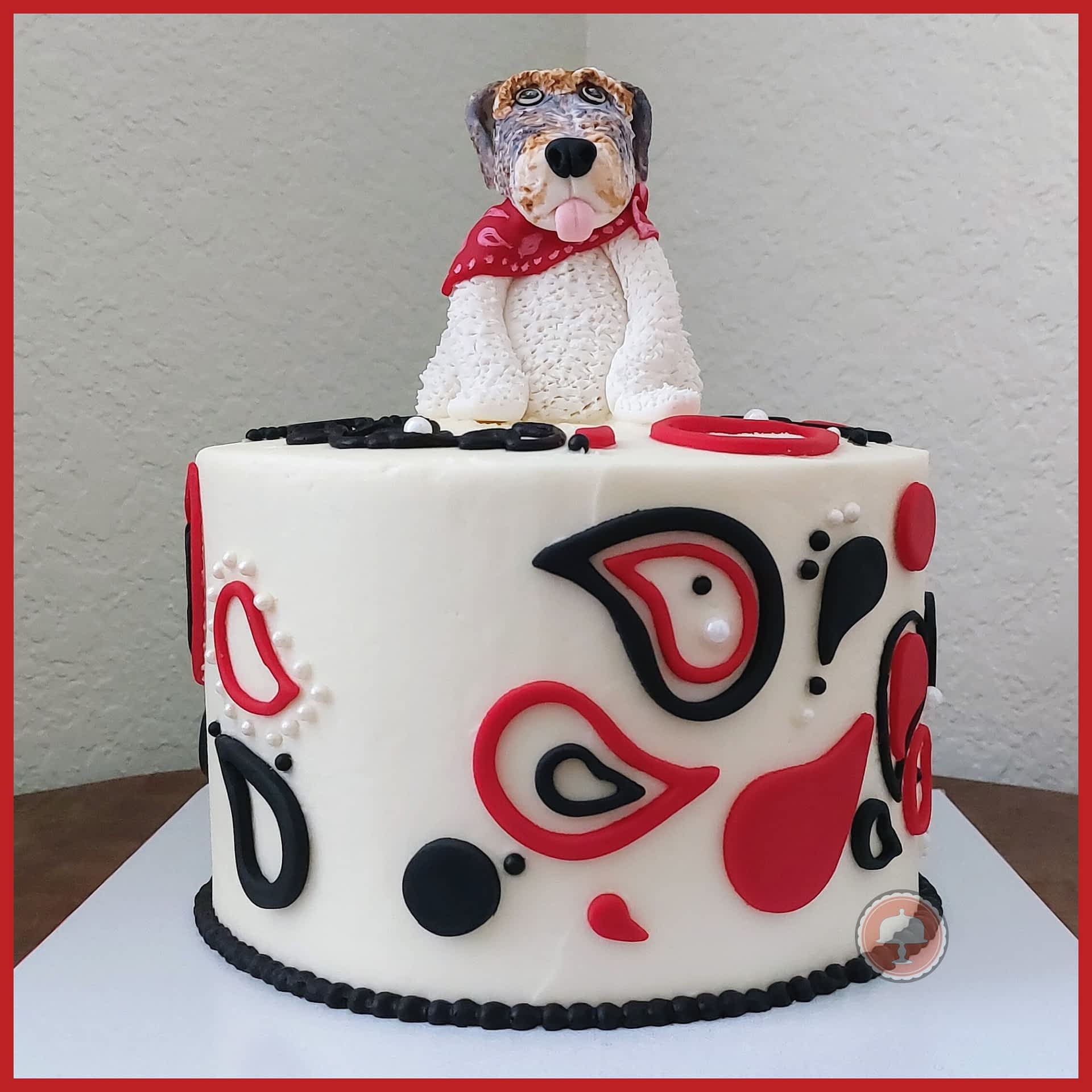 Dog Themed Birthday Cake Design Vision
I talk in many of my posts about Design Vision. What is your cake design vision/concept? The vision comes before your final cake design plan. How can you have a solid cake plan without organizing your thoughts for the design?
A client will typically give you a direction or multiple subjects to focus on. Whether they do or don't you need to ask questions; Who is the person/s you're designing for? and what would be their dream cake/s? What is their lifestyle and what do they love? Find out their interests, occupations, hobbies, dreams, passions, favorite colors, and so on.
My Design Vision started after gathering information about the intended from the client. Lisa, the birthday girl, is a Southern Country Girl (not to be confused with a cowgirl), who loves her Havanese dog and is a Georgia Bulldog fan.

These three things don't organically go together so how do I combine them all on a cake and achieve a cohesive design? What says Southern Country Girl without going "cowgirl"? How can I avoid adding more elements that could clutter up the already challenging ideas requested?
When faced with challenges think simply. Creating a clear design concept means "less is more". You're telling a story. Don't throw a ton of extra things into the mix.

Planning your Cake Design – Tips and Tricks
How will you achieve a cohesive cake design with all the special and/or unconventional requests?
Note all ideas, cake themes, and wishes from the client.
Decide which elements are most important, how those elements will be arranged on the cake, and which idea/s or item/s will be the main focus of the cake.
Sketch, note, and edit your ideas into a final Cake Design Plan to be approved by the client if need be.
Get organized – pull together all ingredients, edible decor, cake-baking tools, and decorating tools.
Work smarter, not harder. Be as efficient with your time as possible. Understand your project requirements, timeline, and cake due date. Prep certain items early if need be such as molding fondant/gum paste/or modeling chocolate items, making all edible/sugar art pieces, preparing fruit fillings and frostings, etc.

Follow your final cake design plan so you don't feel lost, stressed, or unorganized.
Cake design is all about balance in every way. The subject matter, cake size, balance with all the design elements, placement of those elements, extra details, textures, and even the cake board are all really important.
Creating a color scheme to fit with all the cake design elements is also paramount and should never be taken for granted.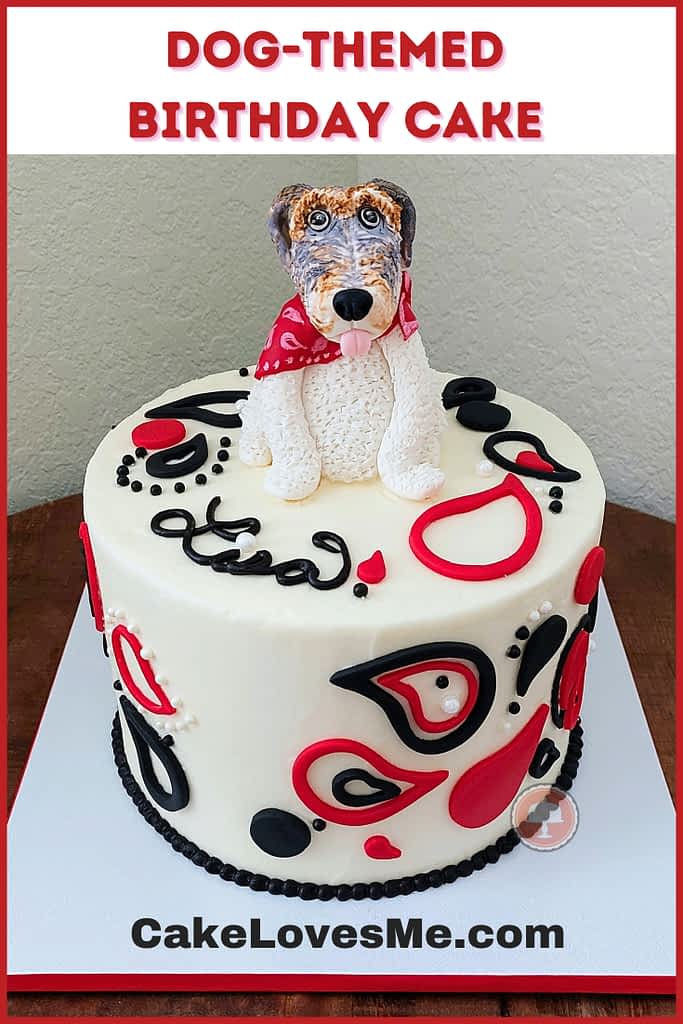 Sometimes a pattern is all you need to pull everything together, A paisley pattern says country without screaming cowgirl. I thought, why not do black, red, and white (Georgia Bulldog colors) in a paisley pattern with the Birthday girls' Havanese dog on top?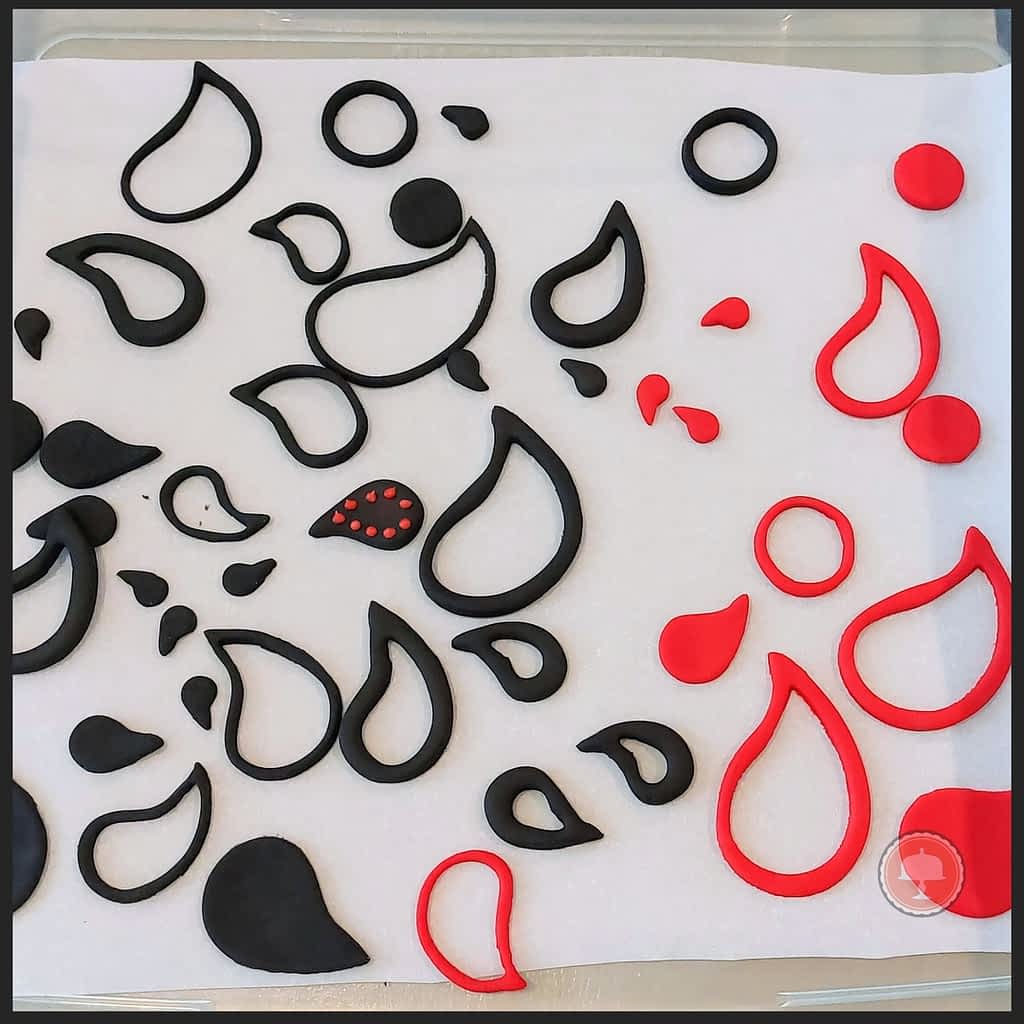 To duplicate this paisley pattern use these stainless steel paisley-shaped cookie cutters. Cookie cutters will save you tons of time and give your design a more polished look.
So Lisa's Havanese dog would be the main fondant cake topper and I decided to hide the Georgia college "G" logo in one of the paisleys on the cake siding. A clear design that showcases all the elements requested.
To read more about Cake Design Vision and Planning your Cake Design please hop over to my Popular Carpenter Cake Ideas – Tool Cake where you can find more detail on this topic.
Cake Color Palette
A Cake Color Palette is as important to a successful cake design as a brilliant theme, look, style, or genre. Make sure your color palette pulls the entire design together.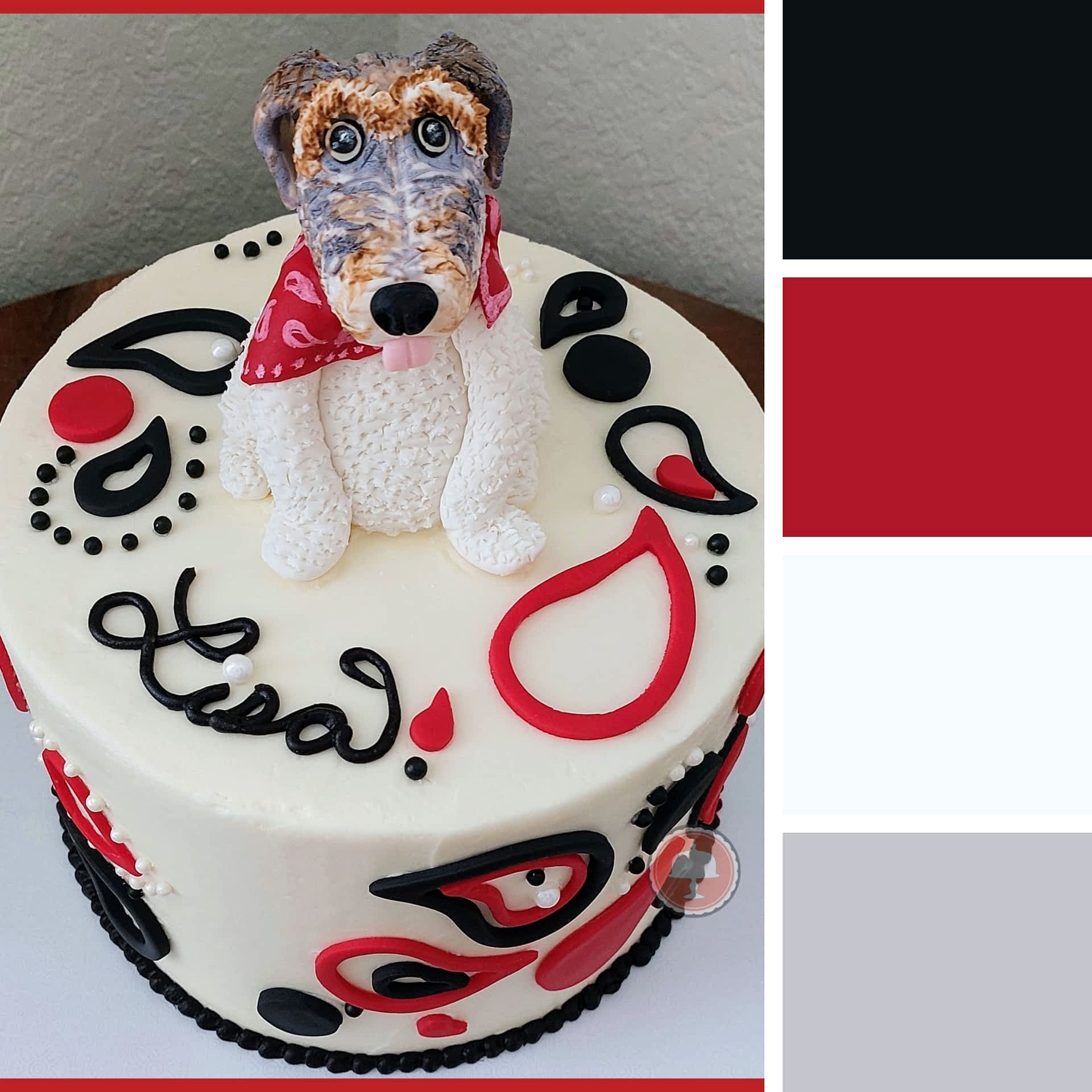 My Dog Themed Birthday Cake color palette consisted of the three main Georgia Bulldog College colors – Red, Black, and white. A little grey and light brown were used in the fondant cake topper.
Check out my How-To Guide on creating a color palette for your next cake design.
Fondant Cake Topper
There is so much versatility in working with fondant or gum paste (as well as modeling chocolate) when creating 3D Cake Toppers. I prefer to make as many cake toppers, depending on the cake design, in advance 1-2 days before cake-making day stored in airtight containers.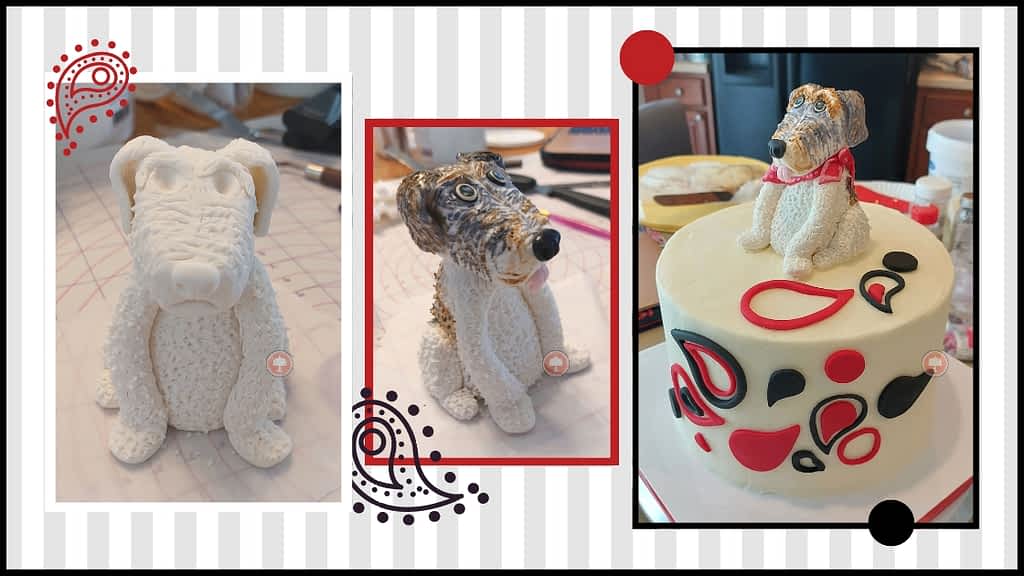 This saves a lot of time and allows the fondant, gum paste, or modeling chocolate to dry for sturdy application.
Lisa's Havanese dog was the main focal point on top of her cake. After receiving a photo I did my best to mold a close likeness. Always help stabilize fondant/gum paste 3D molded figures with items such as straws, skewers, toothpicks, cake pop sticks, etc; Otherwise, the figure may not hold up.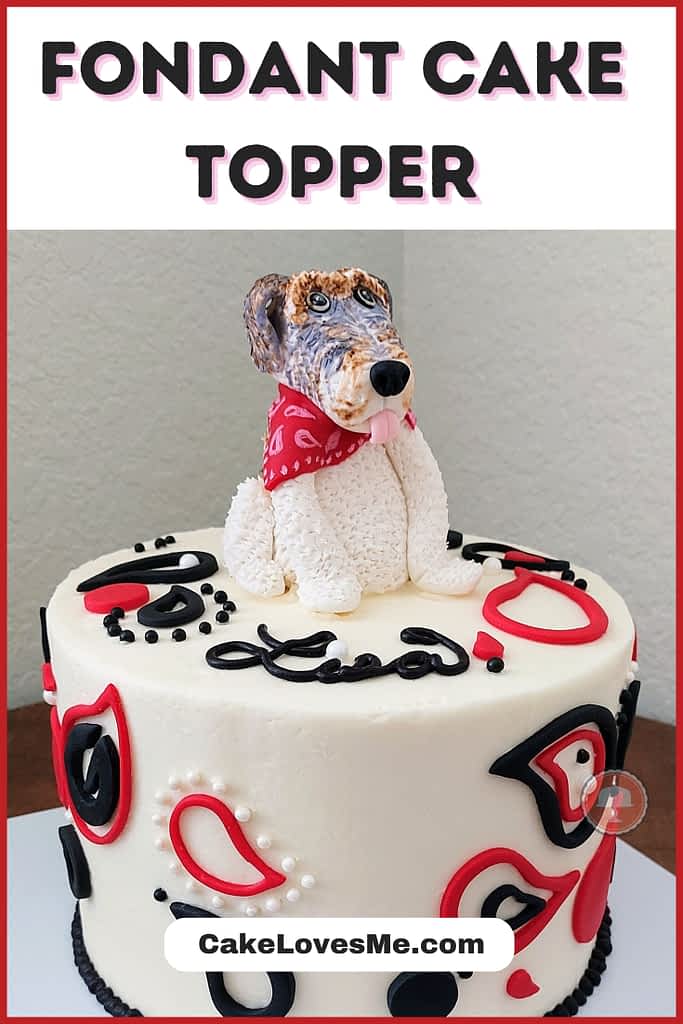 Read much more detail on Fondant Cake Toppers in my Popular Carpenter Cake Ideas – Tool Cake.

Thanks for visiting my Dog Themed Birthday Cake – Tips and Tricks. Happy Baking!
If you enjoyed this post, be sure to check out other CakeLovesMe creations below with many tips, tricks, how-to's, and recipes.